2009 WSOP: Turner Tops #42 Mixed, Shinn Leads Seniors #43, Mirzikinian Rules Razz #44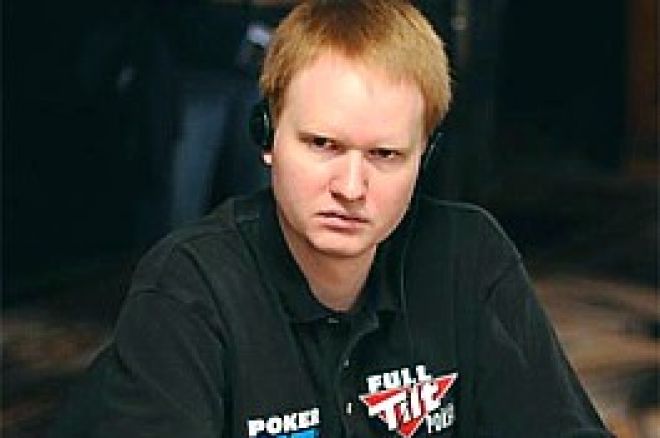 $2,500 Mixed Event #42, Day 2 – Turner Jams His Way to the Front
Jon "PearlJammer" Turner leads the 2009 World Series of Poker $2,500 Mixed Event #42 at the end of Day 2, with 469,200 in chips. With just 14 of the original 412 runners left, other big stacks heading into Day 3 include Jerrod Ankenman (412,400), Adam Friedman (325,800), and Layne Flack (283,400). Rami Boukai, Dario Alioto, and Blair Rodman are also still in contention, while Jimmy "Gobboboy" Fricke will be nursing the short stack at 47,400.
The format is a rotation of eight games: deuce-to-seven triple draw, limit hold'em, Omaha hi/lo, razz, seven-card stud, seven-card stud hi/lo, no-limit hold'em, and pot-limit Omaha. After one day of play, the field had been reduced to 153, all chasing the bracelet and a piece of the $947,600 prize pool, $241,637 of which is slated for the winner.
J.C. Tran was eliminated in a limit hold'em hand just after the first break two hours in. He had all of his chips in the pot against both Todd Brunson and Felipe Ramos. His two opponents checked all the way down on the board of
. Brunson held
and Ramos
, both making Broadway straights to beat Tran's
.
Just a few minutes later, Ramos was at it again, this time with his sights set on the last of David Sklansky's chips, which made their way into the middle on the turn, the board reading
. Sklansky had both straight and flush draws with the
, but the
river gave him neither, and the
in Ramos's hand was the winner.
In a no-limit hold'em hand, Steve Billirakis raised to 2,400 from under the gun, Jerrod Ankenman reraised to 7,200 from the button, Billirakis shoved all in for about 30,000 total, and Ankenman snap-called, his
way ahead of the
of Billirakis. The board came
, and Billirakis was out of the tournament.
Ankenman accumulated a good chunk of his stack in a "perfect storm" hand. Playing no-limit hold'em, he was dealt
while Chris Klodnicki had
and Vojislav Petrov
. Not surprisingly, all the money went in before the flop. But the worst hand became the best on the river when the cards played out
, shipping the enormous 380,000-chip pot to Ankenman and eliminating Petrov.
Other ousters today before reaching the money included Andy Bloch, Brock Parker, Alex Kravchenko, Scott Clements, Gavin Smith, Amnon Filippi, Justin Bonomo, Marcel Luske, Daniel Negreanu, John Hennigan, Jennifer Harman, Jacobo Fernandez, Allen Kessler, Tuan Le, Mel Judah, Alexander Kostritsyn, Robert Williamson III, and this event's "bubble boy," Nick Frangos.
After building a big stack earlier in the day and challenging the chip lead, Thayer Rasmussen was eliminated on a stud hand in 19th place ($7,050). He was all in on fourth street with three hearts, hoping to draw to a flush. Dario Alioto already had two pair, and filled up on fifth, leaving Rasmussen drawing dead.
Thang Luu, winner of an Omaha hi/lo bracelet two years running now, was the last one out for the day (15th place, $8,983). In a no-limit hold'em hand, he got his last 37,000 chips in from late position with
, and Layne Flack looked him up from the big blind with
. The board came
, and Luu was done. Other notable in-the-money finishes included Andy Black (31st place, $5,695), Joe Cassidy (29th place, $5,695), and Michael Binger (20th place, $7,050).
Day 2 started at 2:00 p.m. and was declared over at the 3:00 a.m. curfew, short of setting a final table. Play resumes again at 2:00 p.m. Tuesday, and will continue until a winner emerges from this talent-laden field.
$1,000 Seniors World Championship Event #43, Day 1 – Shinn Takes Early Lead
Event #43, $1,000 Seniors World Championship proved to be extremely popular this year, with 2,707 players age 50 and up taking their seats. That was a huge increase from last year's 2,218, an event won by Dan Lacourse. By the end of Day 1, 397 players were still left, with Lloyd Shinn in the chip lead with 86,500, followed by Eric Hershler (82,500), John Bennett (73,700), and Charles Simon (72,400).
As might be expected, play was tighter and more conservative with this field than the "ram and jam" style that often dominates no-limit hold'em play in events populated by internet whiz kids. Still, there was no shortage of talent and cunning on display among this crowd. When you're competing for a prize pool of $2,463,370 — including $437,358 and a coveted gold bracelet for the champion — you tend to apply every bit of experience accumulated in years of playing the game.
Despite the talent in this field, luck still counts for something. Ricardo Quiroz got all his chips in bad with
against one opponent holding
and another with
. But when the board played out
, Quiroz made a heart flush and took one of the biggest pots of the early part of the day.
World Poker Association founder Jesse Jones got a fast start to the day, running over his table with a series of four hands. In the first, his opponent raised to 200 preflop. Jones reraised to 500 and his opponent moved all in for 1,500. Jones called with
to the other player's
. When the board came
, Jones took down the pot. On the next hand, Jones called his opponent's all-in for 875 on the flop of
. His opponent tabled pocket jacks while Jones could only show K-6 offsuit. But Jones spiked another six on the turn and the
on the river gave Jones two in a row.
A little later, Jones limped from late position and smooth-called through the turn on the board of 9-9-9-A. When an eight fell on the river, his opponent bet 600. Jones raised to 1,800 and got the call before revealing K-9 for flopped quads. Finally, he captured a 10,000-chip pot against two opponents with
in the hole and a final board of
. But despite running so well early on, Jones would not last out the day.
In terms of running well, Jones might be topped by Marty Kaufman. Early in the tournament, Kaufman had left his table thinking he'd gone bust, but another player chased him down to let him know he still had 200 in chips left. Kaufman returned, promptly doubled up, then doubled again, taking his stack to about 1,000 going into his miracle hand. Kaufman's opponent bet 1,050 on the board of J-J-K, and Kaufman called. He presumably thought his A-K for top pair, top kicker was good. Little did he know that his opponent was sitting on A-J for trips. But just when it looked like his day was done for real this time, Kaufman sucked out with one ace on the turn and another on the river. That gave him 2,500 and a spring in his step going into the dinner break. As with Jones, however, he will not be returning for Day 2.
Thomas "Amarillo Slim" Preston, the oldest living former Main Event champion, was eliminated shortly after the dinner break. He pushed his last chips into the pot with
and was called by Don Animette, holding
. The board helped neither player, and ace-high was good enough to send Slim packing.
Notable names not making the Day 2 cut included Barry Shulman, Michael Craig, Mike Sexton, "Miami" John Cernuto, Alan Boston, Humberto Brenes, Eddy Scharf, Dennis Phillips, T.J. Cloutier, Nancy Todd Tyner, Shirley Williams, Tom McEvoy, Paul Magriel, and Poker Players Alliance Chairman, former Senator Alfonse D'Amato,
The games will begin again at 2:00 p.m. PDT Tuesday, with the remaining 397 seniors vying for one of the 270 spots in the money. Prominent names still on the board include "Minneapolis" Jim Meehan, Jack McClelland, Berry Johnston, Jim McManus, Shirley Rosario, and Barbara Enright.
$2,500 Seven-Card Razz Event #44, Day 1 – Mirzikinian Leads the Razz Pack
Warwick Mirzikinian will be taking the chip lead into Day 2 of Event #44 $2,500 Seven-Card Razz, with a stack of 59,400. He is followed by Eric Rodawig (55,000), Yan Chen (52,700), and Hernan Salazar (46,200). A total of 315 poker players decided to treat themselves to a little pain, or maybe a lot, with the only razz event of the Series. That made for a prize pool of $724,500, with 32 spots paying and $188,370 set aside for the bracelet winner.
The $2,500 Seven-Card Razz is considered a new event for this year, because in 2008 the buy-in was $1,500. That tournament was won by Barry Greenstein. Day 1 started at 5:00 p.m. and concluded at about 3:00 a.m. Early in the day, Daniel Negreanu and Bill Chen battled for a pot:
Negreanu: (X)(X) 4-4-6-10 (X)
Chen: (X)(X) Q-6-5-Q (X)
Negreanu called the bring-in and Chen called behind him with a queen up. Chen led out on fourth street when Negreanu paired, and he made the call. Chen bet and Negreanu called on fifth, and Negreanu led on sixth street when Chen paired queens. Chen made the call. Negreanu check-called one more bet on the river from Chen. Chen showed 8-7-3 in the hole and Negreanu mucked. Then Scott Seiver got himself critically short-stacked with this hand:
Seiver: (X)(X) 3-A-9-8 (X)
Opponent: (X)(X) 4-2-2-7 (X)
Seiver led out on both fourth and fifth street, and was called in both spots. He led again on sixth, was raised, and made the call. Seiver's opponent moved all in for his last 275 on seventh street and Seiver looked him up. But Seiver couldn't beat his opponent's 7-6-5-4-2 and slipped to only 2,000 in chips. He busted out just a few hands later. David Chiu closed out Day 1 in eighth chip position. Part of his big stack came in two consecutive hands. First:
Chiu: (X)(X) A-3-K
Opponent: (X)(X) A-5-Q
Chiu completed on third street and got one caller. Both players checked on fourth street. Chiu's opponent led out on fifth street despite catching a queen. Chiu took advantage of the brick, raised, and induced a fold. Next hand (same opponent):
Chiu (X)(X) 2-7-3-3 (X)
Opponent (X)(X) 4-7-10-8
Men Nguyen (X)(X) K
Men "The Master" Nguyen had the bring-in, Chiu called, their opponent completed, Nguyen called, Chiu raised, the third player reraised, Nguyen mucked and Chiu called. Chiu led out on fourth, fifth, and sixth streets, getting called each time. On seventh he check-called one more bet, then Chiu flipped over wheel cards in the hole for the best low. Ville Wahlbeck then took out Eskimo Clark:
Clark: (X)(X) 8-5-10-K (X)
Wahlbeck: (X)(X) 2-6-9-3 (X)
Wahlbeck led out on fourth street and Clark made the call. The same pattern recurred on fifth and sixth, the latter call getting Clark all in. Wahlbeck showed 9-6-5-3-2, while Eskimo mucked disgustedly and headed to the rail.
The suffering was over before the end of the day for, among others, Clonie Gowen, Linda Johnson, Jan Fisher, Shannon Elizabeth, Bill Chen, Erick Lindgren, Tom Schneider, Dewey Tomko, Chau Giang, Men Nguyen, Bryan Micon, Carlos Mortensen, Huck Seed, Allen Cunningham, Doyle Brunson, Dennis Phillips, Dan Heimiller, and Tony G.
There are plenty of famous names still in the running, however, including Hasan Habib, Mike Wattel, Nikolay Evdakov, Dario Minieri, Alex Kravchenko, Kenna James, Jeff Lisandro, Chad Brown, James Van Alstyne, Shirley Rosario, Michael Craig, Archie Karas, "Miami" John Cernuto, Chris Ferguson, David Sklansky, John Phan, Katja Thater (winner of the 2007 WSOP razz event), Mike Baxter, Sam Grizzle, Daniel Negreanu, Justin Bonomo, Jerry Buss, Eli Elezra, Matt Hawrilenko, Max Pescatori, Shawn Sheikhan, Annie Duke, Mike Sexton, John Juanda, Thor Hansen, and Al Barbieri.
Those and the rest of the masochistic razz gang will return to put the hurt on each other when Day 2 begins at 2:00 p.m. Tuesday.