2009 WSOP Special Update: 'All In and a Call!' Rules as Main Event Bubble Bursts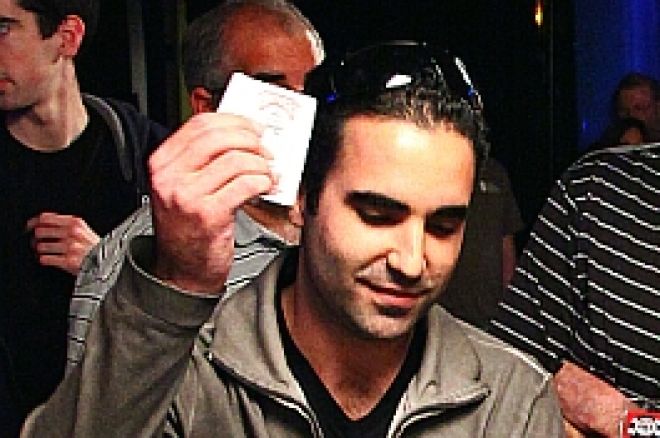 With 789 players remaining in the 2009 World Series of Poker Main Event and 648 players destined to make the money, the first minutes of play were destined to be a series of all-in shoves by short stacks struggling to move into the money spots. The famed dealer shouts of "All in and a call rang out four and five times per minute during the first orbits of hands, beginning from the very first seconds, when a short-stacked Dan Bilzerian of Tampa, Florida, successfully doubled through from his 68,000 starting stack when his A-Q held up against a deeper stack's 9-8. Bilzerian then went on a rush to move among the day's leaders early in the second level.
Elsewhere, though, the carnage ensued, with media camera crews and scribes rushing from table to table to see which big-name players were involved in the early collisions, and among those which would bubble well into a fourth day of grueling poker. While big-stacked pros such as Bertrand "ElkY" Grospellier, Ludovic Lacay and Phil Ivey pounded away at disadvantaged opponents, the body count of oh-so-close-to-the-money players began to rise. Among those bounced in the first level were Dan Schmiech, Maria Mayrinck, media darling Catherine Hearn, Greg "FBT" Mueller and John Racener.
An hour into the proceedings, the count of still-surviving players had dipped to about 700… and the "All in and a call!" cries slowed significantly as the bubble inexorably approached. As Grospellier climbed to $1.6 million in the early going, nearly doubling his edge over his nearest competitor (Lacay), still more players headed to the rail. Those departures included J.C. Alvarado, Thierry van den Berg, David Daneshgar, Hevad Khan and Andy 'Little Big Card' fields, a UK player who drew camera time by wearing an Indian chief's headdress to each day's play, including Day 2b, which he spent much of seated next to Chris "Jesus" Ferguson. As Day 4's first break arrived the player count stood at 660… just twelve players short of the money.
With a couple of quick bustouts just after the break, tournament director Jimmy Sommerfeld issued the call for dealers to move to hand-for-hand play. Isaac Baron was among the final ten to be eliminated just outside the money, but play slowed to a crawl before Kia Hamadani (shown, photo) became the unfortunate 649th-place finisher in the event. Hamadani had been reduced to extreme short-stack status – merely a handful of antes – and waited in vain as a series of all-ins over the five previous hands failed to produce a knockout. At one nearby table, an all-in player laid down K-K for his tournament life against what his opponent showed to be A-A, and at another, an all-in player with A-A survived against the A-J of a deep stack, with a joking Chris Ferguson, situated a couple of tables away and with no knowledge of the specific players involved, rooting "Come on, Jack Link's!" in reference to sponsor Jack Link's "quad jacks" hand promotion during the Main Event, which would have produced the bubble-bursting knockout.
Despite a flopped jack the short stack's aces held, and just outside the ESPN feature area Hamadani was finally forced all in on the next hand for his last 500-denom chip, with a modest 4-3. When the hand failed to catch help and Hamadani was bounced, he was escorted to the podium for a short presentation with WSOP Commissioner Jeffrey Pollack. It was indeed a "Jack Link's" moment, as the sponsor company, in conjunction with the WSOP, awarded Hamadani a $10,000 seat into the 2010 Main Event for being this year's bubble boy.
The action quickly resumed, with 39 minutes added on to the clock to account for the slowdown during the day's third level and each of the 648 remaining players assured $21,365. Stay tuned for more reports from PokerNews' industry-leading Live Reporting updates.