2009 WSOP: Veckey Triumphs in $1,500 NLHE Event #54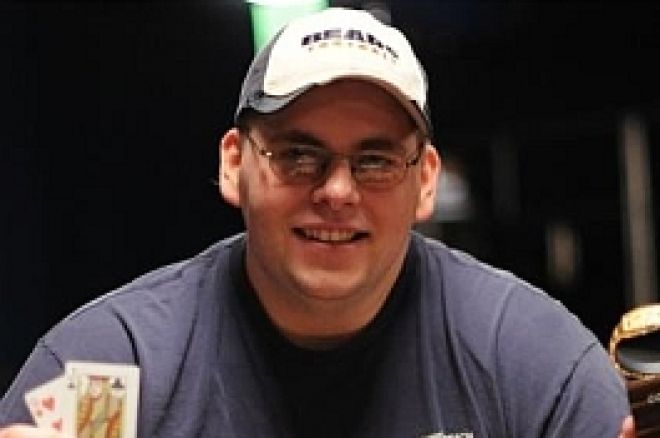 Tony Veckey has won his first World Series of Poker bracelet, triumphing over a 2,818-player field in Event #54, $1,500 No-Limit Hold'em. Day 3 play started at 1:00 p.m. with 28 players remaining. It took less than five minutes to make that 27. With blinds and antes at 8000/16,000/2000, Brandon Wong raised to 43,000 from the cutoff. Jason Wheeler reraised to 115,000 from the button. Wong moved all in, holding
. Wheeler called with
. The board went Wheeler's way:
, and Wong was out in 28th place, for $15,578.
Chris DeMaci scored a double knockout less than an hour into the day. Stephen Outram open-shoved from under the gun with
, followed by another all-in from Eric Hayes with
. DeMaci looked down at
and joined the party. The door card was all he needed to win it as the board came
. Outram and Hayes each took home $19,848 for 26th and 25th places, respectively.
Eliminations continued at a rapid pace, such that the field was winnowed down to 15 by the first break, two hours into the day. Vivek Rajkumar, the most well-known player left in the tournament, exited a few minutes after that break. He had been on a roller coaster of doubling up opponents, then being doubled up in return. The coaster finally went off the rails, though, when his
ran into DeMaci's
, all in preflop. No help came from the board of
, and Rajkumar was done with 15th-place prize money of $40,350.
Mike Ratcliff was the next player to notch a double knockout. Felix Lambertz moved all in under the gun with
, and Brian Green re-shoved from the cutoff seat with
. Ratcliff called from the big blind with
. A board of
ousted both Lambertz in 13th place ($40,350) and Green in 12th ($57,506).
As per usual WSOP practice, the final ten players were moved to a single table, though not a final table for the record books until they got down to nine. That took a while, as play tightened up considerably — to the point that not a single flop was seen in the next 20 minutes. When one finally came, though, it was a doozy. Wheeler raised to 85,000 (blinds and antes at 15,000/30,000/4000) from under the gun with
. Ratcliff moved all in with
. A soul-crushing queen on the flop made him the final-table bubbler, with a final board of
. He earned $57,506 for tenth place.
With the exception of that hand, the unusually tight play continued both before and after the dinner break. Flops were rare, and it was well over an hour after the break before another player departed. Miha Remic open-pushed from the button with
. Andrew Malott called from the big blind with
. Neither of Remic's overcards connected with the
board, and he had to settle instead for $81,970 for his ninth-place finish.
With that, a logjam of sorts seemed to break, and two more eliminations occurred in quick order, both at the hands of overnight chip leader Sergey Konkin. First, David Jaoui moved all in from middle position, holding
, and received a call from Konkin and his
. The queens were still good after the dealer put down
, and Jaoui was out in eighth place, worth $87,855. Just a few minutes later, DeMaci raised all in from the small blind with
and Konkin called from the big with
. The board helped both players but Konkin more, coming
, and DeMaci's apparent steal attempt turned into a seventh-place finish and a payout of $98,933.
Christopher Bonita went out in sixth place ($147,131). The flop was
, and Bonita, with
in the hole for an open-ended straight draw, check-called a 210,000 bet from Wheeler, who held
for a higher straight draw. Wheeler got there with the turn
, and he led out for 425,000 with the nuts. Bonita raised all in, and got the call and the bad news. His straight was completed with the river
, but it was too little, too late.
Andrew Malott put his tournament life on the line with
but ran afoul of Joseph Chaplin's
. The
flop put Malott ahead, and the
and
turn and river made for an elimination-ensuring flush. Fifth-place money of $147,131 went Malott's way.
After having been crippled a short time before, Sergey Konkin moved all in with less than the big blind. His opponents smelled a chance to move up in the money, and all three limped in and checked down a board of
. Veckey showed
for the pot. Konkin was eliminated in fourth place and took home $195,213.
Chaplin lasted only another ten minutes. He raised to 200,000 from the button with
, and both opponents called. On a flop of
, Veckey bet out 450,000, Wheeler called, and Chaplin moved all in for 1.6 million. Wheeler called and showed
for a flush draw and overcard. The turn came the
to pair Wheeler, and the river
could not redeem Chaplin, who finished in third place, worth $276,029.
Veckey started heads-up play at a nearly 2-to-1 chip deficit to Wheeler (8 million to 4.7 million), but over the course of about 50 minutes reversed the lead, then won the tournament. He pulled ahead in an enormous pot when he back-doored a straight, holding
on a board of
.
The end came just a few minutes later. Wheeler bet 450,000 on a flop of
, and Veckey called. Wheeler bet another 1,200,000 on the
turn and Veckey moved all in. Wheeler called and the hands were revealed:
Veckey:

Wheeler:
The
on the river turned Wheeler's top pair/top kicker into trips, but that was not enough to beat Veckey's turned straight. Wheeler left in second place with $418,122. Eleven hours after starting Day 3, Veckey picked up $673,276 for first place, along with his gold bracelet, all also part of his first WSOP cash and final table. He reported that he missed his flight home to Chicago to play Day 3, though with two-thirds of a million in prize money, another seat awaits.