Asian Poker Tour Day 2: Choi and Steicke Maintain Iron Grip on Field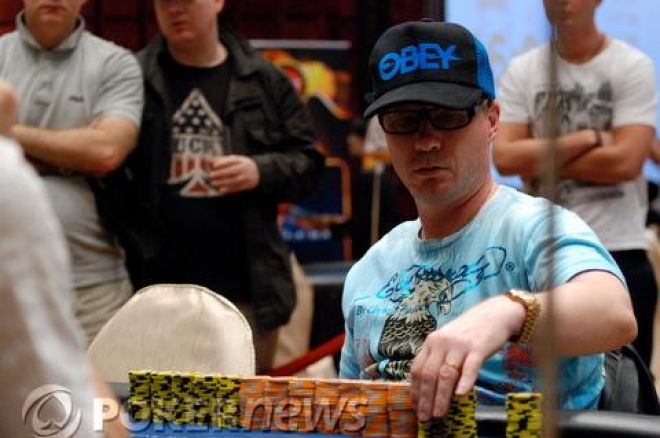 Do you remember when you were a teenager and you wanted to beat the crap out of a similarly-aged brother, so you put your hands around his throat and squeezed until he cried out in pain? No? OK maybe that was just us. But it accurately describes the number that David Steicke and Inwook Choi performed on the Day 2 field of the 2009 Asian Poker Tour Macau Main Event.
Steicke was the Day 1A chip leader and picked up where he left off, quickly improving his count from the 86,000 chips he started with to more than 200,0000. Again, Steicke didn't do it with any one single pot. He combined his prodigious talent with a dollop of run-goodness to chip up without ever really having o go to showdown.
But if the first half of the day belonged to Steicke, the second half was all cover bands. Korea's own Inwook Choi will find the players spread out like so after the second half of the day:
Seat 1: Casey Kastle (130,000)
Seat 2: Winfred Yu (61,000)
Seat 3: David Steicke (876,000)
Seat 4: J.C. Tran (444,000)
Seat 5: Adrien Allain (482,000)
Seat 6: Michael Woo (64,000)
Seat 7: Inwook Choi (934,000)
Seat 8: Chris Chau (143,000)
Seat 9: Crister Hallbrook (132,000)
The key pot of the day for Choi came in which J.C. Tran correctly put Choi on a busted flush draw but did not expect that Choi had made a pair of deuces to go along with his flush draw. It would up being a difference worth almost 300,000 chips.
That difference carried through the rest of the day, with Steicke rallying his own count but never again threatening Choi for the chip lead. Choi and Steice have a sizable lead on the rest of the Day 3 and final table chip lead, which shows five or more players with les than ten big blinds.
Follow the final table hand by hand right here at PokerNews.