PokerNews Jet Set: Macau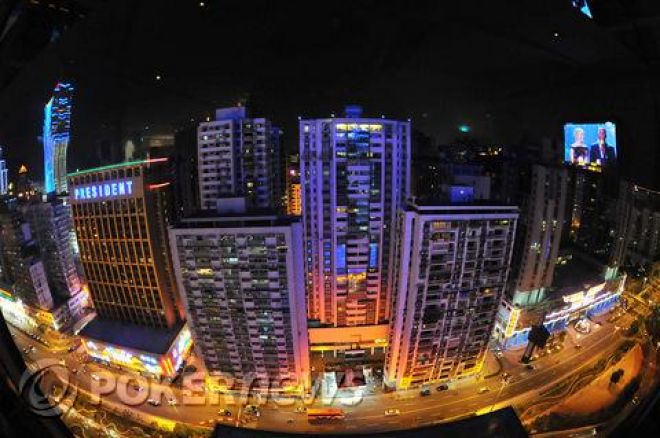 Since we know you're heading to Macau for all the APT and APPT action, we thought we'd go ahead and prep you with a plethora of places to spread the spoils of your victories and sorrows of your defeat. Don't get too caught up in this 21st century gambling mecca, filled with hundreds of flashing neon signs and LCD screens, as you still need to win your seats for the upcoming PokerNews Cup, and PokerNews Sports Legends Challenge.
Monkey Bar – (Grand Waldo Casino, 1st Floor, behind the gaming floor)
Monkey Bar is a dark, blue-lit bar inside the Grand Waldo that is favored by locals on the Cotai side of Macau. Tall, plush red couches surround a wrap-around island stainless steel bar that is periodically set afire by the staff. Beautiful young women who hail from all corners of Asia dance atop the bar amidst the flames, aided by dancing poles that reach from bar to ceiling. These same women act as "buy-me-a-drink" girls, who will climb down from the bar to engage in friendly chit-chat with unaccompanied males for the price of two shots of tequila - one for you and one for her.
Bellini Lounge – (Venetian Casino, just off the gaming floor)
When you get a hankering for live music, Bellini Lounge in the Venetian is where the young, trendy and moneyed clientele of the Macau casinos head. Although it can be a bit loud and hard to hear that lovely Filipina beauty you've been eyeing for the last hour, Bellini Lounge is worth a visit just to behold the immensity of the Venetian itself. The hotel complex, the largest casino in the world, is an imposing monolith that dominates the center of the Cotai Strip. Its gaming floor is filled day and night with baccarat and sic bo players and its Canal Shoppes, upscale restaurants like Fogo Samba (a meat-lover's paradise) and bars like Bellini Lounge provide an alternative to gambling that many of the more-established Macau properties lack.
Lion Bar – (MGM Grand Casino, center of the gaming floor)
On the peninsula side of Macau, MGM Grand's Lion Bar also provides live music with a nightly cover band that blares popular American music designed the get the crowd's blood pumping and feet thumping. The crowd materializes a bit later than Monkey Bar or Bellini Lounge, with most patrons not turning up earlier than 11pm. They array themselves in a variety of squat, plush chairs and couches that front the stage, having no qualms about paying very un-Macanese prices to order just about any alcohol they desire from the long, well-stocked bar at the back of the room. Ladies get a break on drink prices on Wednesday nights and turn out in droves to take advantage of it.
Whiskey Bar – (Galaxy StarWorld Casino, 16th Floor)
If the days of being that young at heart are behind you, Whiskey Bar on the 16th floor of the Galaxy StarWorld might be more your speed. The air is much more refined at Whiskey Bar, with decor suggestive of a stately manor, impressive views of the waterfront and a scotch and whiskey selection unrivalled in Macau.
D2 Disco – (inside the AIA Tower, Avenida Comercial de Macau, Macau peninsula)
MP4 Disco – (inside the Royal Hotel, Estrada de Vitoria, Macau peninsula)
Once you've put a few drinks in your system, it's time to trip the light fantastic. Stay away from the Cotai Strip if dancing is your aim; the nightlife on that side of Macau is primarily a bar scene. Instead make a beeline for the Macau peninsula, where your two best options are sizzling hot nightclubs with alpha-numeric names: D2 and MP4. MP4 is open Thursday to Sunday; D2 is open every night of the week. Neither sees much action before 2am, but then, both are hopping until long after the sun sheds its light on the city. Inside each disco lithe, young bodies meld seamlessly in time with thumping disco music. Spend some time dancing with a "buy-me-a-drink" girl or a local girl, but be prepared to negotiate for services rendered with many of the locals. Their time is valuable. They won't waste it on a lonely guy looking for someone to talk to.
Other Attractions
When you get tired of spending every waking minute inside of a casino, and everybody does, it's time to head out and explore the city itself. Macau has a rich colonial tradition that dates back to the 16th century. By day, historical sites like the Ruins of St. Paul's, the Guia Fort, and Lighthouse are the main destinations. If you'd rather just relax, spas and saunas cover every square-inch of Macau. Those located outside the walls of the Western casinos provide amazingly therapeutic services at bargain-basement prices. Know the difference between the two before you go. Spas are what can be considered "legit" relaxation parlors; saunas provide some seedier services.
If you've yet to win a seat to some of the events themselves, what are you waiting for? PokerStars has a slew of satellites for the APPT. For the APT you'll want to check out Titan Poker, Party Poker, Bwin and PKR.