Poker on the Warped Tour: An Exclusive Interview with NOFX Front Man Fat Mike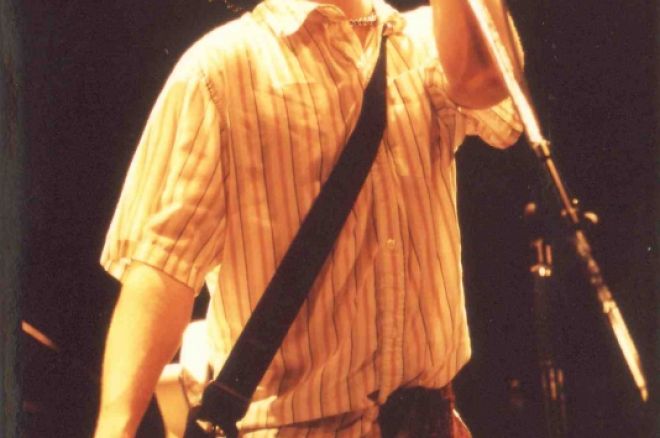 As the Vans Warped Tour plows through North America for the 15th year, there's a good chance that on any given night, once the crowds have left, many players in participating bands are sitting down to play poker. The game has become an increasingly popular way for bands to kill time while waiting to ship off to the next stop on the tour. One of the players likely to be organizing games is Mike Burkett, better known as Fat Mike, vocalist for punk band NOFX. Mike keeps busy with his band, which has released 12 full-length records (including 2009's Coaster), 15 EPs, and a slew of singles. We caught up with Mike in the midst of it all to talk bad beats, Vegas, and big money.
We've been told that you've got some serious poker skills Mike, how do you approach the game? Is it just a hobby, or are you out to bank some serious cash?
I started taking it seriously about four years ago. I could write off all my entry fees by making more than I put in, so I don't know if that makes you a professional, but I was playing and cashing enough checks to where I could have probably made a living at it, but then I had a daughter and was doing more stuff with my band and now I don't play as many tournaments.
Were you playing primarily live or online?
I was flying to Las Vegas and to the Commerce Casino. I was making quite a few final tables. I came in fifth at a Commerce Casino shootout tournament. The lady had a two-outer and I should have cashed for $30,000. There were 300 people in that tournament, which is about the size of the tournaments I play.
You started hosting poker tournaments on the tour a number of years ago, what are those games like?
The Warped Tour is totally different. The tournaments generally have ten to twenty people and we usually play for $100 to $200.
Have you met anyone in the other bands on tour who surprised you as being especially good, or are there any people you thought would be good but ended up being the sucker?
This year there is nobody, in any of the bands, who is good. There are some good players, but they're just people who work on the Warped Tour. Matt (M. Shadows) from Avenged Sevenfold is good and so is Davey Havok from AFI. Then you always have Fletcher (Dragge) from Pennywise. He lost $13,000 on our last game in 2006. He lost money to Kevin (Lyman, founder of Warped Tour), Nick (Hexum) from 311, me, and Davey Havok. Since it was the last game, that night had a $1,000 buy-in. I was the bank so I kept giving him markers. At the end of the night I went to his manager and told him Fletcher owed me $13,000. He didn't even think twice, just opened a box and handed me the money.
Do you mix it up online at all?
Well I don't play often because people have gotten way too advanced in their ability. The kind of stakes I play online are the stakes the professionals are playing at. It's easier at home. I don't see much of an advantage playing online anymore. It's a grind. If you want to play eight hours a day you can make a living, but I don't have eight hours a day. There's a casino near my house and I would rather go there and play live.
Have you picked up games other than No Limit Hold'em?
I think the main event of the World Series of Poker should be Omaha Hi-Lo. You're not going to get an amateur to win the WSOP if it is Omaha. You're shooting for the nuts in that game and it's so easy to trap people when you're going to scoop and all they have is a 50% chance to get half. They're thinking "I can get the nuts" and maybe win half.
I play online tournaments and I do pretty good, but whenever I play Omaha Hi-Lo tournaments I get killed, which leads me to believe I'm not that good at it (laughs).
The thing is, if I get back into poker playing seriously - and I can't right now, I don't have the time - Omaha Hi-Lo is the game I want to excel at. Even though it's harder to get games at local casinos, it's easier to get cash. But you don't get as many suckers. Hold'em is pretty simple to understand, those players are not going to sit down in Omaha. Think about Backgammon, you can't play it against a real player, they will win every time. I used to play Backgammon so much as a kid, but there is so much involved in it.
The World Series of Poker overlapped with the Warped Tour this year. In the past have you ever taken time to head to Vegas for a shot at WSOP glory?
I would like to. When I go to Vegas I play the $500 tournies at the Wynn or the Bellagio. It's pretty easy to get into the money in those games. I haven't flown to Vegas to play tournaments in a while. I tour so much with my band, and when I had my daughter I just didn't have time anymore.
So we now know all about the Warped Tour games, do you get much of a chance to play when you're on your own tours?
Not really. If I do have any spare time, it's only a couple of hours. You can't sit down and play for just a couple of hours.
Playing in a casino, do you ever get hounded for pictures or autographs? How does that affect how you play?
Not so much. I did at a few celebrity tournaments. One of them I did pretty well in. It's funny because I'm the celebrity at the table and I'm thinking, "Nobody knows who I am, this isn't fair." That's when I got to meet Jennifer Tilly, Phil Laak, and Antonio Esfandiari, as well as a lot of the old time guys who were playing before poker was big.
It doesn't affect my play; I don't think anyone knows my game well enough. It's not like I have secret moves or anything like that. I play strong hands and sometimes I take advantage of weak players. I'm not some super bluffer. I semi-bluff but I don't bluff too much at all. I'm a simple player. Usually in the tournaments I play, you generally do well playing like that.
What do you think is the biggest mistake that amateurs make on the tables?
They just play too many hands. Nobody has any idea about position. Matt from Avenged Sevenfold pays attention. But people get AJ off-suit and they can't fold it. It's so funny, but dude, you have the losing hand and you have two people after you betting and you're going to play AJ? It hurts sometimes when you come in under the gun and you have AJ and well, even calling one big raise with AJ out of position is terrible.
Best of luck Mike, hopefully we'll catch you winning an Omaha Hi-Lo bracelet soon.
Need to freshen up your Omaha skills also? Check out the PokerNews Strategy section here.