PokerNews Jet Set: Cyprus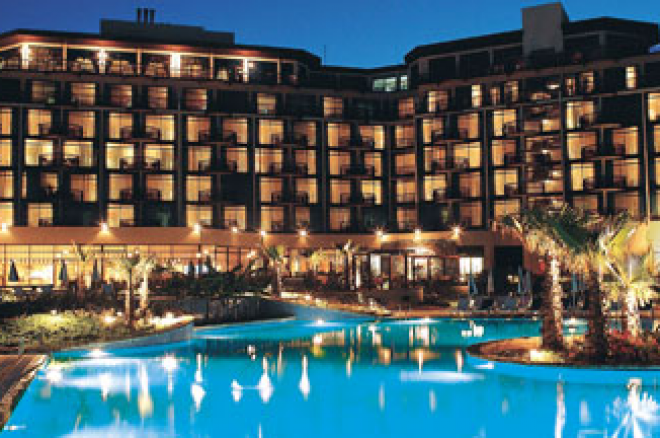 After spending your days playing poker in Cyprus during the World Poker Tour touranment series, running from September 6-12, 2009, why not go out and experience what this luxurious hotspot has to offer?
Merit Crystal Cove Hotel & Casino
This luxurious five star hotel sits between Five Fingers Mountain and the Mediterranean Sea. Offering 307 deluxe five star rooms, this stunning venue has a number of amenities that will make your stay feel as though your are living like a king, including 24-hour room service, access to a private golden sand beach, and a health club and wellness center that offers spa treatments. Arguably the most luxurious stop on the World Poker Tour, the Merit Crystal Cove Hotel is sure to satisfy even the most finicky of travelers.
Getting your Grub on
There are a ton of great restaurants in Cyprus, so one has to figure out what they are hungry for before they even begin looking. Whether you are looking for something traditional or something more, there is something out there for every pallet.
Crystal Restaurant
Located at the hotel, featuring an open buffet for diners, this casual venue offers delicious Turkish and international cuisine in addition to a salad buffet and a dessert buffet. For those looking to stay in shape, they even offer a diet buffet that will help you keep your calories down. Offering breakfast, lunch and dinner, this quickfix is perfect for those looking to get some quality food and return to the action.
Hasir Ocakbasi A'la Carte Kebap Restaurant
After playing a long session, why not consider eating Turkish delicacies while overlooking the majestic stretch of land called Five Finger Mountains and the Mediterranean Sea? Located close to the hotel, this spectacular venue offers Turkish Kebabs, mezes, salads, fruits and tasty desserts. It is perfect for those those looking to unwind from a long day at the tables. Reservations are required, so make sure to call early to get a table.
Le Bistro d'Hier
If you decide that you are going to head out to Aiya Napa for a night on the town, why not try giving this French restaurant a shot? Located at 11 Odyseos Elitis Street, this interesting venue offers a menu that changes daily based upon the freshest ingredients of the season. Although there are plenty of meat meals on the menu, the restaurant also offers vegitarian dishes upon request.
Nights on the Town
There are a number of internationally-acclaimed clubs in nearby Ayia Napa that are legendary for their resident DJs and all-night dance parties. If you love dance music or you simply just love to dance, do your best to spend at least one night out in this party mecca.
The Castle Club
This 17-year-old nightclub is one of the longest standing venues in the area. It features 14 bars, nine resident DJs and three different rooms of music. The largest club in the country, The Castle Club also offers the largest chill-out zone of all of the city's venues, and that can be a good thing when you need to take a break from the night's ecstasy. Music fans can expect to hear R&B, House, Drum and Bass and, Garage music from the DJs rocking the wax. Some of the world's best DJs have played here, so it makes it a must see for dance music affcianados.
Insomnia
Opposite McDonald's on Nissi Beach Road in Ayia Napa sits one of the area's most notorious nightclubs. For those that are looking to keep the party going once the regular clubs shut down, consider Insomnia which opens at 4:00am. This venue lets people get their groove on until well past dawn as they imbibe a bevy of different beers and cocktails. You can expect to hear Garage music at this heavily attended hotspot.
Guru
If a mellower vibe is what you are looking for then check out this local hotspot. Featuring an al fresco garden bar, a private lounge where people can try popular strains of tobacco, appropriately called The Bombay Lounge, and a dining area called Love Bites, this enchanting venue offers a taste of the mellower side of Cyprus. This relaxing spot can be found at 11 Odysseos E. Street in Aiya Napa.
For more info on the WPT Cyprus Event check out WorldPokerTour.com. PokerNews will be bringing you live updates and recaps of all the action, so follow us on Twitter for the latest.