PokerStars European Poker Tour Kyiv Day 4: Lykov Still In Front For Final Table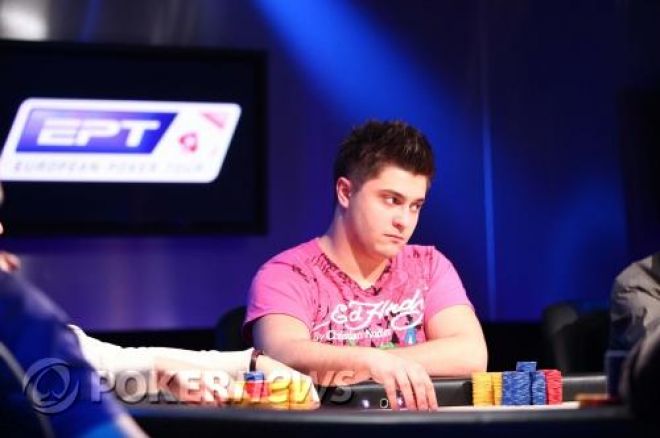 A starting field of 296 has been whittled down to just eight at the first ever PokerStars.com European Poker Tour Main Event in Kyiv, Ukraine. After four days of play at the Kyiv Sport Palace, Maxim Lykov of Russia will carry the chip lead to Sunday's final table with nearly 2.6 million — a million ahead of his nearest competitors.
Lykov had the chip lead when play began on Saturday, though Torsten Tent of Germany briefly took it away early on. However, Lykov once again soon pushed way out in front, building up a stack of 1.5 million — a healthy half-million ahead of Tent. Meanwhile, the short stacks began hitting the rail at a steady pace, beginning with a double elimination in which both Artem Litvinov (Russia) and Michele Limongi (Italy) were busted after losing an all in against the Russian Nikita Lebedov.
At the start of Level 20, just 20 players remained. More short stacks found it impossible to continue, although a few — including Michael Meyburg (Germany), Bernard Boutboul (France), and Volodymyr Pilyavskyy (Ukraine) — kept winning their races to remain in the game. While those players were able to survive and move their way up the pay ladder, a couple of bigger stacks hit the rail before them, their elimination hands proving to be among the more intriguing of the day.
First Waldemar Kopyl (Germany) got himself involved in a huge pot against Vadim Markushevski (Belarus). The pair had built a pot of nearly 250,000 when the turn made the board
. Kopyl checked, Markushevski bet 100,000, then Kopyl check-raised all in. Markushevski snap-called, turning over
for the nut straight. Kopyl, meanwhile, had been on a stone cold bluff —
— and now was drawing dead, out in 17th.
A little later on — while the short stacks continued to do what they could to stay alive — another big hand arose between American Andrew Malott and Ukraine's Alexander Dovzhenko. Malott knocked out his fellow countryman Alex Fitzgerald in 14th place just a couple of orbits before when he open-raised from under the gun to 31,000 and Dovzhenko called him from the cutoff. The flop came
, and Malott continued with a bet of 45,000. The turn brought the
and a check from Malott. Dovzhenko bet 100,000, then Malott check-raised to about 240,000. Dovzhenko responded by shoving all in, and Malott immediately called, creating a huge pot of approximately 1.4 million. Malott had two pair with
, but was in tough shape against Dovzhenko's
— a set of queens. The river was the
, and in the last hand before the dinner break Malott was out in 13th.
Boutbol would go out in 12th in the first orbit back from break, followed by Pilyavskyy soon after in 11th. Next Alexey Maslov of Russia called a preflop raise from his countryman Lykov, and both checked the
flop. The turn was the
. Maslov checked, Lykov bet 52,000 — just over half the pot — and Maslov made a substantial check-raise. Lykov then said he was all in, and Maslov somewhat unenthusiastically made the call with the last of his chips. Maslov showed
for aces, but was drawing dead against
and went out in 10th.
The remaining nine players redrew for seats and gathered around the feature table, situated on the stage at the far end of the Kyiv Sport Arena. At that point, Dovzhenko had the chip lead with over 2.2 million, followed closely by Lykov and Markushevski, both of whom had over 2 million as well. A combination of tight play and some fortuitous hands for the short stacks meant players would play on for several more hours.
During the final hour of play, a couple of big hands occurred that resulted in major chip moves. In one, Lykov rivered a Broadway straight to beat Tent's set of eights and claim a 2 million-plus chip pot. In another, Dovzhenko used his pocket queens to take a chunk of that big stack of Lykov's.
Finally, about three-and-a-half hours after nine-handed play began, Meyburg pushed all in for his last 316,000 with
and was racing with Tolokonnikov's
. A ten flopped, Meyburg couldn't catch up, and after nursing the short stack all day the German was out in ninth.
Lykov once again will spend the night enjoying the chip lead with 2.597 million, followed by Markushevski with 1.652 million and Dovzhenko with 1.59 million. A shade over €1,000,000 is still left to be awarded from the prize pool to the remaining eight, all of whom will be eyeing that €330,000 first prize and the EPT trophy.
Seat 1: Vadim Markushevski (1,662,000)
Seat 2: Lucasz Plichta (731,000)
Seat 3: Adrian Schaap (520,000)
Seat 4: Arthur Simonyan (531,000)
Seat 5: Torsten Tent (264,000)
Seat 6: Maxim Lykov (2,597,000)
Seat 7: Alexander Dovzhenko (1,590,000)
Seat 8: Vitaly Tolokonnikov (1,019,000)
Be sure to follow all of the action from Sunday's final table here at PokerNews.