PokerStars.net Asia Pacific Poker Tour Macau Day 3: Daoxing Chen Thunders to Lead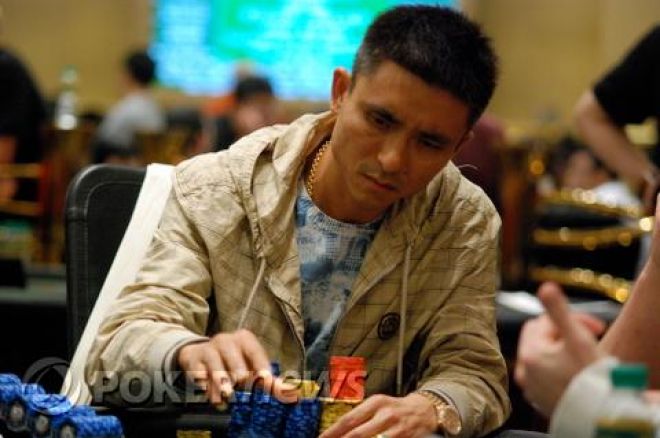 Forty-two players returned to the Grand Lisboa Hotel and Casino in Macau for Day 3 of the 2009 PokerStars.net Asia Pacific Poker Tour Macau Main Event. The contingency represented 14 countries, each vying for the HK $4,194,000 (~US $540,000) first prize. At the end of a very long night of play, it was a local boy, Daoxing Chen of China, who came back from a severe short stack to put the greatest number of chips into an overnight chip bag.
The player who impressed people the most during the day was American Brandon Demes. Demes started with an average chip stack and managed to strategically chip up in the early stages of play. For long stretches of the middle levels, Demes was the comfortable leader with more than 1 million in chips. If not for a few unfortunate river cards against the likes of Darkhan Botabayev and Chen himself, Demes could easily have entered the final table with more than 2 million chips, about a quarter of the total in play. Instead, Demes will be in sixth place with 578,000.
Chen used a timely run of cards to take the chip lead from Demes. At one point in the middle of the day, Chen was all in with a stack of less than ten big blinds, but he won that hand to double-up and then quickly vaulted his way up the counts with a series of monster hands. The coup de grace was taking almost 700,000 chips from Demes with a flopped flush against Demes' pocket aces.
Some controversy brewed as the day dragged on because of Chen's extremely methodical play. Chen regularly took several minutes to make seemingly routine decisions. The final two tables were forced to play "round for round" to ensure that Chen's table did not lag too far behind. Eventually, the tournament staff instructed Chen that he would have one minute each action for the rest of the day, essentially putting a permanent clock on him. It is unclear if those restrictions will carry through to the final table tomorrow.
Rounding out the final table are the following players:
Seat 1: Dermot Blain (507,000)
Seat 2: Michael Kim (1,653,000)
Seat 3: Daoxing Chen (1,747,000)
Seat 4: Brandon Demes (578,000)
Seat 5: Stefan Hjorthall (454,000)
Seat 6: Dbinder Singh (696,000)
Seat 7: Darkhan Botabayev (1,455,000)
Seat 8: Jicheng Su (778,000)
Seat 9: Pontus Kers (491,000)
Because the tournament staff will rewind the clock to the 10,000 and 20,000 level in order to ensure that the average stack has at least 40 big blinds, any one of these players could become the next APPT Macau Champion.
Follow the action on the Live Reporting page at 12:15 p.m. local time to learn which player it will be.