Stephen "MrTimCaum" O'Dwyer wins the Full Tilt $1k Monday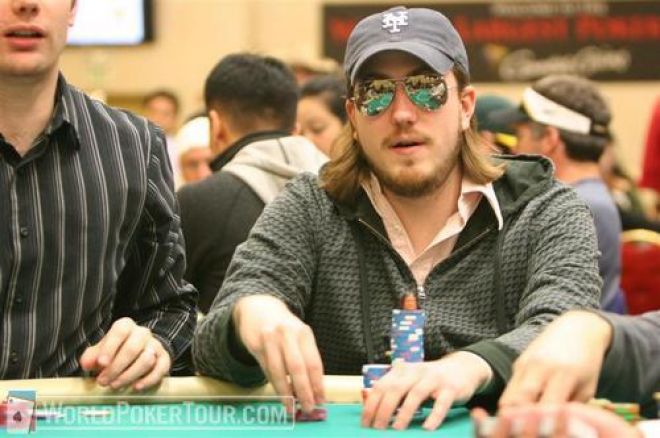 Over three-hundred hopefuls shelled out the $1,060 needed to play in Monday's biggest online tournament over at Full Tilt. Only one would walk away not scratching his head wondering what would have happened if he had played Ace-Jack differently. It was 27-year-old poker pro Steve "MrTimCaum" O'Dwyer. Over the course of his poker career he has accumulated over $700,00 in combined live and online earnings. He finished the night by adding another $93,000 to his name. O'Dwyer beat out a tough final table that included poker pros James "P0KERPR0" Campbell and Aaron "SpanishKey" Been, whose biggest claim to fame came from a verbal altercation with Team Pokerstars Pro Vanessa Rousso at the 2007 WSOP.
Other notable cashes from the evening were Bryan "Bry23" Barrile (11th-$4,687.50), Stephen "Stevie444" Chidwick (12th-$4,687.50), Eric "Sheets" Haber (21st $2,062.50), Jonathan "therookieqq9" Plens (27th-$2,062.50), and Kevin "GetPWN3D" Saul (28th-$1,687.50).
Full Tilt $1K Monday $300,000 Guaranteed
Buyin: $1000 + 60
Prize Pool: $375,000
Entrants: 375
1. Stephen "MrTimCaum" O'Dwyer - $93,750
2. AlexandraPaul- $60,000
3. californication - $45,000
4. makavelyces - $34,687.50
5. JD_Killer - $26,250
6. chaz_man_chaz - $18,750
7. James "P0KERPR0" Campbell - $12,187.50
8. Aaron "SpanishKey" Been - $9,375
9. deaglepro - $7,500
Get into the action yourself by signing up over at Full Tilt and don't forget to follow us on Twitter here.
*Photo Courtesy of the World Poker Tour*