The Online Railbird Report Vol. 26: South Still Surges as Benyamine Swings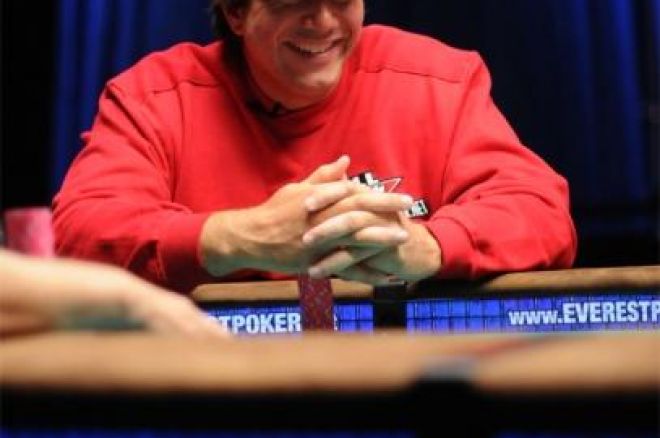 Despite the start of FTOPS XIII, the high stakes cash games over at Full Tilt have continued to go strong. Some players have boosted their bankrolls six figures while others have gone in the opposite direction. The last few days have seen a familiar name at the top with Cole South continuing his strong play, emerging as the biggest winner, winning about $660,000. Not too far behind was "martonas," banking about $518,000. David Benyamine has made a splash the last several days as well, both positive and negative. He led the way with a $622,000 profit on Friday and a $398,000 loss on Sunday. All in all, it has been an exciting few days of poker.
Soaring South
Cole South had a huge Thursday and much of it was due to a few big wins against luckexpress10 in $300/$600 mixed HA. In a Hold'em hand, South had the button and raised to $1,800, only to see luckexpress10 make it $5,400. South called and the flop fell
. Luckexpress10 bet the pot of $10,800 and South smooth-called, delivering the
on the turn. Luckexpress10 fired at the pot again, this time with $32,400. South raised to $129,600 and luckexpress10 called all in for $71,099 with
for top two pair, while South revealed
for the nut flush. Needing to dodge an ace or seven on the river, South did so, as the
landed, sending the pot of $239,398 South's way.
South took another big pot in Hold'em shortly thereafter. He raised to $1,800 and luckexpress10 popped it to $5,400. South three-bet making it $15,000 and was called, leading to a
flop. Both players checked and the
appeared on the turn. Luckexpress10 bet the $30,000 pot and South called before the
hit the river. Luckexpress10 went all in for $57,481 and South called with
for the low end of the straight, besting luckexpress10's
, and taking down the $204,961 pot.
Marvelous Martonas
It was not all smooth sailing for Cole South as "martonas" took a chunk of change off him on Monday at $300/$600 NLHE. South raised to $1,800 on the button and martonas called from the large blind. The flop came down
and martonas checked to South who bet $3,000, but it wasn't long before martonas put in a raise to $10,200. South responded by bumping it to $27,800 and martonas shoved for $103,993. South immediately called all in for just over $90,000 with
and had the lead against martonas'
. Unfortunately for South, the turn brought the 9s and gave martonas the winning flush. The river was a meaningless 7d and martonas won the pot worth $191,185.
South would run into some more tough breaks later on. On the button, martonas made it $1,800 to play and South popped it to $6,000 from the big blind, and was called. The flop was
and South led out with $7,200. Martonas called, bringing the
on fourth street. South opted to check this time and martonas fired $16,800 into the middle, however South went all in for $60,299. A quick call from martonas revealed
, crushing South's
. Fifth street was the
and martonas collected the pot of nearly $150,000.
Benyamine Bounces Around
David Benyamine's swings the last few days have been massive, at the top of the winners' list one day and at the top of the losers' list the next. In the end, Benyamine finished around even. Some of his most notable hands came at the $300/$600 PLO tables. At a four-handed table with Di "Urindanger" Dang, Phil Ivey, and John Juanda, Dang raised to $1,800 in the cutoff, Ivey called on the button, Benyamine called from the small blind, and Juanda released his hand from the big blind. The
flop was checked to Dang who bet $4,200. Ivey folded, Benyamine called, and the turn was the
. Benyamine checked and Dang fired $11,400. Benyamine raised it to $49,000 and Dang went all in, having his man covered. Benyamine called all in for about $70,000 more and tabled
for a set while Dang showed
for top-two pair, an open-ended straight draw, and a flush draw. However, he whiffed on all of them as the river was the
to make a full house for Benyamine, giving him the $247,740 pot.
Benyamine also won a $200k pot against Phil Ivey. Benyamine, Ivey, and Ilari "Ziigmund" Sahamies all committed $8,500 to see the flop run out
. Ivey was first to act and led out $21,000. Benyamine raised to $88,900. Ivey went all in for about $120,000 total and Beyamine called. The hands were:
Ivey:
(overpair, flush draw)
Benyamine:
(two pair, lower flush draw, straight draw)
Ivey found no help as the turn and river fell
, shipping the $241,702 pot to Benyamine's stack.
Who's Up, Who's Down
This week's biggest winners:
Cole South (+$660,922)
martonas (+518,482)
DIN_FRU (+$411,310)
This week's biggest losers:
luckexpress10 (-$750,286)
Rafi "howisitfeellike" Amit (-$534,942)
David Oppenheim (-$476,947.55)
Di "Urindanger" Dang (-$394,189)
Not ready to jump in the big game? Check out all these great Freerolls.