Iron Man: Examining the New Poker Tournament Format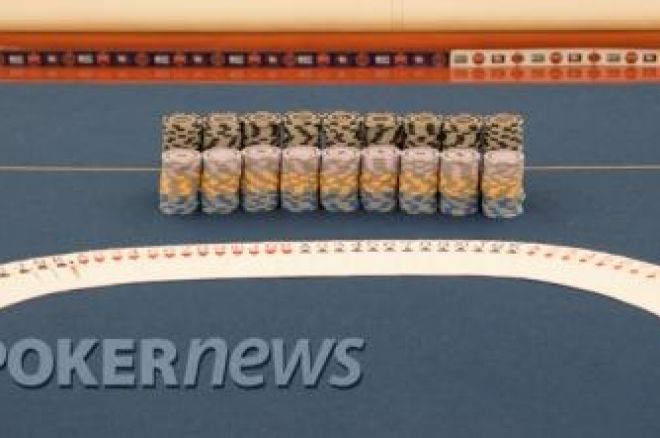 When I think of Iron Man, three things come to mind: Ozzy Osbourne, a comic book, and Matt Savage.
In 1970, Ozzy Osbourne's heavy metal band, Black Sabbath, recorded a single titled "Iron Man." The song became an anthem for headbangers over the last three decades. The song had no connections to the Marvel comic book series also titled "Iron Man." As a youngster, I had a stash of "Iron Man" comics that featured a superhero inside an iron suit of red and yellow armor. Then there's Matt Savage. He's not a comic book character or a famous British musician, rather, he's a renowned tournament director who implemented an innovative idea -– an Iron Man poker tournament without a single break.
Savage's services are in high demand by casinos worldwide because of his ability to run smooth tournaments. He consistently achieves a harmonious balance catering to fickle players while surpassing management's financially oriented goals. No one is better at it than Savage. The casinos make money and the players have fun. He accommodates disgruntled players whether he's tweaking tournament structures, varying the price of buy-ins, or adding a variety of new games to an event schedule.
Event #15, the $1,600 Iron Man, stood out from the other 17 tournaments that Savage created for the Hold'em Series at Commerce Casino. Advertised as a tournament with "no deals" and "no breaks," runners in the Iron Man would not stop until a winner was declared in a true test of skill, grit, determination, and survival.
Savage outlawed deal-making in the Iron Man event. Money chops at final tables are a common occurrence at Southern California casinos. However, to determine the Iron Man winner, the final players had to play down to the final death blow. The last player standing (or maybe "awake" would be a more appropriate word) won 50% of the prize pool.
A faction of players considered themselves "anti-breaks." They thought that tournaments had too many of them. They loathed lengthy dinner breaks and were used to online tournaments with a mere five-minute break every hour. Savage acknowledged their preferences and gave them an opportunity to play straight through a tournament without any stoppages.
"This is something that a lot of full-time MTT players have wanted," said Shane "Shaniac" Schleger.
I asked Shaniac if he thought online tournament players who were used to playing elongated sessions with minimal breaks held an advantage over bricks-and-mortar players.
"My guess would be that Commerce 'degens' who are used to spending 78 hours straight in the top section would have an edge over online players," Shaniac said.
Only 64 players were brave enough to test their Iron Man skills. The field of local grinders and online pros included Shaniac, Gavin Griffin, Joe Bartholdi, Matt Graham, Eric "Basebaldy" Baldwin, Adam Junglen, Sam Simon, Rick Fuller, and 2009 L.A. Poker Classic Champion Andrew Cimpan. Only the top six places would win prize money, with over $50,000 set aside for the champion.
The Iron Man tournament kicked off at 5 p.m. and three free meals were scheduled at 10 p.m., 6 a.m., and 2 p.m. If players busted out before meal time, they were not fed. Players missed hands if they wanted to take bathroom breaks or smoke a cigarette, so the format put nicotine addicts at a disadvantage. At the same time, players who had the natural ability to stay up for 36- or 48-hour sessions held a slight edge -– provided they lasted that long. Bladder control was an undervalued asset at the poker tables. If a player's liquid energizer was Red Bull, then that player might have a difficult time late in the night. The more they drink, the more they have to urinate.
"I watched grown men run to the bathroom so they didn't miss a hand," Savage said. "We had a guard posted at the bathroom to make sure hands were washed."
Action in the Iron Man progressed faster than anticipated. Players began with a 10,000-chip starting stack and were scheduled to play 60-minute levels with the clock constantly running. An astonishing eight players were eliminated during the opening 25/25 blind level. More than 40 players busted out in the first six hours of play. Around midnight, the pace of eliminations finally slowed.
"At about 5 a.m., you could see the players' eyes drooping," Savage explained. "The play deteriorated slightly."
That's the point of the tournament when fatigue negatively affected playing conditions. Alert players held the edge over the exhausted ones who might be able to disguise the strength of their hand but could not hide their weary eyes. As the tournament director, Savage was on the scene from the moment the cards went in the air until the final hand was dealt. He felt that if the players could go the distance, then he could endure the long hours as well.
The Iron Man tournament lasted 19 hours and 21 minutes. Brett "Ghostdog" Radin from Los Angeles beat Chris Tyrba heads-up for the victory. Radin collected $51,560 and bragging rights.
"It was the truest poker tournament I have ever seen or played in," Radin said.
There's a demand for future Iron Man tournaments and Savage noted that another event will be added to the 2010 L.A. Poker Classic schedule. Savage admitted his only regret was that the tournament failed to last 24 hours. One hopes that the success of this event will attract more players to the next one, ensuring a longer event.
I'm a sadist and I wanted to see the Iron Man contest last for at least two days and under harsher conditions. Poker players in the 21st century are too coddled, even in this Iron Man event. When Texas Dolly and his fellow road gamblers roughed it out in the back rooms of bars and gambling halls in Texas, they played for several days straight against armed opponents. They constantly worried about getting busted by the police or robbed. You can't create that sort of duress in today's legitimized poker scene, but you can reduce the comfort level of the players and make the event a genuine test of survival.
This inaugural version of Iron Man attracted a gaggle of pushmonkeys who busted out in the first level. Maybe no-limit isn't the way to go to determine the supreme Iron Man. Perhaps H.O.R.S.E. or other mixed-game options should be explored?
British photographer Steve Hall noted, "The next Iron Man either has to be limit (hold'em) or restricted to players as tight as Allen Kessler and Surinder Sunar."
Now there's an idea. Limit hold'em. But make it deep-stacked with lots of extra levels added in the middle. That would guarantee a tournament to last a week and the buzz would attract a frenzied crowd of railbirds five and six deep hoping to catch a glimpse of the remaining players slugging it out in their marathon session.
In addition to no breaks, I propose prohibiting iPods and cell phones. Also, impose a ban on all food and water. That's right. No food and no water until the tournament ends. You can even torture players by dangling food items over their heads. I know that some bleeding-heart liberals would object to those Draconian conditions more suited for secret CIA prisons than for a poker tournament. It's not like I'm suggesting waterboarding or removing players' fingernails with pliers.
I'm willing to compromise, but you have to penalize the players for eating or drinking at the tables. There's no semblance of comfort in Iron Man. If players need food, they should have to sit out and run over to the Cantina to wolf down a foul Commerce taco, chug a Red Bull, and then sprint back to their table hoping that they only missed a hand or two.
If you truly want to host a barbaric Iron Man event, then ban Red Bull, coffee, and caffeine altogether. Also, conduct random drug tests for cocaine, methamphetamine, and Adderall to ensure that everyone is competing on a level playing field.
Plus, do not allow players any sleep. Give them toothpicks to prop open their eyes. Make sure they don't try to catch a few Zzzzzs in the bathroom stall during a break. An armed escort to the bathroom would prevent any shenanigans. Individuals are prone to act in peculiar manners during periods of sleep deprivation. Zapped players on the brink of losing their sanity are far more fascinating to watch.
How can players with depleted energy levels compete for high stakes and make rational decisions when they're in the middle of fierce hallucinations and everyone around them is speaking in tongues? If they can survive all of those formidable obstacles and conquer their neurosis, then they truly earned the title of Iron Man.
Read more of Dr. Pauly's work at TaoPoker.com, and follow us on twitter while you're at it.