Pokerstars WCOOP Day 16: Bertrand "ElkY" Grospellier Adds WCOOP Bracelet to Trophy Case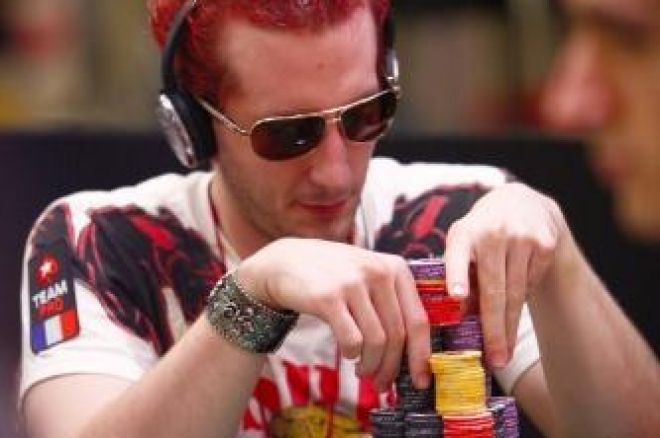 Big names rose to the top on day 16 of the 2009 World Championship of Online Poker. The biggest prize went to none other than Team PokerStars Pro Bertrand "ElkY" Grospellier. He came out on top of Event 38, a $530 no-limit hold'em [1 rebuy, 1 add-on] for $232,730. The other highlight of the day was a win for Terrance "Unassigned" Chan. In April, Chan won two Spring Championship of Online Poker events on the same day. Both were limit hold'em six-max tournaments, and this time around, Chan did it again. He emerged victorious in WCOOP Event 39, a $1,050 limit hold'em six-max.
Kicking off the day's action was Event 38. Bertrand "ElkY" Grospellier was seventh in chips with eight players remaining before mounting a furious comeback. He won several critical hands, but perhaps the most crucial was against Hafiz "hafizzle" Khan with five players left. It was a battle of the blinds when Khan raised from the small blind and "ElkY" called from the big blind. Khan bet on every street of the
board and Grospellier called each time. The river bet had "ElkY" covered and he called all-in revealing
. Khan turned over
and saw that his flopped set had been run down by "ElkY"'s rivered flush. It was hardly smooth sailing from that point forward, but "ElkY" went on to win the tournament and the WCOOP bracelet, continuing his already outstanding year.
PokerStars WCOOP 38 - $530 NL Hold'em [1 Rebuy 1 Add-on]
Buy-in: $500+30
Prize Pool: $1,369,000
Entrants: 1,169
1. Bertrand "ElkY" Grospellier - $232,730
2. Ginsash - $171,125
3. Pinnekjøtt - $129,918.10
4. Hafiz "hafizzle" Khan - $93,092
5. cashryders22 - $67,765.50
6. natefive - $54,075.50
7. Jeff "ICuRaRook" Sluzinski - $40,385.50
8. Kid Canepa - $26,695.50
9. Jeff "jeff710" Hakim - $14,785.20
Notable Finishes: James "mig.com" Mackey (11th - $11,773.40), Eric "thanksB" Froehlich (13th - $9,172.30), Matt "GrinderMJ" Juttlestad (16th - $6,571.20), Dan "Lenny" Heimiller (20th - $5,476), Rayan "rkruok" Nathan (26th - $5,476), Bryn Kenney (27th - $5,476), Gualter "stockcar99" Salles (33rd - $4,791.50), Dylan "ImaLucSac" Linde (34th - $4,791.50), Jon "PearlJammer" Turner (35th - $4,791.50).
The Event 39 heads-up duel went back and forth between Terrance "Unassigned" Chan and Cesar "makavelyces" Fuentes, with Fuentes holding a 12:1 chip lead at one point. However, Chan fought valiantly and came back. On the third-to-last hand, Chan held a 3:1 chip advantage and won a key pot, leaving Fuentes with just two big blinds. Chan had the button and raised. Fuentes three-bet and Chan called, leading to a flop of
. Fuentes fired, Chan called, and the
landed on the turn. This time Fuentes put in a check-raise and Chan called. Fuentes bet when the
hit the river, but Chan popped it up again. Fuentes called and mucked when Chan tabled
for trips, propelling him to the win two hands later for $83,030.
PokerStars WCOOP 39 - $1,050 Limit Hold'Em [6-max]
Buy-in: $1,000+50
Prize Pool: $437,000
Entrants: 437
1. Terrance "Unassigned" Chan - $83,030
2. Cesar "makavelyces" Fuentes - $61,180
3. Vingtcent - $44,792.50
4. SoulMaster7 - $30,590
5. Tommy2tyme - $21,850
6. KINGKUNG - $13,984
Notabale Finishes: Joel Adam "2FLY2TILT" Gordon (9th - $9,177), Chad "ChadBrownPRO" Brown (10th - $5,899.50), Ylon Schwartz (13th - $4,151.50), Andre "aakkari" Akkari (14th - $4,151.50), Ryan "ryanbluf" Karp (16th - $4,151.50), Christian "charder30" Harder (20th - $3,277.50), John Duthie (23rd - $3,277.50), Hafiz "hafizzle" Khan (25th - $2,840.50).
Event 40 was a $215 no-limit Omaha hi-lo with 10-minute levels, the only such event on the WCOOP schedule. When all was said and done, Chris "PiMaster" Viox defeated Ben "Benba" Lamb heads-up to claim the bracelet. On the final hand, Lamb raised on the button and Viox called. The flop came
and both players checked, and the
fell on fourth street. "PiMaster" led out and Lamb went all in, but was insta-called by Viox who tabled
for quads and a low draw. "Benba" turned up
and was in a lot of trouble, needing a three or deuce to make a winning low. It did not happen as the
fell on fifth street, sending Chris "PiMaster" Viox to the winners circle for $42,263.65.
PokerStars WCOOP 40 - $215 N0-Limit Omaha H/L [10-min levels]
Buy-in: $200+15
Prize Pool: $253,000
Entrants: 1,265
1. Chris "PiMaster" Viox - $42,263.65
2. Ben "Benba" Lamb - $30,866
3. chips151 - $23,276
4. dav713 - $17,204
5. LUCKY FACE - $12,397
6. PLO UFO - $9,867
7. thegrizz1111 - $7,337
8. Ryan "late_entry" Gentry - $4,807
9. cocody1 - $2,631.20
Notable Finishes: Barry "barryg1" Greenstein (19th - $1,012), Alex "Dieselek" Bolotin (26th - $1,012), Jeremiah "Believer82" Vinsant (28th - $885.50), Billy "crocky" Argyros (31st - $885.50).
Time is running out on the WCOOP, so sign up for a PokerStars account and win your bracelet today.