PokerStars WCOOP Day 17: David Williams Takes 8-Game Title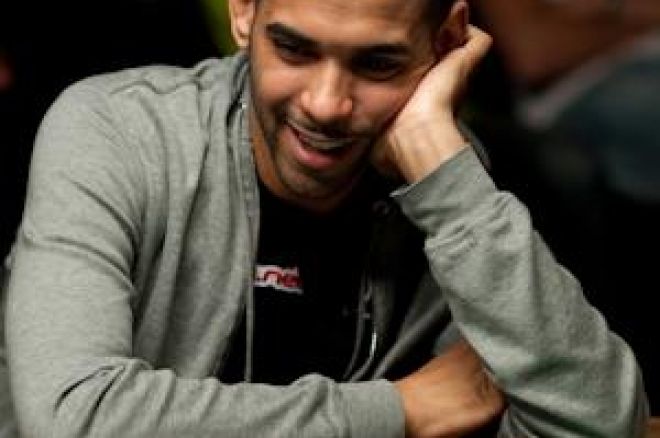 For the second straight day, the 2009 World Championship of Online Poker saw two professionals emerge with WCOOP titles. Justin "robert07" Young won Event 41, the $530 pot-limit Omaha heads-up tournament, and 2004 World Series of Poker Main Event runner-up David "RugDoctor" Williams won Event 42, the $2,100 8-game battle. Much like last week's $530 no-limit hold'em heads-up event, the pot-limit Omaha heads-up tournament was a marathon, taking almost 21 hours.
Justin Young built a 2:1 chip advantage and maintained it for a little while before "AB_illusive" went on a rush to take the lead. However, he didn't hold his lead long because Young doubled up in what can only be described as a serious cooler. Preflop, "AB_illusive" raised and Young called. Young put in a check-raise on the
flop, with "AB_illusive" calling, bringing the
on the turn. Both players opted to check, delivering the
on the river. The action picked up, resulting with Young three-betting all-in. "AB_illusive" paused for a few seconds before calling with
, because he feared his full house might be beaten. His feeling was spot on as Young tabled
for quads. Justin "robert07" Young won the tournament a few hands later for $52,600 and the WCOOP bracelet.
PokerStars WCOOP 41 - $530 Pot Limit Omaha [heads-up matches]
Buy-in: $500+30
Prize Pool: $263,000
Entrants: 526
1. Justin "robert07" Young - $52,600
2. AB_illusive - $26,300
3. Jules "hartwith" Adamson - $15,780
4. Aaron "GambleAB" Bartley - $15,780
5. Michael "Scary_Tiger" Kaufman - $8,153
6. WhySoSerius7 - $8,153
7. tallgeir - $8,153
8. James "Andy McLEOD" Obst - $8,153
Notable Finishes: Rayan "rkruok" Nathan (9th - $2,893), David "WhooooKidd" Baker (11th - $2,893), Yadin "Science" Shemmer (12th - $2,893).
Event 42 came to an end after a heads-up duel pitting two world-class players against each other for the WCOOP bracelet. David "RugDoctor" Williams defeated Alexander "joiso" Kostritsyn, earning $107,800 in the process. Although Kostritsyn began heads-up play with the chip lead, Williams fought back and eventually came out on top during a seven-card-stud rotation. The hand that did "joiso" saw him begin with two kings in the hole. On fifth street, Kostritsyn made kings up, but Williams had begun the hand with buried eights and then hit trips on fifth street. Kostritsyn was not able to make a full house, and Williams won a huge pot. On the next hand, Williams closed it out, earning his first WCOOP bracelet as well as over a $100,000.
PokerStars WCOOP 42 - $2,100 8-Game Mix
Buy-in: $2,000 +100
Prize Pool: $490,000
Entrants: 245
1. David "RugDoctor" Williams - $107,800
2. Alexander "joiso" Kostritsyn - $75,215
3. Van "Sirens" Marcus - $56,350
4. luetch1 - $39,200
5. Matt "plattsburgh" Vengrin - $29,400
6. grampabumkin - $19,600
Notable Finishes: Rami "arbianight" Boukai (8th - $13,230), Ryan "jusgivithere" Fisler (10th - $7,595), Brandon "BrandonPL" Leeds (11th - $7,595), Yadin "Science" Shemmer (14th - $5,390), Casey "bigdogpckt5s" Jarzabek (21st - $4,410), Scott "xmrstyle" Bohlman (23rd - $4,410).
Although the WCOOP is coming to a close there is no reason not to sign up for a PokerStars account to get in on the furious tournament action 24/7.