2009 Poker Hall of Fame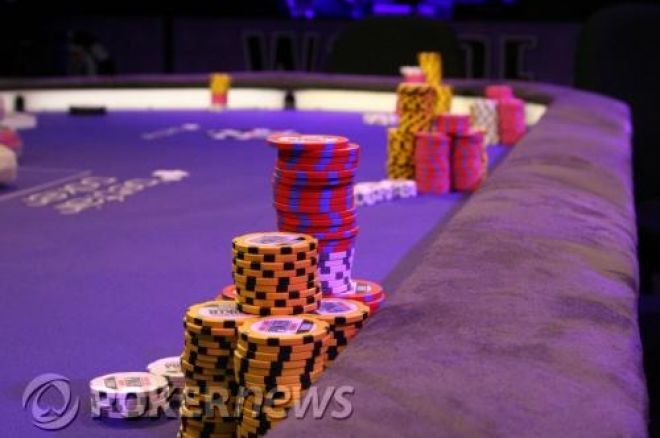 Benny Binion, eccentric owner of The Horseshoe, created the Poker Hall of Fame in 1979 to honor poker's elite. This savvy businessman also used the Hall of Fame to lure tourists into his downtown casino. Leave it Binion to come up with a way to commemorate history and make a buck off it.
Binion took note of a group of exceptional gamblers who consistently demonstrated talent above and beyond their peers. They were gods among mere mortals. Moss. Brunson. Ungar. They deserved a pedestal where we could all worship them. Since its inception, 36 men and one woman have been elected into the Poker Hall of Fame. Non-professional players have been recognized for their contributions to poker beyond the felt. That group of Hall of Famers includes Benny Binion, Jack Binion, James "Wild Bill" Hickok, Edmond Hoyle, and Henry Orenstein (the inventor of the hole-card cameras).
Ballots for this year's class were due this past Friday. Nine players made the cut: Barry Greenstein, Mike Sexton, Erik Seidel, Phil Ivey, Daniel Negreanu, Scotty Nguyen, Dan Harrington, Men "The Master" Nguyen, and Tom McEvoy. Their fate lies in the hands of a 30-member panel consisting of 15 Hall of Famers and 15 members of the media. Panelists were allowed to vote for no more than three players, and nominees needed 75% of votes to gain entry.
The Hall of Fame Governing Council surprised me with its decision to open the voting to members of the media this year. I think that only current Hall of Fame members should exclusively determine whether or not to allow their peers to share the honor of a Hall of Fame nod. I understand why the media were given a say in the matter – to maintain the integrity of the Hall of Fame and prevent cronyism. Many baseball purists will argue that a player like Phil "The Scooter" Rizzuto did not have strong enough numbers to gain entry to the Baseball Hall of Fame in Cooperstown, N.Y., but since the New York Yankees shortstop was so popular among a group of Hall of Famers, the veterans voted him in 35 years after his original eligibility date.
Part of me feels that players should be unanimously voted in, but then again, if a Hall of Famer has a personal grudge against another player, that player will never gain entry until that Hall of Famer passes away. Maybe that would create an added element of drama to future Hall of Fame proceedings. "Not over my dead body" would have a whole new meaning.
Should there be an age requirement for the Hall of Fame?
My short answer is "yes." In most sports Halls of Fame, you have to be a retired player to become eligible. That is not the case in poker. Doyle Brunson proved that you can play competitively well into your 70s. The Hall of Fame set precedent when it elected Chip Reese at the age of 40. He was still at the top of his game at his untimely death in 2007 — almost two decades after he was originally nominated. Because Reese reflected the embodiment of a player of Hall of Fame caliber, we almost have to use him as a measuring stick for future inductees, especially his age at the time of induction. Maybe there needs to be a "Chip Reese Rule" that a player cannot be eligible until he turns 40 years old.
Even if Phil Ivey never played another hand of poker, he'd be a lock for the Hall of Fame today. When I look at the list of nominees, no one comes close to his ability. The scary thing is that he's still getting better and has yet to reach the pinnacle of his exceptional career. Setting an age requirement will give the voting panel at least two decades to thoroughly examine the playing history of the nominee. If Tom "durrrr" Dwan is still killing the game in 17 years, then he'll get receive his invitation. In the 21st century, online players like Annette Obrestad are starting their careers as early as 15 years old. By the time they reach 40, they would have more than paid their dues.
"Halls of Fame for any sport is for players whose careers have more to look back at than look forward to," Doyle Brunson wrote on his blog. If you listen to the wisdom of Old Texas Dolly, then thirtysomethings Phil Ivey and Daniel Negreanu are too young to even be considered. They will both eventually reach the Hall of Fame, but I don't think this will be their year.
The favorites for this year's class of inductees are Mike Sexton, Erik Seidel, and Barry Greenstein. The dark horse is Tom McEvoy. Yes, that was not a typo. Tom McEvoy is the "Joey Knish" of this year's nominees. Not only did he launch a clever campaign using social media outlets such as Facebook, but his sponsor, PokerStars, also lobbied for the former world champion.
McEvoy's devotion to the game drew the respect of several Hall of Famers including Doyle Brunson who said, "Tom is a longtime ambassador of poker and is one of the old guys that I favor. I understand that playing for high stakes is different for everybody. You have to be a little bit crazy to play the stakes some of us play for, but Tom has put his time in at the tables."
If you read between the lines, it sounds like No Country For Old Men to me with Texas Dolly throwing his weight behind McEvoy.
Here's a rundown of the nine nominees...
Mike Sexton
Former Life: Professional ballroom dancer
Career Tournament Earnings: $3.8 million
Major Wins: 1 WSOP bracelet and the 2006 WSOP Tournament of Champions
Catch Phrase: "The price of poker is going up!"
Claim to Fame: As one of the announcers, Mike Sexton is almost as powerful as the World Poker Tour brand itself. I don't know about you, but sometimes I hear Sexton's running commentary in my head when I'm playing poker.
Dark Side: Stu Ungar was one of Mike Sexton's best friends, so you know that Sexton has been around the block a couple of times. He lived the gritty side of poker before the poker boom facilitated a face-lift and washed away all the filth.
Best Asset: Sexton is the true ambassador of poker as the voice of the WPT and a pitchman for Party Poker. He was an integral part of the development of Party Poker's software. The ensuing results spurred the explosion in popularity of online poker. Sexton also has a philanthropic side. He donated his TOC winnings to several charities.
Chances of Making Hall of Fame in 2009: 4 to 1
Erik Seidel
Former Life: Wall Street
Career Tournament Earnings: $9.8 million
Major Wins: 8 WSOP bracelets and 1 WPT title
Catch Phrase: Doesn't have one, but you should follow him on Twitter. His daily musings are hysterical.
Claim to Fame: His cameo in Rounders when he bluffs into Johnny Chan nut straight.
Dark Side: Seidel displays the serenity of a Tibetan monk. If there's a dark side, no one has yet to see it.
Best Asset: Have you seen that Full Tilt commercial with Howard Lederer? Seidel has eight bracelets in his collection and he's on pace for ten. He has shown excellence in all forms of poker, not just no-limit hold'em. He's also cleaned up Down Under winning 13% of his career earnings in Melbourne, Australia.
Chances of Making Hall of Fame in 2009: 8 to 1
Barry Greenstein
Former Life: Computer programmer
Career Tournament Earnings: $7 million
Major Wins: 3 WSOP Bracelets and 3 WPT titles
Catch Phrase: "Lol Donkaments!"
Claim to Fame: He's Joe Sebok's dad.
Dark Side: Weakness for Asian women.
Best Asset: Greenstein regularly plays in the highest limit cash games inside Bobby's Room at the Bellagio. He's also known as the "Robin Hood of Poker" because of his philanthropic obligations around the globe.
Chances of Making Hall of Fame in 2009: 8 to 1
Tom McEvoy
Former Life: Accountant
Career Tournament Earnings: $2.9 million
Major Wins: 1983 WSOP Main Event, 4 WSOP bracelets, and the 2009 Champions Invitational
Catch Phrase: "I get no respect."
Claim to Fame: McEvoy was the first player to win an actual satellite to the Main Event. He's also been a strong proponent of anti-smoking laws inside casinos. If you hate second-hand smoke, you can thank McEvoy for having smoke-free tournaments and poker rooms.
Dark Side: McEvoy sold the Corvette that he won in the Champions Invitational.
Best Asset: McEvoy might pull the Veterans' vote for many years of service at the tables. He could be the "Phil Rizzuto" of poker.
Chances of Making Hall of Fame in 2009: 12 to 1
Phil Ivey
Former Life: "No Home Jerome"
Career Tournament Earnings: $12 million
Major Wins: 7 WSOP bracelets, 2009 November Niner, and 1 WPT title
Catch Phrase: Nothing. He rarely speaks.
Claim to Fame: He's the Phil Ivey of poker.
Dark Side: If Ivey has one flaw, it's degenerate gambling away from the poker tables. He lost $2 million betting on the NBA Finals in 2008. He once donked off $1.1 million at the craps tables during a dinner break of the WSOP.
Best Asset: At 33 years old, Ivey is the best poker player in the world. Very few people seem to argue against that. Plus he might add a WSOP Main Event title to his impressive resume.
Chances of Making Hall of Fame in 2009: 15 to 1
Dan Harrington
Former Life: Bankruptcy lawyer
Career Tournament Earnings: $6.6 million
Major Wins: 1995 WSOP Main Event, 2 WSOP bracelets, and 1 WPT title
Catch Phrase: He doesn't have a catch phrase, but mostly everyone knows him as "Action Dan."
Claim to Fame: The former world champion made back-to-back final tables in the Main Event in 2003 and 2004.
Dark Side: He's not a regular on the circuit and doesn't play as many events and side cash games as the other nominees.
Best Asset: Harrington's collection of books helped turn a generation of newbies into winning poker players. As a poker educator, Harrington is one of the best at explaining high-end concepts to everyday people.
Chances of Making Hall of Fame in 2009: 20 to 1
Daniel Negreanu
Former Life: High school dropout and pool hustler in Toronto
Career Tournament Earnings: $12.4 million
Major Wins: 4 bracelets and 2 WPT titles
Catch Phrase: Anything he says while impersonating Scotty Nguyen.
Claim to Fame: No one has won more money playing live tournaments than Negreanu, and he did it without the benefit of winning a WSOP Main Event.
Dark Side: Negreanu is a degenerate prop bettor and was rumored to have lost almost $1 million on the golf course.
Chances of Making Hall of Fame in 2009: 25 to 1
Scotty Nguyen
Former Life: Poker dealer
Career Tournament Earnings: $10.7 million
Major Wins: 1998 WSOP Main Event, $50,000 H.O.R.S.E., 5 bracelets, and 1 WPT title
Catch Phrase: "You call now and it's all over, baby!"
Claim to Fame: During the final hand of the 1998 Main Event with the board reading 9h-9d-8h-8c-8s, Nguyen yelled "You call now and it's all over, baby!" He induced Kevin McBride to call his all-in bet and play the board when Nguyen was way ahead with J-9 for a bigger full house.
Dark Side: Scotty's drunken behavior at the $50,000 H.O.R.S.E. Championship was vilified in the press and on Internet forums. A lot of fans, players, and members of the media lost respect due to the Prince of Poker for his crude antics that evening.
Chances of Making Hall of Fame in 2009: 50 to 1
Men "The Master" Nguyen
Former Life: Bus driver
Career Tournament Earnings: $9.2 million
Major Wins: 6 WSOP bracelets
Catch Phrase: "All you can eat!"
Dark Side: Rumors have been swirling around for decades that Men the Master spearheaded a cheating ring. There has never been proof but only rumors, hearsay, and speculation. Nguyen vehemently denied the cheating allegations and threatened lawsuits against any reporters who said otherwise. Although Nguyen has had a few brushes with the law, none of them ever involved cheating.
Best Asset: Men the Master is called the Godfather of Vietnamese Poker because he's mentored and backed many of today's top Vietnamese players.
Chances of Making Hall of Fame in 2009: Slim to none
Read more of Dr. Pauly's work at TaoPoker.com, and follow us on twitter while you're at it.