PokerNews Op/Ed: The WSOP and WSOPE Main Events – Same Bracelet, Different Weight?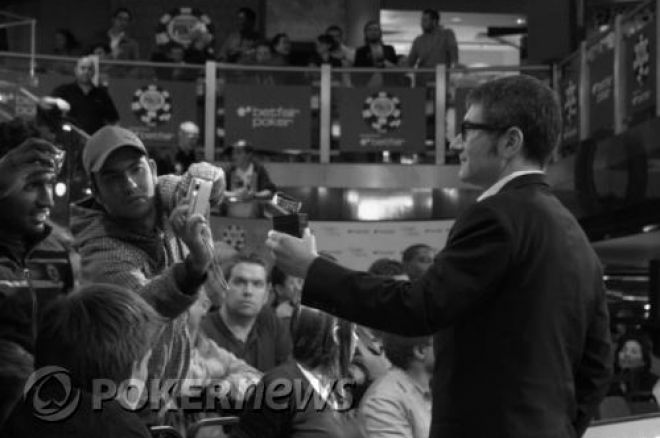 Two years ago this week, I sat ten feet from Annette Obrestad as she won the inaugural World Series of Poker Europe Main Event. Although she was already a legend online, Obrestad's victory was her coming-out party and in the weeks and months that ensued, the tiny, soft-spoken 19-year-old from Norway was transformed into an international sports entertainment superstar, complete with photo shoots, a sponsorship deal, and the opportunity for global travel. The following day I wrote a piece about her win; about how she made grown men cry as she hoisted her bracelet above her head, and about how thrilled I was to finally see a female Main Event winner. It was, and still is, the best moment I've ever witnessed in a major poker tournament.
Oh, the email and comments that poured in from that one! Most people asked how a bracelet in the WSOP's Las Vegas Main Event could possibly be compared with one in London. Often cited was the fact that the London field was so much smaller — 362
players that year — compared with the 6,000+ in Las Vegas.
"A WSOP-E bracelet is just not the same as a WSOP bracelet. It never will be," wrote one irate reader. "I just don't consider (Obrestad) a 'Main Event winner.'"
I beg to differ. Sure, when it comes to the elite titles in tournament poker, the Las Vegas WSOP Main Event still ranks first because of its rich history and the fact that it's still by far the biggest prize pool in poker. Next in line is the WSOP $50,000 H.O.R.S.E., a best-of-the-best, elite-of-the-elite event that crowns the year's top all-around limit player. After that? Some might say the World Poker Tour Championships. A case also could be made for the European Poker Tour Grand Final in Monte Carlo. For me, however, the bronze medalist in this battle of prestige is the World Series of Poker-Europe Main Event. And when I think of "Main Event Champions," Obrestad, John Juanda, and now Barry Shulman are on that list.
The WSOP-E Main Event field is one of the toughest in tournament poker. The £10,000 buy-in, just short of $15,900 by today's exchange rate, and the lack of cheap satellites on U.S.-facing online sites makes it a prohibitively expensive endeavor for the casual player. However, the fact that 18-year-olds can legally play live poker in Europe makes it a very attractive option for young, successful online geniuses looking to get some casino experience. Add the fact that the travel expenses involved in getting to and staying in London for a full two weeks deters many mid-level U.S.-based pros from making the trip, leaves us with the top American players, the top European players, some of the biggest online names, and a handful of qualifiers. That's who you're dealing with if you step up and play this event. Hellmuth. Brunson. Ferguson. Hansen. "Ziigmund." "theASHMAN103." Almost every table is a nightmare draw. The fish are few and far between. The structure is long and the stacks are deep. This is no shove-fest where the blinds accelerate as rapidly as the TV crew's overtime pay. This is a grueling test of stamina and mental acuity.
Many top pros make the effort to play the WSOP Europe in a way they don't for other events. Doyle Brunson doesn't love traveling to tournaments anymore -— the man is in his seventies for crying out loud — but he still straps himself into an airline seat for the WSOPE. Patrik Antonius has publicly said that he couldn't care less about how many bracelets he wins in his lifetime — but he still played both the Las Vegas and European Main Events this year. Tom "durrrr" Dwan doesn't seem to get out of bed these days for less than six figures, but he managed to make the 6,000-mile trek to London for the WSOPE along with the side action that springs up around it. In only three years, London in September has its place on the tournament calendar the same way as June in Las Vegas does.
Beyond having the ability to take on the level of talent in the field, winning the WSOPE Main Event requires a tremendous amount of energy and focus if you plan on surviving the final table. In the last two years, the WSOPE Main Event has ended in final tables of record-breaking length. It took John Juanda close to 22 hours to put away his eight opponents in 2008, more than seven of those hours spent heads-up with Stanislav Alekhin. Only last night, Barry Shulman's journey to the winner's circle took 17 hours and over 300 hands to complete. Except for the final tables of the $50,000 H.O.R.S.E. events, which have taken 19, 15, 13 and 20 hours to play out over the last four years, and the final tables of the Las Vegas Main Events (which are now spread out over two days with the advent of the "November Nine"), there is no greater test of will, stamina, and sheer drive in poker today.
The World Poker Tour Championships may have a heftier buy-in and the EPT Grand Final may have a bigger prize pool, but when it comes to achievements in tournament poker, I think the WSOP Europe Main Event has a place on the podium. There is simply nothing more coveted in our game than a Main Event bracelet, whether it's hoisted aloft under the neon lights of Vegas or amid the bustle of Leicester Square. Same diamond lettering. Same ruby hearts. Just a different city.
For up-to-the minute news, follow PokerNews on Twitter and become a fan of our Facebook page.