PokerStars.com European Poker Tour Warsaw Day 5: Christophe Benzimra Takes the Title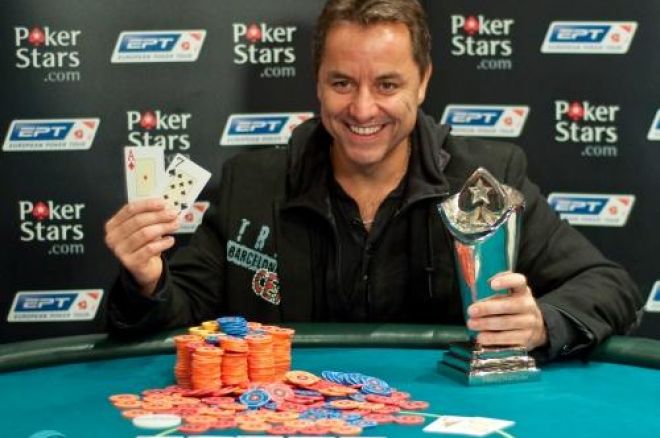 A respectable field of 203 runners braved the cold rain outside the Casinos Poland this week, having come from all corners of the world to do battle at the PokerStars.com European Poker Tour Warsaw. After nearly a week of serious tournament poker, only one man was left standing. Late Monday evening, French entrepreneur Christophe Benzimra was the one holding all the chips, besting Alfio "aLFioSn0b" Battisti in a short heads-up duel to claim his first EPT title and the fifth for his home country.
The final table of eight took their chairs in the casino just after 1:00 p.m. with deep stacks and high hopes. And they came ready to play! Less than 15 minutes into action, Anatoly Gurtovoy open-shoved for 20 big blinds with
. Fighting for his tournament life against the
of chip leader Oleksandr Vaserfirer, Gurtovoy failed to outplay the pair and was quickly relegated to the rail in eighth place. Within a few minutes, Alexander Klimashin followed him to the payout desk after losing his own struggle to survive. For Klimashin, it was Benzima's ace-king that paired up on the flop to send him and his pocket nines packing in seventh place.
The six remaining players settled into their seats a bit, and a long spell of solid, entertaining poker ensued. Several hours went by before the next player was eliminated — Day 2 chip leader but unwilling victim Clayton Mozdzen. As one of the more active players at the table, Mozdzen found himself all-in at the wrong time with Big Slick. Battisti woke up with two red aces, and a board full of blanks doomed Mozdzen to sixth place.
The big hand of the tournament was played out during five-handed action, a massive three-way battle that left two players all-in and at risk. Vaserfirer, still with a towering stack, opened the action with a raise to 70,000. Ruslan Prydryk made a strong three-bet before Benzimra moved all-in over the top. Vaserfirer tanked and called, and Prydryk shoved the rest of his chips in as well to put nearly one-third of the total chips in play up for grabs. Vaserfirer was poised for the double elimination with
versus Prydryk's
and Benzimra's
. Like a bolt of thunder, though, the
landed right in the door, and the board ended up running out
. Benzimra managed to make his set of jacks, scooping the massive pile of chips and sending Prydryk home in fifth place.
The action kept up at a rapid pace, but a few double ups and one lucky split-pot ensured that four-handed play would continue. After one of their breaks, the final four retired to a dingy corner of the casino to discuss a possible chop. When play resumed, fireworks began immediately.
Team PokerStars Pro Luca Pagano came into a pot with a raise to 110,000 before Battisti reraised to 400,000. Pagano moved all-in with a slightly covering stack, and his fellow-Italian made the call for his own tournament life. It was a perfect spot for Pagano as he tabled
to his opponent's
, but luck was not on his side. Battisti found a second queen on the flop, and Pagano could only bury his head in his hands as he watched nearly all his chips shipped across the felt. He got the remainder into the pot with the best hand again, this time with
versus Benzimra's
. Like a bad dream revisited, though, Pagano watched another untimely queen spike the flop. Shaking his head as he walked away gutshot, the impeccably dressed Italian took home fourth place money for another fine EPT run.
After holding a sizable chip lead all day, Vaserfirer finally had to deal with a dwindling stack as three-handed play continued. The aggressive Battisti raised into Vaserfirer's big blind, and the quiet Ukrainian moved all-in with
. Battisti instantly called with the dominating
, and Vaserfirer found no help on a board running
. His exit in third place set the table for heads-up play as Benzimra and Battisti stepped away for an hour-long dinner.
The two men were clearly not interested in playing deep into the night when the action picked up right where it left off despite the relatively deep stacks. Within about half an hour, the final pot of the tournament unfolded on a flop of
. A leading bet of 300,000 from Battisti saw Benzimra raise to 900,000. Battisti wasted little time announcing an all-in, and Benzimra instantly and emphatically called. He turned over
for top two pair, looking to fade the flush outs of Battisti and his
. The dealer obliged him with a safe
on the turn, and the river
cued the handshakes and hugs from the rail as Benzimra was crowned champion.
Fairly new to the poker scene, Benzimra is already impressing the EPT crowd with his persistent playing style and level-headed attitude toward the game. "To me," he says, "poker is more about having fun than making money." Benzimra sure looked like he was having fun as he was handed an oversized check for 1,439,170 PLN and a pair of trophies to put on his mantle. His win also secured him a €10,000 entry into next spring's EPT Grand Final in Monte Carlo, and you can rest assured you'll be hearing from Christophe Benzimra between now and then.
If you missed any of the action this week, head over to the Live Reporting page to catch up. Remember to follow us on Twitter for up-to-the-minute updates.