PokerStars European Poker Tour London Main Event: Aaron Gustavson Wins!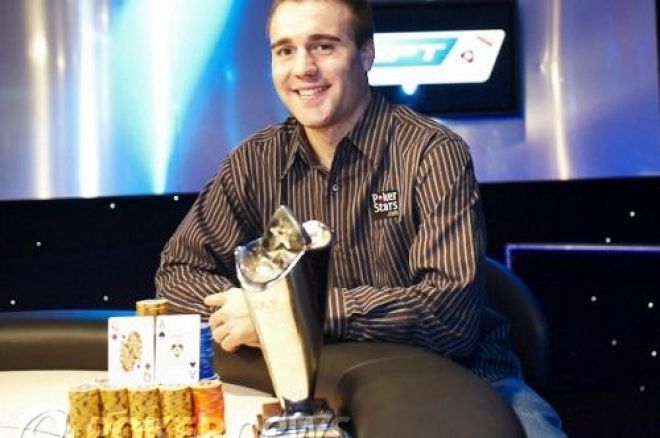 An interesting mix of players made it back to the London Hilton Metropole for the final day of the PokerStars.com European Poker Tour London. While outside it was a washout of a day, inside, some of the brightest young stars of poker came out to shine at the final table or to cheer on their favorite players.
Chip leader by 2-to-1 over the next biggest stack was young American Aaron Gustavson, relatively unknown in Europe but already having a good year in the U.S. since taking down one side-event at the Borgata this summer and coming in second in another. The main attraction, as far as the rail was concerned though, was reigning World Series of Poker Champion Peter Eastgate going into the final table second in chips.
First to bust was Moroccan Karim Bennani who had dwindled to just a few big blinds when he was picked off by young Portuguese hopeful Rui Milhomens. A hiatus of almost two hours followed before the next elimination, but, like buses, you wait for ages and then two come at once. PokerStars Team Asia Pro Raymond Wu busted in seventh place and Rui Milhomens busted in sixth within minutes of one another.
Eastgate was the chip leader as they went to five-handed play, but Gustavson snatched the lead back when his pocket eights made a set against sole British finalist Dominic Cullen's A-10 to knock the popular local out in fifth place. Next to go was quiet Norwegian Martin Gudvangen who was first crippled by Gustavson and then knocked out by flamboyant German Nikolai Senninger who was supported throughout the tournament by a Lion King soft toy perched next to his chips. Senninger and his furry friend were the next to depart though, when their pocket eights failed to cut it against Gustavson's Q-10 on a queen-high board.
With only Gustavson (with a 2-to-1 chip lead) and Eastgate remaining, it was decided to break for dinner before starting heads-up play. What followed was one of the fastest heads-up matches in EPT history. On the first hand after dinner, Eastgate was reduced to half his stack after raising preflop and betting every street of a Q-5-2-K-5 board but then folding to a raise from Gustavson. "Nice bluff," he said and laughed, but he was in trouble with only a sixth of the chips in play sitting on his side of the table. And it was not long before they went in too. Eastgate raised with A-9 and then pushed to a reraise from Gustavson but ran smack into the American's A-Q and failed to improve. After only seven hands heads-up, Gustavson was crowned winner for his biggest-ever cash and Eastgate had to be content with second place.
Final Table Results
1. Aaron Gustavson - £850,000
2. Peter Eastgate - £530,000
3. Nikolai Senninger - £285,000
4. Martin Gudvangen - £227,000
5. Dominic Cullen - £173,000
6. Rui Milhomens - £124,000
7. Raymond Wu - £87,000
8. Karim Bennani - £50,100
Be sure to follow us on Twitter for up-to-the-minute news.