The Nightly Turbo: Ladies Poker, a Poker Movie, and More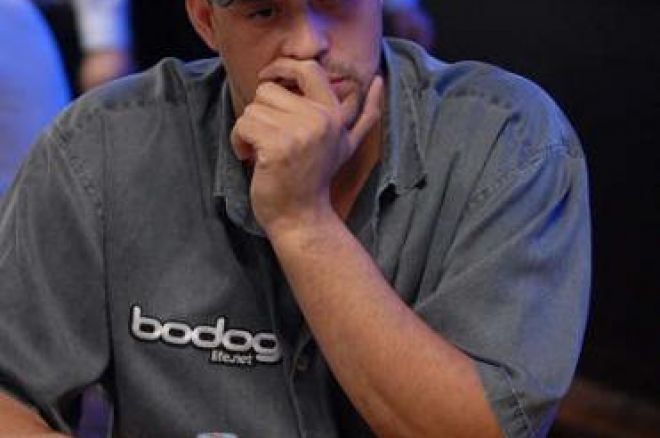 The Nightly Turbo works hard to save you time so you can work on your game. We're not wasting time today; here are the top stories.
In Case You Missed It
The Poker Players Alliance has one last hope for the delay of the UIGEA. A pending petition before Treasury Secretary Timothy Geithner is the only action left that could delay the Dec. 1 compliance date. The PPA is Still Confident in Geithner.
Is it Monday already? That means a lot of poker was played yesterday on the virtual felts. Miss any of the action? The Sunday Briefing: Huge Paydays on Both Full Tilt Poker and PokerStars has the results.
One of the newest stops on thePokerStars European Poker Tour season six itinerary is Vilamoura, Portugal. Are you headed out to claim your EPT title?If you're wondering what to do on your off days while you're there, check out the PokerNews Jet Set: Vilamoura.
Oh Man, Here We Go Again!
When we got the email yesterday with the headline "That's No Misprint," we thought for sure that it and the words that followed were in fact, a misprint. They weren't, and this is why we have to tell you about it.
The third stop on the World Series of Poker Circuit is being held at Harvey's Lake Tahoe and for the first time in WSOP Circuit history, a ladies-only tournament was held. Except, it wasn't ladies-only, and a lady did not win. No, this isn't the Borgata story again, it's just another dude seemingly trying to make a point, but probably just trying to get his name in the papers.
Greg Sessler, a 22-year-old UC-Davis student, was one of four men who entered the tournament. The 96 entrants created a $27,396 prize pool. Ironically enough, Sessler's winning hand was pocket queens and he took home $9,932 for the win.
Of his win and reason why he picked this tournament to play she - err - he said: "If (poker pro)Jennifer Harman would have come and played in the ladies event, she would have been much tougher competition than me. I came here because I only had one day, and I really like the structures and the payout. This was the only tournament I could play."
Find out the entire Circuit schedule at WorldSeriesofPoker.com.
The Tribe Has Spoken
By "Tribe" we mean Bodog, but the result is the same: Jean-Robert Bellande has been eliminated from the Bodog roster. The flame has been extinguished, or whatever it is they do on those reality TV shows when they throw someone off the island.
"Jean-Robert Bellande's deal with Bodog Poker expired at the end of October and the decision was made not to renew the deal. It has been an absolute pleasure having Jean-Robert as one of Bodog.com's Poker pros and we wish him all the best," said a Bodog spokesperson on the decision not to renew Bellande's contract.
Read more at OnlinePoker.net.
If you're not following us on Twitter by now, we don't know what to tell you, except you're missing up-to-the-minute news and you should fix that by clicking here.
Shark Out of Water
Phil Hellmuth and Brad Booth can add "actor" to their résumés now. Shark Out of Water is an indie film about two poker players that must come to terms with their addiction to the game. It has four nominations at the Leo Awards (whatever those are) in the Best Direction in a Short Drama, Best Musical Score in a Short Drama, Best Performance by a Male in a Short Drama, and Best Short Drama categories. The movie is available on DVD, and you can catch Hellmuth's fine acting skills in the video below.
Find out more about the film at SharkOutofWater.com.
The Wild Wild West
Times are tough, people are getting desperate, and high-stakes poker players could be seen as the best place to get cash quick. That's what one perp thought anyway when he broke into the house of a Las Vegas man, who happened to be a high-stakes poker player.
The homeowner was minding his own business in his home when his home was broken into, and he was sprayed with mace. He then fired four shots with a .22 pistol, killing the burglar.
The homeowner was warned by the police that he could be targeted because it is known that he keeps large amounts of cash at his house for his high-stakes poker hobby. Fortunately for the man, he had a gun on him that night, as he has told reporters that he normally doesn't carry a firearm.
"I'm very happy when the homeowner is coming out on top, and not the bad guy," said Royce Gubler, a neighbor of the victim.
Read more about the story KTNV.com.
Poker's Newest Celebrity
If you don't know whoJoe Cada is by now, maybe you'll learn a little more about him Tuesday night when he goes on the Late Show with David Letterman. That was our reminder for you. You thought it ended with WSOP coverage on ESPN didn't you?
Cada was also mentioned on Saturday Night Live over the weekend. In the Weekend Update segment, Seth Meyers had this to say, "On Tuesday a 21-year-old man who dropped out of college became the youngest player to ever win the World Series of Poker earning $8.5 million dollars. Good lesson for the kids here: Stay in school, because you're not that guy."