The Nightly Turbo: Women Arrested for Home Games in Cyprus, Online Poker in Fla., and More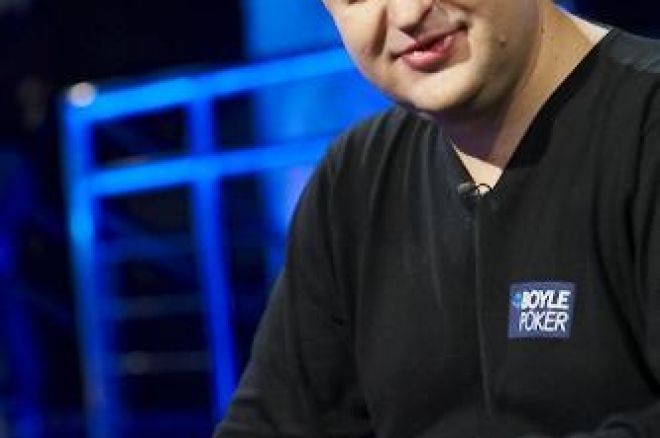 It's a short week for us at PokerNews HQ. Thanksgiving is tomorrow and then we're taking Friday off because we'll probably be so stuffed with turkey and dressing that we won't be able to move. But neither will you, so we're doing you a favor.
Because it's Thanksgiving, we would like to say thanks for reading the Nightly Turbo, thanks to the fish that keep our online poker bankrolls afloat, and thanks to the lunatics playing $500/$1000 for giving us something to write about.
In Case You Missed It
Leave it to us to watch Blade Runner and and relate it to poker, and it's not just because there are robots in the movie and people talk about poker "bots" all the time. OK, we know you're wondering what the movie has to do with poker so we'll let you check out From the Big Screen to the Final Table.
If you were one of the lucky ones who got your Mailbag questions answered, you should read our PokerNews Mailbag. If you weren't one of the lucky ones, maybe you should come up with a better question and send it to [email protected].
Usually around the end of the year, people start their "Best of" lists. Well, we're getting into the holiday spirit around here and, barring some random running a $50 deposit into a bazillion dollars in the next month, we've come up with the Top Five Breakout Performances of 2009.
The G's Blog
PokerNews' head honcho Tony G is in London. Between the gym and pizza, he decided to give us an insight into his time there. He says he's a little stressed out right now because he's working on a personal deal.
If we tell you everything in Tony's blog, you wouldn't read it, and it's a pretty good read.
Tony G isn't the only one who works on deals. Tom Dwan has one with Full Tilt Poker.
This is Why....
This could be the reason we eat turkey on Thanksgiving. Or it could have something to do with the pilgrims and indians. Happy Thanksgiving everyone!
Show us you're thankful we're around. Follow us on Twitter and be a friend on Facebook.
Elderly Women Booked by Cyprus Police
When the Cypriot government says playing cards for money in your own home is illegal, elderly women are not excluded. The police in Cyprus didn't think twice about hauling 42 elderly women to jail this week for playing cards in the privacy of their own homes. Most of the women ranged in age from 75 to 85 years young. The oldest was 95 and the youngest was 50. The women organize the game every week and rotate houses.
The ladies may not be hurting anyone with their games, but apparently they have a jealous neighbor. Police arrived at the house after a neighbor complained, saying the house was used as a noisy gambling den. We think the neighbor was not invited and got jealous.
The police confiscated 530 playing cards and 546 poker chips that the supposedly raucous women were playing for at about 100 euros each. They were booked and released but probably won't receive anything more than a small fine if convicted.
"Most of my friends are widows and at our age there is not much to do. For years now we organise afternoon tea parties at our houses each week, on a rotating basis. We get together, drink tea and play cards. We only gamble a few euros and it's all just for fun. The only thing police achieve by doing such raids is to ridicule women of a certain age," said one of the 87-year-old ladies.
Cyprus-Mail.com has more.
Super Tuesday
The PokerStars Super Tuesday met the $250,000 guarantee last night and then some. "KingKobeMVP" was the victor in last night's $1,000 + $50 buy-in tournament and took home $64,826.50.
Super Tuesday $250,000 Guarantee Results
Buy in: $1,000 + $50
Prize Pool: $317,000
Entrants: 317
1. KingKobeMVP - $64,826.50
2. Dusnumbri - $47,550
3. skilled_sox - $35,821
4. Princesa - $26,495
5. Christian "charder30" Charder - $18,386
6. 1$ickDisea$e - $14,265
7. Big_Nemo - $11,095
8. CuCbKu - $7,925
9. ToroGr - $6,023
Notable Finishes: Alvaro "VARICO" Ballesteros (13th — $4,279.50), Chris "SLOPPYKLOD" Klodnicki (22nd — $2,694.50), Anthony "D1rtyR1v3r" Nardi (29th — $2,377.50)
You can't win if you don't play. And there's no better way to sit back and digest the turkey tomorrow than playing a little poker online. Sign up for a PokerStars account and get started.
Florida Online Gambling Report
Florida is taking the appropriate steps in trying to get online gambling legalized. The Office of Program Policy Analysis and Government Accountability (OPPAGA), (When are these government agencies going to get shorter names?) recently released a 12-page report suggesting three options for online poker in the state. The report says the state can either wait for Congress to legalize online poker at the federal level, explicitly prohibit online poker, or authorize and regulate it.
Waiting for Congress to legalize online poker on the federal level would "not require any state action, (it) also would not establish additional consumer protections for Florida residents who play Internet poker' and that 'at this time, the possibility for passage of federal legislation is questionable,'" the OPPAGA said.
According to the study, prohibiting online poker could prove to be difficult because "anyone with the appropriate equipment and Internet connections can play online poker in the privacy of his or her own home."
As for regulating online poker, the report has rejected data sent to the OPPAGA by a poker lobby group, that suggests that legalizing online poker could raise $90 million a year for the state.
The study concludes that "...while Florida law does not expressly prohibit Internet Gambling ... according to [Attorney General] opinion, the Wire Act provisions, in combination with state law, prohibit an individual from placing a bet or wager by wire communication or via the Internet."
Read more at EGRMagazine.com.
Definitely Not a Win
Sophon Sek won the BC Poker Championship on Sunday night for $364,364. On Monday morning, he was arrested. The 30-year-old was arrested in connection with the Surrey Six slayings that took place in 2007. He was charged with manslaughter and breaking and entering, but could possibly face more charges.
Vice-President of the Great Canadian Gaming Corporation, Howard Blank, said, "The RCMP has informed us it is the same person who won our tournament and the RCMP has requested that the funds be held for his winnings. So the funds have not been issued to the winner. He was just one of many local players who came out."
Sophon's luck seems to have run out, but it seems like Lady Luck not only looks after poker players, but victims of tragedy as well. Read more at VancouverSun.com.