The Top Five Breakout Performances of 2009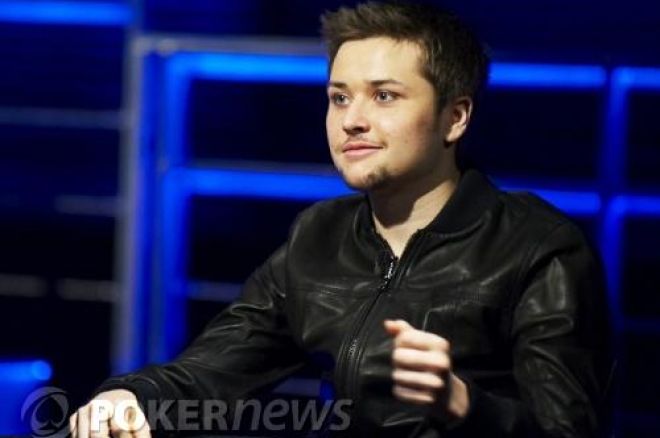 A star isn't born every day in poker, but 2009 surely saw its share of previously unknown players exploding onto the world stage by winning some of the year's most prestigious titles. One is still a college student, two won World Series of Poker bracelets, two won World Poker Tour titles, and one banked over $4 million in tournament earnings within six months. Check out our picks for the Top 5 Breakout Performances of 2009 and see if you agree.
5. Daniel "djk123" Kelly Wins two WCOOP Titles
Given the enormous field sizes in PokerStars' annual World Championship of Online Poker, winning one event is tough enough. However, 20-year old Villanova University junior Daniel "djk123" Kelly managed to do it twice in less than three weeks. As the old saying goes, when you're hot, you're hot.
After a heads-up battle royale with Matt "plattsburgh" Vengrin, Kelly won Event #2 of the 2009 WCOOP, a $215 Razz tournament that drew 1,526 entrants. His victory was good for $53,410 and a WCOOP bracelet, but the confidence it inspired in Kelly would pay off far greater dividends. Kelly went on to cash eight more times in the WCOOP, including his second bracelet win in the elite $10,300 H.O.R.S.E. event, adding $252,350 to the till.
While he was playing out the final table of the H.O.R.S.E. alongside George "Jorj95" Lind, Noah "Exclusive" Boeken, Matt "Hoss_TBF Hawrilenko and Marco "NoraFlum" Johnson, Kelly built himself a monster stack in the $5,200 buy-in two-day WCOOP Main Event, ending Day 1 tenth in chips out of 178 survivors. He went on to finish fourth in the Main Event, winning $643,200 and taking his total WCOOP earnings past the $700,000 mark.
Kelly's remarkable run earned him WCOOP Player of the Series honors along with a trip to the PokerStars Carribean Adventure this coming January.
4. Cornel Cimpan Wins Two WPT Titles
Cornel Cimpan is not exactly a newcomer when it comes to tournament poker — he has a strong record in small buy-in tournaments dating back to 2004 — but this year he blew the doors off the World Poker Tour, winning two titles in nine months.
In February, Cimpan defeated a 696-strong field at the Commerce Casino's L.A. Poker Classic including one of the tougher WPT final tables in recent memory, stacked with Chris "Jesus" Ferguson, online tournament phenom Mike "SowersUNCC" Sowers, Season 1 WPT Champion Chris Karagulleyan, and Binh Nguyen, with whom he battled for more than five and a half hours of heads-up play. Cimpan banked over $1.68 million for the victory.
Then, in November, Cimpan found the winner's circle again at the Foxwoods World Poker Finals, where he took on another fierce final table lineup, besting Matt "All in at 420" Stout, Lee Markholt, Curt Kohlberg, Eric "E-Fro" Froehlich, and Soheil Shamseddin to win his second WPT title of the year and $910,058.
With earnings topping $2.8 million for 2009, expect to see a lot more of Cimpan on the $10K buy-in tournament circuit in 2010.
3. Joe Cada Wins the WSOP Main Event
Joe Cada has been on Letterman, and thousands of words have been written about him in newspapers and magazines across the country. He's $8.5 million richer after the poker gods blessed him with the final table run of a lifetime, and he's primed to become our game's next ambassador.
Until five months ago, Cada toiled in oblivion as an online cash game player, specializing in heads-up no-limit hold'em. Then, in his first year of eligibility at the World Series of Poker, this 21-year-old cashed twice before going on to win the Main Event, etching his name in history and his face on one of the giant banners that ring the Amazon Room every summer.
Cada is still unproven when it comes to life on the tournament circuit, but with his new sponsorship from PokerStars, he'll have plenty of opportunities to test his mettle in the coming years.
2. Ville Wahlbeck Storms the WSOP
"Who is Ville Wahlbeck?" That's the question that was on the lips of most of the poker media this summer as the then-unknown Finn came seemingly out of nowhere to win the $10,000 World Championship Mixed Event at the 2009 World Series of Poker.
After writing on his blog that he planned to quit poker altogether, Wahlbeck decided to take one more shot and flew out to Las Vegas to play the WSOP. The last chance he gave himself to perform at the tables morphed into his best run yet, and he returned home to Helsinki almost $1.1 million richer.
Of Wahlbeck's six WSOP cashes this summer, five were in events with $10,000 buy-ins or higher, and four were final table finishes. In addition to his bracelet-winning performance in the $10,000 mixed event, Wahlbeck finished runner-up to Nick Schulman in the $10,000 World Championship 2-7 Lowball Event, third in the $10,000 World Championship Seven-Card Stud, and sixth in the $50,000 H.O.R.S.E. event.
Were it not for Jeffrey Lisandro winning that third bracelet or Phil Ivey making the "November Nine," Wahlbeck would have captured Player of the Year Honors, but instead settled for third place in the final standings.
Fortunately, this rising star didn't leave the game behind after his stunning WSOP run — just last month he took down the €10,000 High Roller Event at the PokerStars Baltic Festival in Tallinn, Estonia.
1. Yevgeniy Timoshenko wins the WPT World Championships and the WCOOP Main Event
When it came to deciding on the breakout performance of the year, Yevgeniy Timoshenko ran away with the title, as evidenced by his staggering $4 million in combined live and online earnings in 2009.
Although Timoshenko was beginning to rack up the final table finishes at the end of 2008 with a victory at the APT Macau and a third-place finish at the WSOP-Europe, this year the Ukraine-born, Seattle-bred professional truly emerged as one of the world's top tournament players.
Timoshenko earned $2.15 million for winning the WPT World Championship in April, defeating a final table that included Scotty Nguyen, Shannon Shorr, Christian "charder30" Harder and the equally hot-running Bertrand "ElkY Grospellier.
This September he was an utter beast online, winning the WCOOP Main Event for $1,715,000 and the very next day going on to take down one of the toughest no-limit hold'em tournaments on the internet — Full Tilt's $1K Monday — for $75,000.
Only 21 years old, Timoshenko has only just begun to terrorize the U.S.-based tournament circuit, and he will no doubt be a force to be reckoned with for years to come.
Thanksgiving, football, and online poker? The three go together like turkey, stuffing, and gravy. Open up an account at one of our online rooms and get cracking!