European Poker Tour Prague: Jan Skampa Wins Trophy, Cash and EPT GF Seat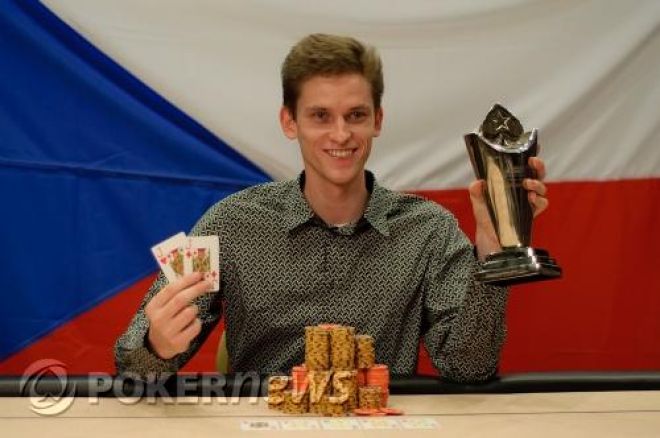 A high-class lineup made it back to the Prague Hilton for the fifth and final day of the PokerStars.net European Poker Tour Prague. When the day ended, local boy Jan Skampa took the trophy, €682,000 in first-place money, a seat in the EPT Grand Final, and first place in the Czech all-time money list.
Local boy Skampa had the lead, and was already making history as the first player to make back-to-back EPT final tables since Season 1 when Ram Vaswani and Julian Thew both wound up on the final tables at Dublin and Copenhagen. The fields were rather smaller back then, and Skampa's fourth place finish in Vilamoura last month, followed by final table here, would have been remarkable in itself regardless of how his final day ended.
Two short stacks began the day and were the first to bust. Sven Eichelbaum departed first after smacking his A-J into Larry Ryan's aces to take eighth place and €50,000. Minutes later, Gustav Ekerot follow Eichelbaum, moving in with Q-7 suited and smacking into aces, in Eyal Avitan hands. Ekerot's seventh-place finish earned him €71,000.
Much of the rail was rooting for EPT legend Luca Pagano who was playing no less than his sixth EPT final table. Success was not meant to be, however, as Pagano four-bet himself all-in with A-J from the button only to see Stefan Mattsson pick up pocket queens that sent him home in sixth place with €100,000.
Mattsson, in fact, was on a massive heater. In the very next hand, he picked up aces in the small blind to knock out Ryan who'd woken up in the big blind with jacks. Ryan's fifth-place finish neted €135,000, which wasn't bad for someone who only came to Prague because he thought his deep-stack tournament play needed practice before the PCA that he'd already qualified for.
These two hands made Mattsson the massive chip leader with over half the chips in play. His security blanket didn't last, though. To the rail's delight, Skampa doubled through Mattsson with kings against the latter's pocket queens to snatch a monstrous lead, and although Mattsson wasn't exactly the short stack after that, his momentum seemed to be gone.
Anthony Roux's holdings dwindled to a short stack when he got the whole lot in with pocket tens. Avitan's A-K spiked, and the last Frenchman standing fell in fourth taking home €171,000.
Three-handed, Skampa and Avitan held roughly even stacks with Mattsson trailing. The super-fast start to the day meant, however, that all three were very deep in relation to the blinds, and it took three hours before Mattsson succumbed in third place. Reduced to a short stack after three hours of dwindling, he got his last in good with Q-T against Avitan's J-T, but the latter flopped a straight. When Mattsson missed a redraw to a flush, it was all over for him. He took third place with its accompanying €255,000.
Heads up, Avitan started out with the chip lead, but, proving once again that a speedy start results in a slow finish, the chip lead changed hands several times over the course of the next three hours. Eventually, though, Skampa gathered a decisive lead and raised with pocket jacks. Avitan mistimed a push with J-9 but a swift call from Skampa ended Avitan's day, leaving him to take home a healthy €454,000.
The crowd went wild as young Skampa took the trophy, the €682,000 first-place purse, an EPT Grand Final seat, and his position in first place on the Czech all-time money list. As Skampa heads home - a lot closer than almost everyone else has to go (he lives in Prague) - he can rest easy knowing he has already achieved more in his 23 years than most poker players do in a lifetime.
Be sure to follow us on Twitter for up-to-the-minute news.