The Nightly Turbo: Darvin's Poker Conspiracy Theory, Poker2Nite, and More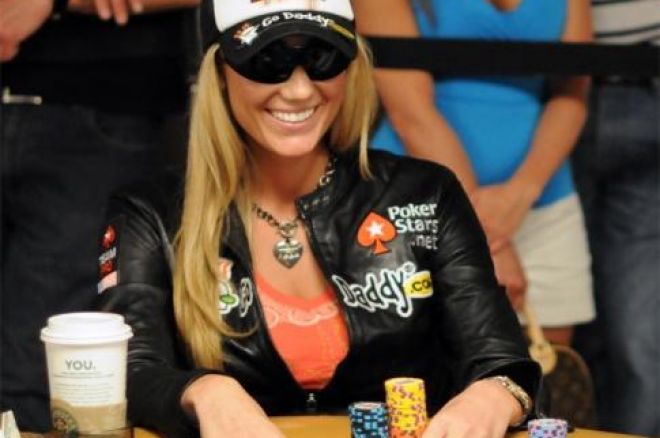 Yes, the site has been down most of the day, but at least we made it back up. We apologize for the inconvenience, so here's the day's top poker stories. If you missed Poker2Nite last night, there's a recap, we tell you about Darvin Moon's conspiracy theory and maybe give you a guilt trip. Enjoy!
In Case You Missed It
We caught up with 21-year-old Ty "gimmeda1time" Reiman recently to talk poker, traveling and more. Check out the interview in this edition of our Online Poker Spotlight.
The nosebleeders on Full Tilt Poker play at stakes most of us can only dream about. We've seen some of the biggest swings online recently, and even broke the record for largest winning single session in online poker history. Well, we started talking here at PokerNews HQ and began to wonder whether it will ever be too much. Are high-stakes Games getting too big? Find out in Part 1.
The 2010 Aussie Millions is closer than you think. If you're trying to figure out how to get to the land down under, PartyPoker is going to try and help you. There are 25 Aussie Millions Packages Up For Grabs at PartyPoker.
Those Looked Like Queens to Us
Remember when you were watching the World Series of Poker Main Event final table coverage on ESPN this year? Remember when Darvin Moon folded king queen to Steven Begleiter and then went and told his wife that he had pocket queens? We know you were probably thinking, "what in the world is this guy doing?! He's on TV. Doesn't he know people will see his cards and hear what he said?" We were thinking the same thing. But according to Moon, that was a calculated step in his master plan.
Dennis Phillips, had the second-place WSOP finisher on his weekly radio show on Tuesday, and they were talking about the Main Event and any mistakes he made when Paul Harris, Phillips' sidekick, said that he felt the biggest mistake Moon made was lying to his wife about the queens.
"No, that wasn't a mistake. Because I felt that the people backstage were listening on those mics and sending stuff out to the coaches. So that was done intentionally. She'll tell you, before we come down there, that was the plan. Because I was miked when we went down to nine and I felt that there was some stuff being sent around. I don't trust nobody when I'm playing cards."
Maybe he's trying to save face. Maybe he's trying to exploit a conspiracy theory. We'll never know.
Hear the whole interview over at the Dennis Phillips Blog.
Poker2Nite
The boys were back at it this week. Scott Huff and Joe Sebok talked to Phil Hellmuth and also discussed the Doyle Brunson Classic with the man himself, Doyle Brunson. They also talked to the defending champ of the event, Chino Rheem. We really like Dana Workman's Weekly Misdeal, so here it is. You might want to go back to Poker2Nite.com and watch this week's episode from the beginning though.
If you're not following us on Twitter, it's really your loss. Here's the link to it. All you have to do is click that and then click follow. It's really not that hard. Oh yea, and if you have a Facebook page, click this.
Rousso's Stellar Year
Vanessa Rousso had a pretty good 2009. She had a two-page spread (err-PokerStars ad) in the Sports Illustrated Swimsuit Edition, she signed with GoDaddy.com as the new GoDaddy girl, she came in second place at the NBC National Heads-Up Poker Championship, she won the European Poker Tour Monte Carlo High Roller event, and she bought a Lambo. If any one of us here at PokerNews HQ had a year like that, we'd never want it to end. Seems like she doesn't either.
Rousso's January will be filled with the beach, the waves, and a little poker. Of course, the first stop is the PokerStars Caribbean Adventure in the Bahamas, and while she's there, she'll be giving back (seems to be a theme for the holidays). On Jan. 10, Rousso will host the Strategy Symposium Under the Sun and then on the 22nd, she'll be in Biloxi, Miss., as host of the two day Poker Tournament Theory Boot Camp and Tournament. She'll be teaching us regular folks winning strategies for the game we love so much.
Learn more at BigSlickBootCamp.com.
All-In For CP
The last time we told you about a charity poker tournament, we tried to guilt-trip you into it because it's the holiday season and it's the season for giving and being thankful, but we're not going to do that this time.
So there's this poker tournament this Saturday, Dec. 12 at the Hard Rock Hotel and Casino in Las Vegas. The tournament has a $550 buy-in with $200 rebuys during the first hour. Doyle Brunson will be there as will Phil Laak, Simpsons creator Sam Simon, and Jennifer Tilly. OK, so we have poker, a weekend in Vegas, and celebrities. Oh yeah, and it's for a really good cause: the One Step Closer Foundation that raises money for Cerebral Palsy. Hey, it's the holiday season, a time for giving. We said we wouldn't guilt trip you, but we couldn't resist.
If other people can figure out how to sign up, so can you.
PKR's Newest Pro
Online poker site PKR has added another pro to its team. Vladimir 'Beyne' Geshkenbein is the newest face on the Team PKR Pro roster. The 21-year-old Russian pro recently won the PKR Heads Up Grand Slam as well as the High Roller event at the Asia Pacific Poker Tour Macau.
"We have been following Vladimir's progress for some time - he is an excellent poker player, charismatic, and fantastic to watch at the tables. He is a very active member in our community and consistently contributes content to our growing poker strategy repository, Raise Your Game," said PKR Marketing Director Simon Prodger.
Geshkenbein joins Adrien "zlatan35" Allain, Karl "discomonkey" Fenton, Andrew "golfpro699" Teng, James "james666" Sudworth, Kai "kingkai84" Paulsen, Raymond "callmebabe" O'Mahoney, Ashley "ashleyhames1" Hames, and Henrik "Pokey85" Eklund.
Play with the PKR team. Sign up for an account now.