The Nightly Turbo: Poker on TV, Sexton's New Gig, and More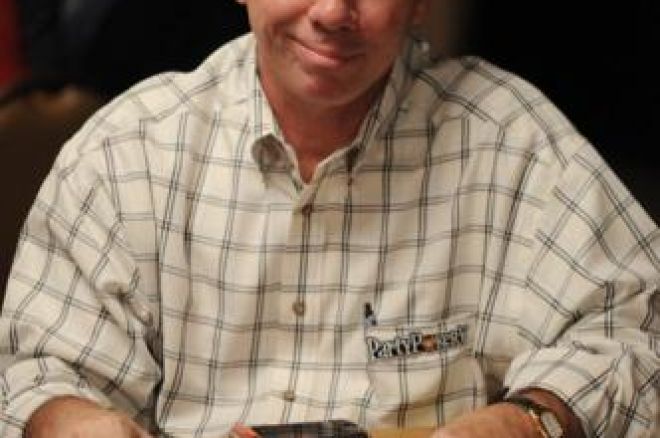 Time is money, and the less time you it takes you to search for the top poker news stories of the day, the more money you'll make 16-tabling like you do. That's why we're here. You can thank us later.
In Case You Missed It
A mysterious Swede, "Isildur1", has established himself as someone to be feared in the nosebleeds at Full Tilt Poker. Well, Patrik Antonius is scared of no one and took on Isildur1 last night in four $500/$1,000 heads-up deep pot-limit Omaha tables and what resulted was a monster. A monster pot that is. Antonius was on the receiving end of the Largest Pot in Online Poker History last night.
Matt "mlagoo" LaGarde is a rising star in the poker world. The CardRunners instructor sat down with us recently to discuss why he dropped out of law school and how he ranks the top tournament players in the world. Check out our latest installment of the Online Poker Spotlight for more.
We sat down recently with Joe Sebok and Scott Huff to discuss their new poker news television show, Poker2Nite. Find out more about the show, what to expect, and more in Part 1 of our Poker2Nite Interview.
Day 1a of the PokerStars European Poker Tour Vilamoura is in the books. If you want to find out how the 136 entrants fared, you'll have to read the recap. Day 1b starts tomorrow at noon local time.Follow the Live Reporting Team for the action.
Poker2Nite
Last week we told you about the new poker news show, Poker2Nite, featuring Joe Sebok, Scott Huff and writer Joe Stapleton, that will be coming to that picture box in your living room. Today we have a preview for it. Before you click play, remember, the show airs on FSN on Wednesday nights at 11 p.m., starting tomorrow. You'll have to check your local listings for the channel and all that. What do we look like, TV Guide?
Follow Poker2Nite (@Poker2Nite) on Twitter.
Full Tilt Catching Up
We don't like to do the numbers game here, so when someone else does it for us, we're very happy. Gambling911.com has done just that and has found that Full Tilt Poker may be catching up to its competitor, PokerStars - kind of.
PokerStars is billed as the "world's largest online poker room," and it is. According to PokerScout, PokerStars has a seven-day average of 27,600 while its next closest competitor, Full Tilt, has 16,400. No other poker site is even close to these two giants.
So what do we mean by "Full Tilt Catching Up?" Well, on Monday night, PokerStars only had about 5,000 more real cash players, (26,695) than Full Tilt did, (21,180). Yea, 5,000 isn't a small number, but the gap is closing. Although, it will take a lot for Full Tilt to surpass PokerStars, it will be interesting to watch the numbers change, especially if poker is legalized. PartyPoker did hold 50 percent of the U.S. online poker market alone, before it had to crash the party in the U.S.
Read more at Gambling911.com.
A New Gig for a Hall of Famer
We first told you about the Shuffle Up and Deal game show about a month ago. The show that is attempting to "demystify the game of poker." We also told you Randy West from The Price is Right would be the host. Well, things change, it is show business after all.
Mike Sexton has been announced as the show's host. Brandi Williams, best known from Ultimate Poker Challenge, will be his co-host, and somehow, Chad Brown was thrown into the mix and will emcee the live version of the show in different casinos across the U.S. The show is scheduled for 13 half-hour episodes to begin airing in 2010.
Find out more at Pokerati.com.
EPT Vilamoura
Gloria Balding and crew are bringing us all the action from the European Poker Tour's Vilamoura stop. Be sure to follow the Live Reporting Team for the play-by-play and check out Gloria's interviews with some of the players.
Be sure to follow us on Twitter for up-to-the-minute news. You should also be receiving the Nightly Turbo in your inbox. If not, there's a box below for you to sign up.
The New UB
What's the best way to distance yourself from scandal and have a fresh start? Rebranding, of course! UltimateBet has done just that. It has embraced the "UB" nickname, found a home at UB.com, and gotten a makeover.
"The launch of UB.com represents a turning point for our company. We have assembled a great group of professionals who are passionate about poker to build the UB brand. Our goal is to create products and services that poker players really want. We are trying to listen very carefully to both our players and the poker community to help us achieve this goal," said Tokwiro's chief operating officer, Paul Leggett.
"The launch of UB.com is not just a new domain with a different logo, it's much more than that. It's a complete new direction for UB. It's software built with the serious poker player in mind. It's a new television show that is truly about poker, not just another reality or game show. And finally, it's tournaments and promotions that poker players care about," he said.
New software updates have a redesigned lobby for improve navigation and usability. The tournament schedule has over 30 new guaranteed tournaments, over $1 million in guarantees every month, a new and improved blind structure, and everyone's new favorite, synchronized breaks.
Looking for a fresh start too? Sign up for a UB account with PokerNews.
Family Friendly
Vegas tried it and reverted back to its sinful ways shortly thereafter. Family friendly just doesn't work in the city of sin. Maybe, though, it will in Macau. It's a gamble, but isn't that the favorite thing to do in Macau anyway?
While the Venetian Macao is cutting back runs of its Cirque du Soleil show, Lawrence Ho and his City of Dreams casino-resort is putting together a $250 million circus production by Franco Dragone, you know, the guy that did Celine Dion's Las Vegas show. Oh, you don't know? Well, he did. A 2,000 seat theater is being built for the show at the City of Dreams casino in Macau and will house a water tank larger than five Olympic-sized swimming pools.
Although thoughts are mixed as to whether casinos should add shows or not, the numbers don't lie. About 80 percent of Las Vegas Sand's revenue in Macau comes from gambling, whereas only 35 percent of visitor revenue comes from gambling at Sand's Las Vegas resorts.
One reason casinos are looking to diversify is that the government is considering capping the number of gaming tables in the city. Hong Kong based, Galaxy Entertainment Group, is preparing to open a casino-resort next door to the Venetian Macao and isn't planning any Cirque type shows, for now at least.
Vice chairman of Galaxy, Francis Lui, had this to say: "This is not what people come to Macau for. You can't simply import these shows that appeal to Western audiences and expect them to impress an Asian audience."
Only time will tell whether the demographic of Macau will accept shows and entertainment over baccarat and poker.
Read more at the Wall Street Journal online.