Top Ten Poker Stories of the 2009: #8, The "Year of the Multiple" at the WSOP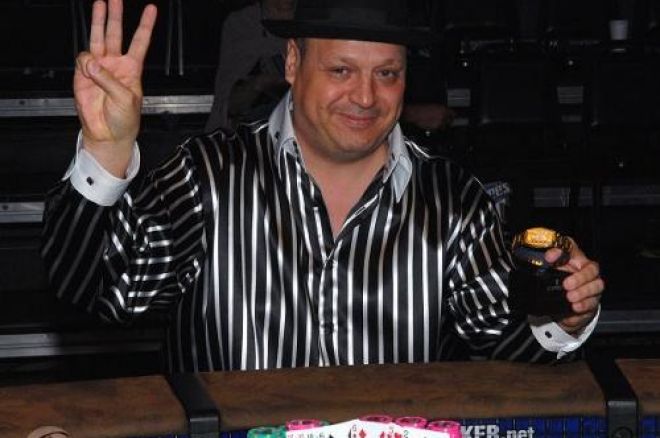 In each of the last ten years at the World Series of Poker, a player has managed to win two bracelets in a single series. Some years (like 2003) saw as many as six players pull off a double-bracelet win, but only four players in history have managed to capture three bracelets in a single WSOP. This summer, Jeffrey Lisandro joined Phil Hellmuth, Ted Forrest, Puggy Pearson and Phil Ivey in that elite club, winning a hat-trick of bracelets, one in each discipline of seven-card stud.
It's almost hard to believe that only two years ago, Lisandro was still trying to get the proverbial monkey off his back as he chased down his first WSOP bracelet. He won it in 2007 in the $2,000 Seven-Card Stud event and came within a whisper of his second in 2008, finishing runnerup to Mike Matusow in the $5,000 No-Limit Deuce-to-Seven Lowball event. Decked out in his signature fedora and an array of silk shirts, Lisandro came back strong as ever in '09, turning in three dominating final-table performances over the course of only two and a half weeks.
On June 6, Lisandro won his second career bracelet and first of 2009 after topping a field of 359 players in the $1,500 Seven-Card Stud event. Twelve days later, in the early morning hours of June 18, he came away with another victory in the $10,000 World Championship Seven-Card Stud Hi/Lo event. Not only was it one of the year's longest final tables, clocking in at nearly 19 hours, but it was easily one of the toughest, stacked with Doyle Brunson, Justin "BoostedJ" Smith, high-stakes cash gamer Yan Chen, Mike Wattel, Abe Mosseri, Frank Mariani, and Farzad Rouhani. However, Lisandro's most stunning performance of the three came in the $2,500 Razz event in which he absolutely ran over the final table, arriving there with a 2 to 1 chip lead over his closest competitor and eliminating four of his seven opponents.
Lisandro may have been the only player since Phil Ivey in 2002 to take down three bracelets in a single WSOP, but three other players managed to win two at the 2009 series. Brock "tsoprano" Parker earned back-to-back victories in the $2,500 Six-Handed Limit Hold'em event on June 7, and the $2,500 Six-Handed No-Limit Hold'em event on June 10. Greg "FBT" Mueller proved himself to be the world's greatest limit hold'em tournament player with two bracelet wins in the $10,000 World Championship Limit Hold'em event and the $1,500 Limit Hold'em Shootout. Finally, Ivey himself added two more bracelets to his collection, bringing his grand total to seven, taking down the $2,500 No-Limit Deuce-to-Seven Lowball event and the $2,500 Omaha/Seven Card Stud Hi-Lo event.
With players becoming more and more versed in strategy and field sizes increasing year after year, it is more difficult than ever to win a World Series of Poker bracelet, let alone two or three. Lisandro, Parker, Ivey and Mueller's 2009 accomplishments remind us that when it comes to tournament poker, dedication, talent, and sheer drive are still king.
Follow us on Twitter for up-to-the-minute news, and also become our fan on Facebook.