Allan Bække Conquers PokerStars.net European Poker Tour Snowfest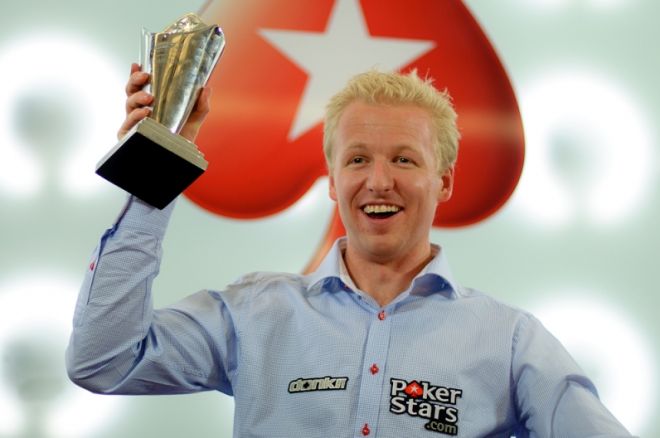 After six surprisingly sunny days in the Alps, the inaugural PokerStars.net EPT Snowfest has come to a close. Danish pro Allan "Sifosis" Bække overcame a field of 546 runners and a particularly challenging final table to earn himself a pair of trophies and his first EPT title.
The Alpine Palace in Saalbach-Hinterglemm, Austria, welcomed the final eight players back to the tournament room on Friday for the fight to the finish. With three online qualifiers, two online monsters, and a Team PokerStars Pro in the mix, all signs pointed to an entertaining day of poker.
Just a few minutes into the action, Dutchman Daniel van Kalkeren peeked down at
and got his short stack in there preflop. Alain Medesan looked him up with
, and van Kalkeren (8th place, €37,000) could not outrun the overcards on a board of
. A half hour later, another flip of the coin was responsible for the second elimination of the day. This time it was Lukas Baumann (7th place, €46,000) all-in with the overcards against Johannes Strassmann's
. Baumann's
failed to connect as the dealer ran out a blank board of
, and his day was quickly done.
Six-handed play saw no shortage of action and aggression, and the battle raged for two hours before the next knockout. American Jonathan Schroer and his unique all-in antics were responsible for a good many chuckles over the past five days. Each time he was at risk, Schroer plopped his head onto the rail and shrouded his face behind sunglasses and hoodie. His run came to a close (6th place, €65,000) when he four-bet shoved his
smack into Strassmann's
.
Just moments after Schroer's exit, an enormous pot unfolded between Brent "bdubs3737" Wheeler and Medesan. They went heads-up to a flop of
, and Wheeler followed up his preflop raise with a bet of 140,000. Medesan miniraised to 280,000 only to see Wheeler come right back with a three-bet to 530,000. His opponent elected to smooth call, and the turn
brought the rest of the action. Medesan led out into the pot for 500,000, Wheeler raised all-in, Medesan instantly called, and just like that, a pot of about 4.5 million was up for grabs. Wheeler rolled over
for two pair, but he had been coolered by Medesan's
. The river blanked off to cripple Wheeler, and he was eliminated on the very next hand (fifth place, €88,000).
Medesan's unorthodox style worked miracles for five days, but his tournament was cut short in fourth place (€111,000). The Romanian was also on the bad end of a cooler when he took his
against Russell "rdcrsn" Carson's
. That knocked him down to just a couple of big blinds, though he managed to triple up on the following hand to temporarily stave off elimination. Three hands later, he moved in with
from the button but was unable to overcome Allan Bække's
on a blank board of
.
That left three very strong players battling for the top spot, and the remainder of the game was played at a remarkably high level. Each of the three men had their hands on the chip lead at one point or another, and the back-and-forth poker was fine fodder for the television cameras. The stacks were deep, but the contestants were undeterred from playing mountainous pots.
Back and forth they went for another several hours before the next knockout. It was the Team PokerStars Pro who fell, victim of Bække's propensity for making big calls. The preflop raiser, Strassmann three-barreled his
on a board of
. The final bullet consumed the remainder of his ammunition, and Bække made an instant river call with
, his backdoor flush earning him another huge pot and the bounty of the dangerous Strassmann (third place, €166,000).
A heart-pumping heads-up battle was the only proper conclusion to a truly memorable final table. Bække was in the driver's seat for most of the duel, but Carson did not go quietly. After a couple hours of trading body punches, Bække finally had his man on the ropes with his
dominating Carson's
. If not for a dramatic
on the river, the night could have been over much earlier. A few hands later, Carson was again at risk, and Bække's
put him just a coin flip away from finally hoisting the trophy. Carson's
loved the
flop though, and even more so the
that arrived on fourth street. That second double-up drew the match back to even, and the two played on for another hour before settling the score for good.
In fitting fashion, the final hand of the night was another horse race. Carson (second place, €296,000) made his move with
, and Bække's
finally sealed the deal on a board of
. Buddies by now, Carson and Bække congratulated each other on a hard-fought finale, but it was Bække standing alone with all of the chips and the lion's share of the payout. His win earned him the enviable EPT trophy along with a handsome €445,000 in pocket change.
Be sure to follow us on Twitter for up-to-the-minute news.