PokerStars.net EPT Snowfest Day 2: Strassmann Shoots to the Front; Lykov Lurking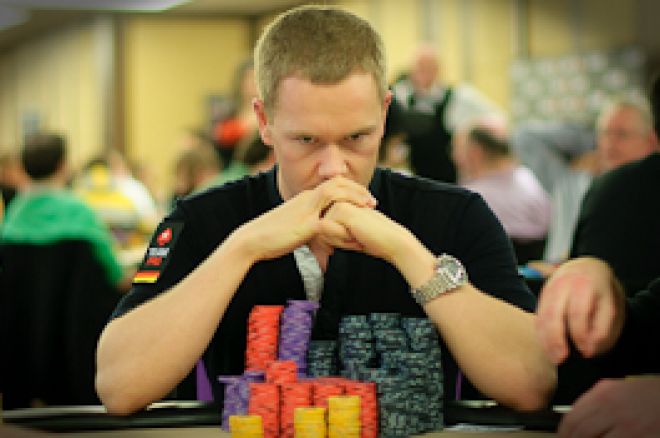 Day 2 at the PokerStars.net EPT Snowfest saw the 259 survivors all together under one roof and ready to play down toward the money. After six entertaining levels of poker, the field came tantalizingly close to the bubble, leaving 86 players to return on Wednesday. When the dust settled, it was Johannes Strassmann who came out of the pile with a sizable chip lead. His finishing count of 747,000 is good enough to put him comfortably atop the pack as the final-table charge heats up.
It was Strassmann's day right from the starting gun. Very early on, his
found a gorgeous third-of-a-kind on a flop coming
. It was the perfect storm for the Team PokerStars Pro from Germany as he got two opponents all in — Stefan Fuchs with
and Jorn Walthaus holding
. His set held up to send Strassmann off in the right direction, and he did not turn back from there. He knocked off his fellow-German Pro Florian Langmann soon thereafter, and Langmann's pelt was just one of many pinned to Strassmann's wall by the end of the day.
Strassmann will be the pace setter, but his position is by no means secure. Maxim Lykov is beginning to become a household name amongst the EPT media types, and he is putting in another fine performance this week. The EPT Kyiv champion is in the hunt for a legendary double dip, and his stack of 575,000 puts him well in contention as things start to get serious. He's no picnic to play against, and he's in third place overall just behind the newest member of the Team PokerStars Pro club. You may not be familiar with Richard Toth's name yet, but chances are you will be soon. The Hungarian pro has a WPT title under his belt, more than $1 million in career winnings, and he's put himself in a good spot to make a run at this EPT title as well. He bagged up a second-place stack worth 584,500 at the end of the night.
Europe is well-represented on the scoreboard, but there's an American right in the mix as well. Jim "Mr_BigQueso" Collopy celebrated his 21st birthday on Tuesday in Austria, and it was a pretty happy one all the way around. Despite a night of indulgence, Collopy showed up ready to play, and he managed to finish in fourth place overall with 458,500 chips. Also still in the hunt are the likes of Julien Brecard, Nasr El Nasr, and Vadim Markushevski.
As the big stacks started to pick up steam, several of the notables were unable to keep their heads above water. Daniel Negreanu opened up his bag and took a quick look at his hard-earned chips. He then proceeded to quickly divvy them out to his opponents bit-by-bit, finally running his short-stacked
into Jochum Weenink's
. Nacho Barbero of Argentina made a splash when he took down the PokerStars.net LAPT Punta del Este last month, but his bid to become the first to hoist the trophy on multiple PokerStars tours also came to an end in the early stages. Rino Mathis, Arnaud Mattern, and a very bummed-out Luca Pagano were a few more of the great crowd that couldn't stick around long enough to see the clock expire on Day 2.
The 86 players who have made it this far will be back in the casino on Wednesday at 2:00 p.m. CET to pick up the story. Six of them will go home disappointed while the other 80 secure their paydays and begin to set their sights on the big money. Our Live Reporting team is ready for home stretch, and they'll be on the floor to catch every flopped straight, turned flush, and rivered full house as the field is trimmed down to twenty-four.
You're on Twitter, and we are too! Follow us there, or send us a friend request on Facebook if you just can't squeeze that bad beat story into 140 characters.