The Nightly Turbo: FullFlush Gets Banned, Daniel's £12,000 Prop Bet, and More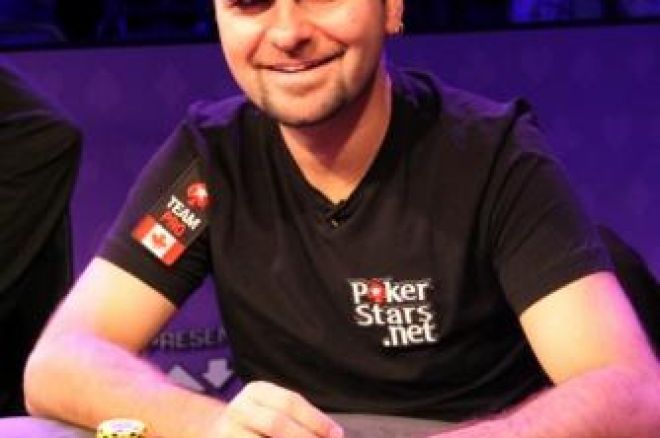 The Nightly Turbo is conveniently packaging the top poker stories of the day for you. It's easier this way. You don't have to go around googling and you have more time to work on bluffing your opponents.
In Case You Missed It
We're all waiting for November to see who will take down the World Series of Poker Main Event. We'll also find out who the newest member(s) of the 2009 Poker Hall of Fame will be. There has been some debate on the topic since the nominees were released. Dr. Pauly lays it all out for you in his Op-Ed: 2009 Poker Hall of Fame.
Even though the WSOP Europe is over, there is still some major poker happening across the pond. Tommy Vedes goes in to Day 2 as the chip leader of the European Poker Tour London Main Event. Play is underway in London and our Live Reporting Team has your play-by-play.
Another Sunday in the books and you know what that means. Plenty of players had six-figure cashes to add to their bankrolls yesterday. The Sunday Briefing has the scoop.
The PokerNews Cup Main Event is over and we have a winner. Con Tsapkounis bested 381 players to be the third consecutive local player to be crowned the PokerNews Cup Champion. Find out how it all went down, here.
No Stranger to Controversy
Luke "_FullFlush1" Schwartz definitely knows how to keep people talking. Whether it is a good strategy or not, we don't know. Last week, he was calling durrrr "spastic" and an "an arrogant social retard." Now, he's causing a fuss again, but this time over a sandwich.
Schwartz was recently banned from The Vic Casino in London after refusing to take off his hat. We still don't quite understand that one. His friend, Eddie Hearn, managed to get the ban lifted and Schwartz was able to play in the EPT London. Neither the ban nor his tournament lasted long. Schwartz busted during Day 2 and then managed to get banned from the casino and the EPT for the rest of the season (the latter according to this thread on TwoPlusTwo).
All Schwartz wanted was a sandwich and all the casino wanted was payment for said sandwich. Schwartz didn't want to pay for the sandwich, feeling he was entitled to it (for free) because he considered himself a VIP customer. Well, he was not, security was called, and he was escorted out of the casino and subsequently banned — again.
Read more at TheBankrollMob.com.
Calling the Clock
Gloria Balding caught up with Tom Dwan at the EPT London and decided to call the clock on the online phenom. Find out what the best thing about being from New Jersey is and how many times he's been mistaken for a vampire.
Poker Playing Priest?
PokerStars Million Dollar Challenge premieres this Sunday on Fox. Father Andrew Trapp will be one of the contestants. After becoming one of the top ten out of 10,000 players in an online qualifier, Trapp had to make a video to persuade producers that they should pick him. They picked him and he'll being playing dressed as a priest he says. That will probably be something that most haven't come up against. Wonder if that will throw anyone off their game. It's not every day that a priest walks in and sits down next to you at the Bellagio (well, not a priest dressed like a priest anyway).
He'll be playing for his church. He said that all the money won will go to funding repairs and expansion of the church for the growing congregation. And if you're concerned about the "sinfulness" of a priest playing poker, Trapp says that "in Catholicism, the "sinfulness" of playing games of chance is a "matter of moderation."
OnlinePoker.net has more.
Table Games Could Be Legal in Pennsylvania Soon
The House Gaming Oversight Committee in Pennsylvania voted 14-11 to send a table games bill to the House for consideration. The bill would allow casinos to install up to 200 table games and they would be taxed at 34%. The state would net $62 million this fiscal year if the bill is passed and $247 million thereafter. Jobs would be created and the state would get more money so it seems like a win-win. Or maybe anything that gets poker in more places seems like a win-win.
Read the whole story at The Morning Call.
Follow us on Twitter for up to the minute news.
He Shoots, He....
Well, we don't know whether he scores yet or not, but Daniel Negreanu has a prop bet with Liverpool goalie Jose Reina that he can score a goal against him in five attempts. A mere £12,000 is riding on Negreanu's kicking skills.
The thread on TwoPlusTwo has ballooned into a 37-page "can he do it or can't he?" We're not sure whether Negreanu is trying to convince us he will be able to do it, or prepping us for potential failure, but he even chimed in saying,
Not that this matters much, but I played left wing for seven years up until I was 15 years old and made the "select team" the last two years. I was more of a set-up man than a goal scorer and I never had a powerful shot. I did score the game winning goal (I sound like Al Bundy here) in a 3-2 semi-playoff win and then the lone goal in the finals. I'd usually score about seven or eight goals in a 15-game season. Haven't kicked a ball in ages, and the coach would never use me on penalty kicks. It was for sure the weakest part of my game; I was always a much better passer and was pretty fast, so I could beat a lot of d-men down the left side.
Check out the thread at TwoPlusTwo.
Royal Flush = $1 Million
Party Poker's Million-Dollar-Hand promotion is underway. From October 5 through 30, for every 15 PartyPoints players earn at Party Poker's real money tables, players will receive a playing card. When players have made a five-card hand, they will receive a prize. Cash is a guaranteed prize for hands consisting of a pair or higher. Royal flushes pay $1 million and there is no limit on the number of royals that can be hit.
The prize structure for the Million-Dollar-Hand promo is as follows:
Royal flush - $1,000,000
Straight flush - $10,000
Four of a kind - $1,000
Full house - $150
Flush - $100
Straight - $50
Three of a kind - $20
Two pair - $10
One pair - $3
What are you waiting for? Sign up for a PartyPoker account and get started.