PokerStars.net EPT Snowfest Day 3: Baekke Takes the Biscuit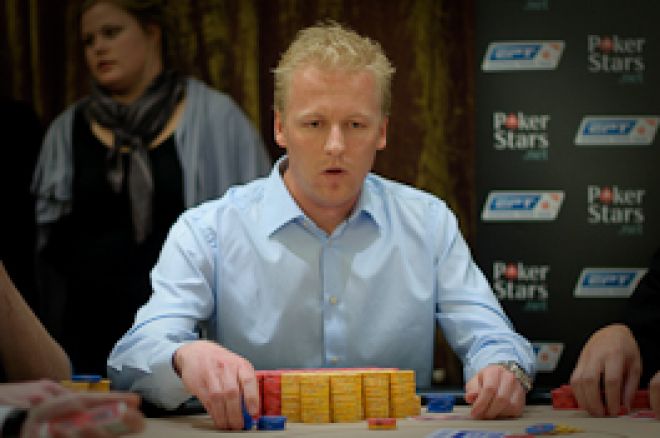 When play resumed at the Alpine Palace, 86 players remained in the Main Event of the European Poker Tour Snowfest, and with only 80 places paying out, tensions were high. The chip leader going into play was Team PokerStars Pro Johannes Strassmann, with Richard Toth, Maxim Lykov and Jim "Mr_BigQueso" Collopy not far behind, but this is, after all, a funny old game and it was all changed by the end of the day. When the field had been whittled to the final 24, Allan Baekke had card-racked his way to the head of the pack on a whopping 2,687,000 chip stack, with no one else even close.
The bubble came and went without much fuss, and within not much more than half an hour, we were in the money. The unfortunates who didn't make it included Team PokerStars Pro Luis Medina and official bubble boy Alfio Battisti - the latter most unfortunate to have his aces cracked when Evgeniy Zaytsev's pocket threes made a four flush.
The 27-year-old Danish pro Baekke, who goes by "Sifosis" online, became a big stack early in the day before the bubble had even burst, when he doubled through his friend and table neighbor, Casper Toft. Toft had flopped top two pair with his
while Baekke had flopped a set of eights, and all the chips went in. The set of eights held up to put Baekke up to around a million in chips while Toft was left with shrapnel. Toft managed to stay alive just long enough to sneak into the money ― he was the first player to cash ― in 80th place. Baekke, meanwhile, continued his upward surge and by the time he found aces to beat Paul Valkenburg's kings on the last hand of the night, he was holding nearly double the stack of his nearest rival.
Crazy up-and-down days were had by both Lex Veldhuis and Jesper Hougaard ― and in both cases they finished on resounding downs. Veldhuis lost half his stack when his aces were outdrawn by another player's ace-queen and not much later was reduced to pocket change when he smacked his ace-jack into Bertrand Husiaux's aces. He doubled up to what still amounted to very little, but finally met his tournament end when he ran pocket fours into Samuel Miller's pocket queens. Hougaard lost an enormous pot when he rivered a set of jacks only to discover that Baekke had rivered a flush. He survived for some time after that big loss but eventually crashed out when he smacked
into Russell Carson's pocket aces and took 43rd-place money home to Denmark.
Other players who made the money but failed to make the Day 4 grade included Alex Kravchenko, Julien Brecard, Christophe de Meulder, Johannes Steindl and Evgeniy Zaytsev.
Players who will be returning to take their seats at the last three tables include former chip leader, Team PokerStars Pro Johannes Strassmann, Nasr El Nasr, Lee "Bill Ivey" Gaines, Jim "Mr_BigQueso" Collopy and Team PokerStars Pro Richard Toth.
All remaining players are now guaranteed €10,200 but there is a long way from that to the €445,000 on offer for first place. The final 24 will be reconvening at 2 p.m. CET, and your PokerNews.com Team will be on the floor, pen and paper in hand, ready to bring you all the action as we play right down to a final table.
Follow us on Twitter for up-to-the-minute news, and become our fan on Facebook while you're at it.