World Series of Poker 2010: Where to Stay If You Come to Play Part 1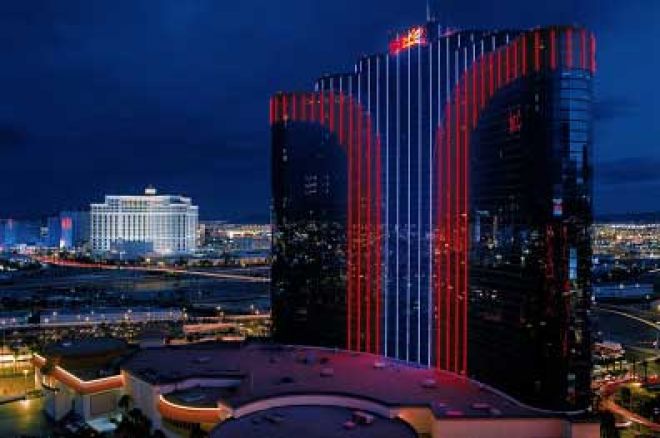 Thinking about taking a shot at a World Series of Poker bracelet this year? Better get your game in top form, start picking out your sunglasses, and put some time into your iPod playlist. With the WSOP only two months away, it's also time to start booking your plane tickets to Vegas and deciding where you're going to live once you arrive in Sin City. There are plenty of choices, and experienced WSOP grinders have a variety of different opinions on what works best to set you up for a successful series. Here are some of the options to consider if you're planning on an extending stay in Vegas this summer:
Living at the Rio Hotel
It's hard to beat the convenience of waking up at the Rio and taking the elevator to work. OK, the elevator and then one long, long hallway to the convention center, but it's still the closest you can possibly be to the tournament area. Daily hotel maid service makes sure you're not living in filth while you stay completely zoned in on the game, and staying on location makes it easy to register for events ahead of time to avoid long lines and keep you from getting shut out of sold-out events. Joe "jblaze20" Chaplin called the Rio home for more than a month when he took his first shot at the WSOP last year. Chaplin, who finished third in a $1,500 no-limit hold'em event for over $275k, is an ardent supporter of staying at the Rio. "Most kids like staying in a house for the summer, but I don't," he said. "I'm a hundred percent against it. I like the convenience of being close to the tournament."
It's an important part of Chaplin's game to be able to go back to his room during the dinner break and shower and refocus for the last several levels of the night, a time when many players come back from dinner and find difficulty concentrating and staying awake. The Rio makes it easy for hotel guests to order room service from the tournament area to make sure dinner arrives at their doors during the break.
Of course, staying at a hotel for so long can get expensive. The Rio does offer discounts for tournament entrants, and you can qualify for reduced poker room rates if you plan on playing more cash than tournaments. If you register for the Main Event, rooms during the Day 1's and 2's range from $69 to $99 a night. Harrah's also recommended checking to see whether your Total Rewards points make you eligible for an even less expensive rate than your tournament buy-in.
Chaplin reasons that if you're going to invest so many thousands of dollars in event buy-ins, spending an extra thousand or two to stay in a hotel is easily justifiable. One cash thanks to extra sleep or better focus easily pays the difference. Plus, he added, if you're a professional poker player, you can expense your housing costs on your taxes.
Staying at a Nearby Hotel
If you want convenience and maid service, you're not limited to the Rio. Both the Palms and the Gold Coast are across the street. Stay at one of these places and at least you'll get outside for at least four minutes a day. The Gold Coast wins points for being less expensive, having great cheap food when you come back at 4 a.m., and offering midnight bowling for $1 a game. Rooms during the first week of the Main Event are available for under $30 a night. Can't beat it, but if you're looking for ambiance and class during your Vegas experience, you should probably check out the other corner of the street.
The Palms boasts some of the best nightlife in Vegas, including Rain, Moon, Ghostbar, and the Playboy Club. It's also got some top-notch restaurants like Alizé, Nové Italiano, and N9NE Steakhouse. The standard rooms are impressive, and the suites show up on every Vegas travel show or E! special on television. You'll definitely have a lot of fun during your visit. Whether you can focus on poker or not amid that much skin and alcohol is up to you. Rooms during the first week of the Main Event are around $130 a night on weeknights and can go up to $260 on weekends.
Many players not on tight budgets congregate at the Bellagio. It's only a two-minute cab ride away from the Rio, and its appeal as one of the nicest hotels in Vegas, if not the world, can't be denied. If you're going to focus your energy on high-stakes cash games, being right upstairs from Bobby's Room is always a good idea. The spa at the Bellagio and the pool at its new Spa Tower are the perfect ways to get your mind in tune and your body ready for a day at the tables. Rooms during the Main Event range from $150 on weekdays to $230 on weekends.
Be a High Roller
None of these silly room-rate concerns matter if you've got a penchant for gambling and a big bankroll. Any casino in Vegas will be happy to hook you up with a baller suite, VIP club invites, and just about anything else you want. If you've got Ivey-esque cash and a similar love for dice, don't be tricked into accepting a suite, no matter how big. Hold out for your own villa at the Bellagio or the Wynn. Just make sure you've got money and time left for a little poker.
Big houses, staying with six friends, pools, and barbecues more your thing? We're scoping out condo and house ideas for you and we'll be back with those in the coming days. Follow us on Twitter for up-to-the-minute news.