EPT San Remo Day 6: Liv Boeree Scores Another for the Ladies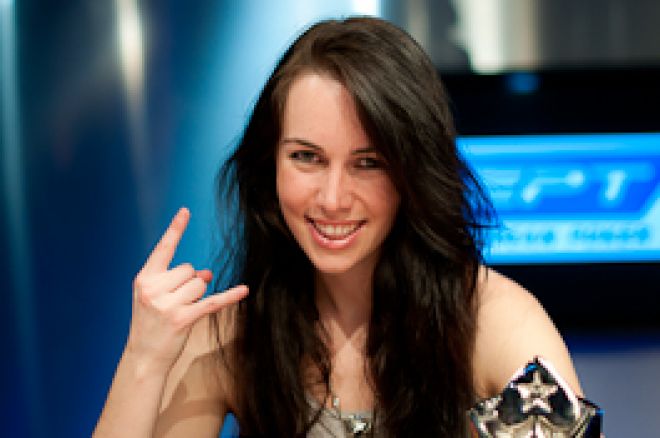 The European Poker Tour crowned its third female champion Wednesday night as Liv Boeree overcame a chip disadvantage and a dangerous final table to conquer the PokerStars.it EPT San Remo. The €5,300 event drew a record-smashing 1,240 runners from more than 40 countries, and Boeree's heads-up victory over Swede Jakob "mendieta19" Carlsson earned her a shiny silver trophy and an oversized cardboard check for €1.25 million.
Bulgarian Atanas Gueorguiev was the first man to depart the final table when his
could not out-race Toni Pettersson's
. A queen on the flop ushered Gueorguiev out in eighth place, good for €90,000. Right behind him went Claudio Piceci, one of the two native Italians to make it to the final day. With a turned board of
in front of him, Piceci check-raised a Carlsson bet before pushing all-in on the
river. Carlsson made a fantastic call with just ace-deuce, and Piceci showed that his inferior
as he headed out the door in seventh place (€150,000).
It only took another couple orbits to further reduce the table down to four. The last Italian standing, Giuseppe Diep was the next to stumble. He made his move on a three-bet shove with
, and the mustachioed Michael Piper called quickly with
. The dealer ran a board of
, and that was the end of Diep's day (sixth place, €210,000). Russian Alexey Rybin went out moments later, the victim of midday super-rush by Carlsson. Rybin got all in for a lot of chips on a ten-high flop, but his
was crushed by Carlsson's
. There was no further help for Rybin, and he walked out with €270,000 for his fifth-place finish.
Michael Piper attended the same University and studied the same program as Liv Boeree, but there was only room for one astrophysicist from Manchester in the final three. With his eyes obscured by a pair of brown Aviator shades, Piper made his preflop move with
. Carlsson snap-called with
to put Piper at risk, but he was drawing live to survive. The dealer refused to bail him out though, running a board of
to send him off in fourth (€345,000).
The three-handed battle teetered back and forth with the stacks being passed around the table for a good long while. Boeree picked up a much needed double when her
held against Pettersson's
. They essentially traded stacks in that exchange, and Boeree was able to hunt down chip leader Carlsson before too long. The big turning point came in a heads-up pot after a flop of
. With more than three million chips in the middle already, Boeree led out for 1.5 million. Pettersson made it 3.2 million straight, and Boeree shoved all-in with a barely-covering stack. Pettersson snap-called, then cursed loudly when he saw Boeree table
for a set. The Finn's
was drawing dead by the turn, he was eliminated in third place for €420,000, and Boeree entered heads-up play with a two-to-one chip lead.
Boeree and Carlsson battled on, and eventually the Brit began to assert herself and take control of the duel. It was an entertaining match between a physics grad and an online stud, and the deadlock was finally broken by a coin flip for all the marbles. Boeree opened with a raise, and Carlsson moved his shortening stack in with
. It was a big enough bet that Boeree had to consider carefully with
, but she settled on the call to put herself in position for the victory. The board came
, and Boeree shot out of her chair as the Binger brothers and her other supporters rushed the stage to congratulate her.
For Carlsson's part, it was a fine run that he was just narrowly unable to close out. "Mendieta19" held a long-lasting chip lead over the course of the final two days, and many of the pros predicted a runaway victory for the accomplished 22 year old. It would have been so if not for Boeree's impressive performance at the final table, and Carlsson had to settle for a still-impressive payday of €750,000 for second place.
Boeree is 25 years old, and she spent a portion of her previous career following the EPT circuit as a television presenter. She got her start in poker on a reality show in 2005, and it seems that things have now come full circle for her. During the post-game festivities, Boeree held her composure, but she was clearly holding back a lot of emotion. "This is exactly what I've been working for since I learned poker. I went to EPTs as a host but all I was thinking was, 'I want to play,'" she told PokerNews. "This is all just a big blur. I can't believe I won. I'm over the moon. Absolutely over the moon."
If you missed any of the action from San Remo, head over to the Live Reporting page to get caught up. And check out our Facebook page for more content from this week at the EPT.