The PokerNews Jet Set: San Remo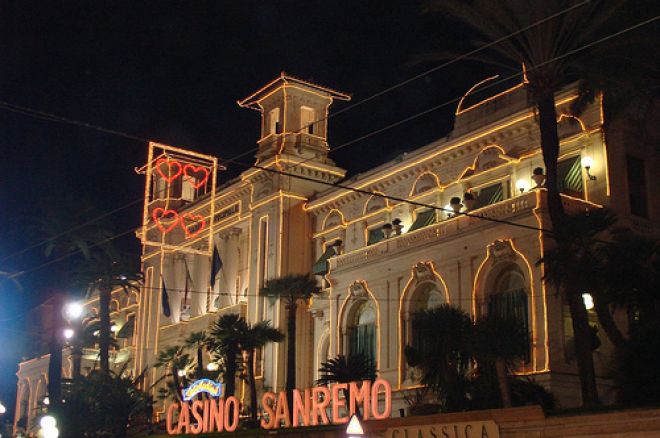 Tucked inside an inlet on the north coast of Italy, San Remo is known as the "Riviera of the Flowers." Not only is the city the destination for the largest (and many say the juiciest) event on the European Poker Tour, but its surrounding hills are a hotbed for flower production and home to dozens of incredible botanical gardens. San Remo is also a place where you might want to consider dropping that weight bet or at least putting your diet on hold. It's all about pasta, pizza and wine here on the Ligurian coast, and when you're not check-raising your heart out, there is plenty to eat, drink and explore in this beautiful harbor town.
About the venue
Built in grand Art-Nouveau style at the turn of the 20th century, the Casino San Remo is situated right in the city center. Like many casinos across Europe, there is a dress code. Leave your ripped jeans and basketball shorts back at the hotel, and if you favor the hat and sunglasses combo at the tables, be aware that although such attire is permitted in the poker room, it isn't going to fly on the main casino floor. Another thing you'll need if you plan on playing a little blackjack or roulette after hours? A jacket. They're required in the casino, but you can breathe easy-- you don't need to don that sport coat inside the poker room.
Quell your hunger, quench your thirst
Alex '76 is a favorite among players and media alike. Located right next to the Casino San Remo, it's a perfect place for a steaming bowl of fresh pasta (we're mad about the bolognese sauce). The ingredients are impossibly fresh, and it won't break the bank, either.
If you're in the mood for an elegant experience, Biribisso is located right inside the casino. Feast on fresh seafood and pasta while enjoying live music and sampling a bit of the extensive wine list. If you're a bit more crunched for time (or are confined to a one-hour dinner break), Town Hall has simple, tasty options. Open from 8 p.m. until midnight, it's located right off the main casino floor.
As is the custom at most EPT events, after-hours drinking among the poker crowd is usually scattered among various hotel bars. If you want to grab a brew or a bottle right after bagging and tagging your chips, however, wander over to the Jackpot Café. It's right inside the casino, and you may find yourself sitting alongside one of your favorite pros.
If you bust out early or have a bit more time on your hands, head down to the beach for some stellar seafood. La Fontana is a gorgeous little eatery featuring outdoor dining on a terrace overlooking the sea. Try the amazingly succulent prawns or fresh pasta paired with homemade pesto.
Located right on the harbor, Piazza Bresca is another dining and drinking haven, dotted with bars, pasta palaces, and seafood joints. Try Da Nico Trattoria del Porto for fresh pesce or their wonderful pasta vongole. Dinner for two runs around 60 euros.
Can't-miss sightseeing
Start your journey in La Pigna at the center of town. Explore the narrow streets and take some snapshots of the incredible medieval architecture before climbing up the hill to the Madonna della Costa Sanctuary, which offers breathtaking views of the city and ocean.
Open-air markets run on Tuesdays and Saturdays at the Piazza Eroi Sanremesi. Local produce, cured meats, cheeses, leather goods, and clothing are all for sale, but unless you're an expert speaking Italian, don't try to haggle over prices. If boutiques and high fashion are more your speed, head over to Via Matteoti where one could easily lose an entire day exploring all the shops.
The crown jewel of San Remo, however, is its harbor. Don't leave without taking a walk around Porto Vecchio and enjoying some fresh seafood as the sun sets over the Mediterranean.
Are you ready to take your game on the road? EPT, LAPT and WSOP satellites are running right now on PokerStars.