The "durrrr" Challenge: Antonius Scores Back-to-Back Winning Sessions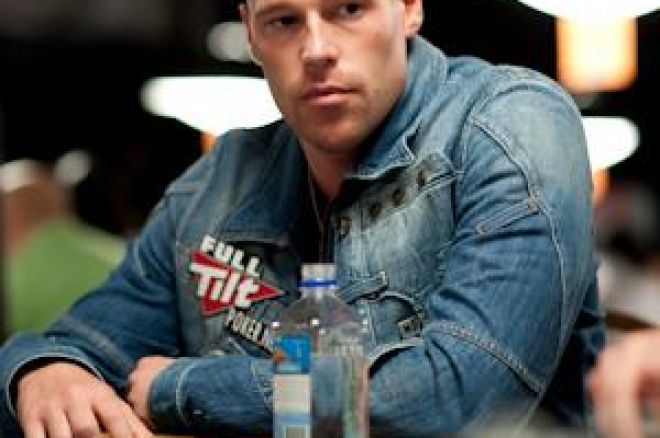 At last, Tom "durrrr" Dwan and Patrik Antonius are getting serious about putting their now 14-month-old "durrrr" Challenge match to rest. For the second day in a row, the two high-stakes rivals were back at the $200/$400 pot-limit Omaha tables and slugged it out for nearly five hours. Wednesday evening's match began around 4:15 p.m. EDT and continued until 9:15 p.m., when Dwan had to end the session to make it to the airport on time.
durrrr: gg
durrrr: gotta catch plane
durrrr: i hav u winning abt 190k
durrrr: sound right to u?
durrrr: and 1309 hands - 2 or 3 we played at 300600 tbl
Patrik Antonius: 1min
durrrr: so should be me +1.8, 37-37.5 hands
Patrik Antonius: y something around 193k
Patrik Antonius: ok i gotta get some sleep
Patrik Antonius: play tomorrow gg
durrrr: gg
Although Full Tilt's "durrrr Challenge" tracking system was reporting at press time that the two played 1,457 hands last night with Dwan finishing a $48,562 winner, our own numbers, along with those reported at High Stakes DB and the discussion between Dwan and Antonius in the chat box, put the actual number of hands played at 1,302, with Antonius finishing up a $197,369 winner. This was the second consecutive winning session for Antonius, although Dwan is still up by more than $1.8 million with 12,000+ hands to go.
Of the six largest pots, three were worth more than $200,000 and the fourth-largest pot missed that mark by only $400. Dwan and Antonius split them three and three, with Antonius claiming the monsterpotten of the session at $205,594. Dwan opened for $1,200 holding
, Antonius reraised to $3,600 with
and Dwan called. Antonius picked up a straight draw to go with his overpair on the
flop while Dwan hit top pair. Antonius led out for $6,000 and Dwan flat-called. The
was the perfect card for Antonius, making him top set while Dwan hit top two pair — a hand he'll hardly ever get away from heads-up. Antonius led out for $19,200, Dwan raised to $76,800, and Antonius set him all-in with a reraised to $134,400. Dwan called all-in for $93,198 total and was drawing dead, Antonius raking in the pot as the
fell on the river.
In these last two sessions, Antonius has shown an increased propensity to gamble to make up his huge deficit in the challenge. In another $200k+ pot, Antonius made a very light four-bet, then called Dwan's five-bet most likely knowing that the rest of their stacks were going in on the flop given the size of the pot. Antonius opened for $1,200 with
and Dwan three-bet to $3,600, a frequent action for him. However, this time he had a real hand—
. Antonius reraised to $10,800 but Dwan came back over the top for $32,400. Antonius called, the pot swelling to $64,800 before they even saw a flop. The
flop was gin for Dwan, who flopped a wheel and decent enough for Antonius, giving him outs with a flush draw. Dwan led out with a pot-sized bet, essentially setting Antonius all-in. He shipped in the $69,195 and Dwan called the small balance. Dwan was a 56 percent favorite on the flop, but that number increased to 73 percent when the
hit the turn, giving him a diamond flush draw. Antonius still needed a club, but couldn't find one on the river, the
falling to give Dwan the $203,190 pot.
These two promised to "play tomorrow," (that's today) but will they make good on their plans? Stay tuned to find out.
For continuing updates on the "durrrr" Challenge, keep it here on PokerNews. To watch the action for yourself, open an account on Full Tilt Poker.