The "durrrr" Challenge: Dwan Leads Antonius by Over a Million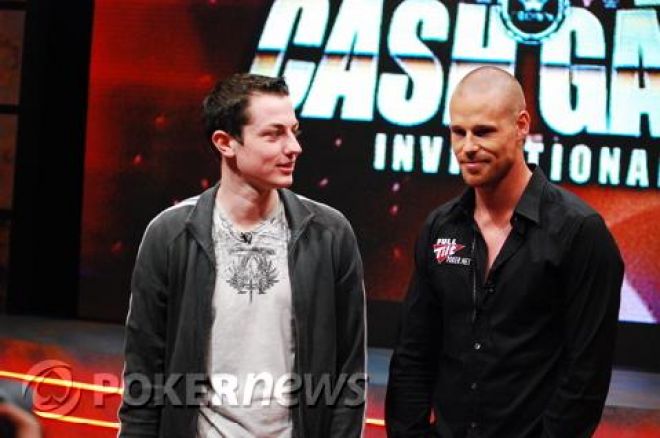 For the second time in 24 hours, Tom "durrrr" Dwan and Patrik Antonius found time for a "durrrr" Challenge session. The two played for three hours and 18 minutes during the early hours Friday morning and after 892 hands, Dwan booked his third consecutive win, adding $199,442 to his lead. After 31,912 hands, Dwan is up over a million dollars in the challenge, his lead now totaling $1,077,932. He has also won seven out of the last eight challenge sessions.
Dwan leaped out to an early lead in this match and never had to look back, although Antonius was able to slow the bleeding during the session's latter half. Antonius was also on the winning end of the session's second-largest pot, which came in just short of $190,000. Antonius opened for his standard $1,200, Dwan three-bet to $3,600, and Antonius came back over the top for $10,800. Dwan called and they saw a
flop. Dwan check-called a $15,200 bet from Antonius and they went to the turn, which fell the
. Dwan fired out a pot-sized bet of $52,000 (leaving himself only $28,112 behind), Antonius shoved for his remaining $68,997 and Dwan made the call, turning up
for a wrap draw. Antonius, however, already had a made hand, having turned a queen-high straight with
. The river was the harmless
and Antonius raked in the $189,993 pot.
One hour later, Dwan picked up the third-largest pot of the night at over $169,000. Holding the relatively junky
, Dwan nevertheless opened for $1,200. Antonius looked down at
and three-bet to $3,600. Dwan made the call, then hit bottom two pair on the
flop. Antonius naturally led out with his aces, betting $6,000. Dwan smooth-called, then hit his gin card on the turn, the
falling to make him deuces full. Antonius fired again, making it $14,800 to go. Dwan raised to $38,500, Antonius repotted to $134,700 and Dwan called all in for $75,039 total.
We're not sure how to say "Nice catch, donkey" in Finnish, but that's probably along the lines of what Antonius was thinking as the
hit the river and the $169,277 pot was shipped Dwan's way.
None of the 892 pots Dwan and Antonius played last night broke the $200,000 mark, but this one came tantalizingly close. Holding
, Antonius opened for $1,200 and was met with a $3,600 three-bet from Dwan, who held
. The
flop gave Antonius top pair and Dwan straight and flush draws. Dwan checked, Antonius bet $6,000 and Dwan came in with a raise to $22,200. Antonius called. The
on the turn missed Dwan but gave Antonius top two pair. All the money went in, Dwan leading for $51,600, Antonius moving all-in for $70,615 and Dwan making the call. It was agony again for Antonius as the
hit the river, completing Dwan's straight. Dwan raked in the $192,830 pot as Antonius was left to make a rebuy.
With 64 percent of the challenge complete and Antonius down seven figures, some might think he has an insurmountable task in front of him — having to win nearly $1.1 million from Dwan in just over 18,000 hands. However, this challenge has seen these kind of swings before. Dwan endured a $1.5 million swing in less than 4,000 hands during the epic June 19, 2009, "durrrr Challenge" session, while Antonius picked up over $800,000 on Dwan over the course of 2,000 hands played in the August 25 and August 26, 2009, sessions.
Will these two delight us with three sessions in a row? Stay tuned to PokerNews. We'll be on top of all the action.
The highest-stakes action online all unfolds on Full Tilt Poker. Open an account today and see for yourself.