The Nightly Turbo: Poker Player Extradited, WPT on Facebook, and Warnie Causes a Stir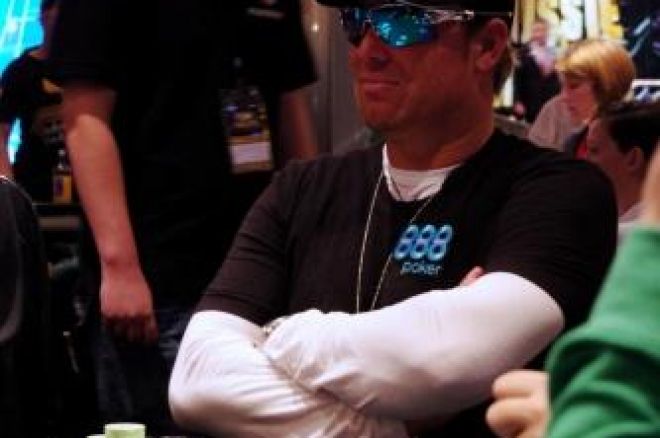 It has been ruled that a U.K. poker player charged in the death of his wife can be extradited to the U.S. to face trial, the World Poker Tour has come to Facebook, and Shane Warne is causing quite a fuss. You can find all this and more in tonight's Nightly Turbo.
In Case You Missed It
The PokerStars NAPT Mohegan Sun High-Roller Bounty shootout may be be playing now, but players had to get to a final table somehow. Wondering how it happened? This recap has the story.
There are a lot of legal goings on involving online poker. Here's your legal update.
Did you miss the latest episode of High Stakes Poker? Never fear, we've got a recap for you.
The PartyPoker Big Game IV has been running for two days. There is an interesting twist in the game and there has been some high-stakes action. Read about it here.
Be Careful What You Tweet
Former Australian cricketer Shane Warne is under a bit of fire for a tweet letting his followers know of a promotion his sponsor 888 Poker was running.
The tweet rubbed anti-gaming activist the Rev. Tim Costelllo the wrong way. "Sporting heroes do carry a responsibility to ensure that kids who idolise them are protected from things that aren't appropriate for their age. Most of us forget that you put something out there and people under age are also reading," he added.
TimesOfIndia.com has more.
WPT on Facebook
The World Poker Tour has introduced a free-to-play Texas hold'em app that is now available on the Facebook platform. First-time players will get a chip bankroll and the ability to purchase extra chips, as well. The game features customizable avatars and the chance to win prizes ranging from chip sets to a seven-night WPT Boot Camp Battle at Sea Cruise package. The game is easy to use for both newcomers and experts.
Read more here.
Cash Incentive
If you're going to be playing at the PokerStars European Poker Tour Grand Final in Monte Carlo, you may have a bit more incentive to bring your "A" game, as if winning this event isn't enough incentive. Bodog Poker Network CEO Patrik Selin is offering a €1,000 bounty to the person who knocks him out of the tournament.
"I think it's a shame more senior management of poker rooms do not play at these events as it is the best way to find out what players want. Everybody at a live event is passionate about the game and happy to talk about their likes and dislikes which is invaluable to anybody running a poker room," Selin said. "Now I have raised the stakes and will be putting EUR1,000 straight into to the hand of the person who knocks me out which should make the banter even more fun in Monaco."
Read about it here.
Sponsorship Allowed?
The Australian government is cracking down on online poker and is having an effect in the National Rugby League's sponsorship opportunities. The 16 clubs of the NRL have the opportunity to share part of a $100,000 advertising campaign by Full Tilt Poker, by advertising the site on their Web sites. To get around Australia's Interactive Gambling Act of 2001, the ad is directing users to the FullTiltPoker.net site, which is for play money only.
"At this stage, they are looking at a long-term involvement (6-12 months) with an investment of over 100k, incorporating display advertising and brand integration into the content of the sites," NRL official Damien Mahoney said. "However, as this is new territory for the network and a potentially sensitive area, we have proposed that a smaller display campaign be trialed [sic] over the next few months. The advertising will only promote their 'practice' site where no money exchanges hands."
The Sydney Morning Herald has more.
If you want The Nightly Turbo in your inbox, sign up for the newsletter below. Also, follow us on Twitter for up-to-the-minute news.
Poker Player Extradited
A British poker player who has been accused of murdering his wife has been awaiting extradition from the U.K. to the U.S., and a judge has finally given the OK. Marcus Bebb-Jones allegedly murdered his wife in 1997 and then proceeded to live the playboy lifestyle in Las Vegas the weekend after the incident.
"He lived a playboy lifestyle during the course of that weekend which culminated in him putting a gun in his mouth and shooting himself in the head. Whether by judgment or design, he did not cause any life-threatening injuries," US spokesman Aaron Watkins said.
It was district judge Howard Riddle of the City at Westminster Magistrates Courts that ruled Bebb-Jones could be extradited. He faces the possibility of a life sentence without parole.
The Guardian has more.