The Nightly Turbo: Full Tilt Poker Pro Suspended, a Look Back at Kid Poker's Year, and More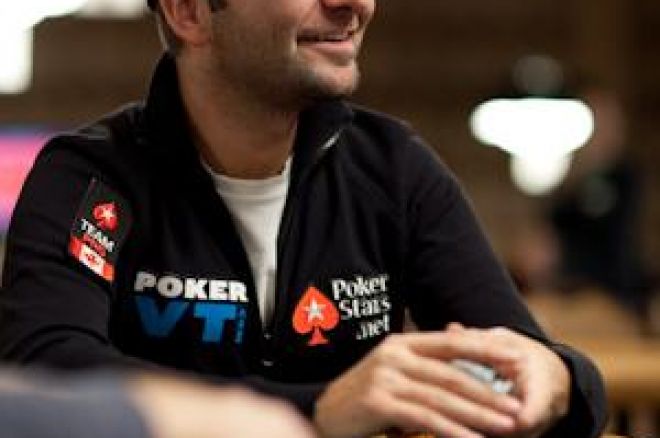 In tonight's Nightly Turbo we bring you news on suspensions being issued at Full Tilt Poker, Daniel Negreanu talks about his year, and more.
In Case You Missed It
Yea, so we slow-rolled you a little bit over the weekend. Last week we posted Part 1 of our latest edition of Bankroll Builders and then we waited until now to bring you the rest of it. So without further ado, we bring you Bankroll Builders: Micro-Stakes No-Limit Hold'em Part 2.
What would a Monday Nightly Turbo be without at least the link to the results of poker's biggest day on the virtual felt? The Sunday Briefing has all the six-figure winners and more.
The (since this is the last time we'll write this this year, we'll give you the full name) World Poker Tour Doyle Brunson Five Diamond World Poker Classic crowned a winner over the weekend. If you were without Internet, Twitter, and poker savvy friends with Internet or Twitter, you may not know the results. We have them. Here's the link.
Remember that $4 million win Brian Hastings had over "Isildur1"? Well there's quite a bit of controversy surrounding it. We tell you a little bit about it below and we also break it down a bit further here.
The fight for legalization and regulation of online poker has made some serious progress in the last few months. Well let's just add another plus to the list. Online Poker's Newest Supporter is a congressional heavyweight who believes in the fight.
The New Kid on the Block
The long wait for City Center to open is officially over. Aria opened its doors last week and that meant that the newest poker room to grace the Las Vegas Strip put the cards in the air. The room boasts 24 tables, one of them being an exclusive VIP table akin to the familiar Bobby's Room of the Bellagio. Rumor has it that Phil's Room could become the newest must-see on a poker player's "visiting-Vegas" list. That is of course if the rumors that Phil Ivey is in talks to loan his name to the room are true.
Next time you're in Vegas, check out the poker room and let us know what you think. If you're not making the trip soon, check out Pokerati.com for pictures of the room.
Chainsaw Takes Down the 2009 Bayou Poker Challenge
The Main Event of the Bayou Poker Challenge attracted 80 entries this year. The $3,000 + $120 buy-in event generated a total prize pool of $221,798. Allen "Chainsaw" Kessler emerged victorious in this three-day event. Chainsaw has developed quite a reputation in the past few years as one of the most opinionated pros around. Play was four-handed for more than four hours at the final table and the final four agreed to a deal. The terms of the deal were not disclosed, so Kessler is noted as taking home $70,976 for his win as well as a gold ring and a seat in the 2010 World Series of Poker Main Event. This win marks his seventh major tournament victory and puts him at nearly $1.5 million in career tournament earnings.
2009 Bayou Poker Challenge Main Event Results
1. Allen "Chainsaw" Kessler - $70,976
2. Ed Corrado - $44,360
3. Moutray McLaren - $28,279
4. Jim McBride - $19,262
5. Michael "Car Wash" Schneider - $16,080
6. Justin "Lockdowntex" Allen - $13,308
7. Ben "the Destroyer" Mintz - $11,090
8. Will "the Monkey" Souther - $9,426
9. Phil Hall - $8,317
Marks Goes Back-to-Back
The Bayou Poker Challenge in New Orleans held a ladies tournament over the weekend. It feels like the last couple of ladies events we told you about, a lady did not win. That is not the case this time. Trish Marks from Covington, LA was this year's winner. She beat out 41 players to take home the $4,772 prize, a gold and diamond pendant, and the trophy. This is not her first win, however. Marks has become the first player ever to win two Bayou Poker Challenge events with this back-to-back win, as she was also crowned the 2008 ladies champion.
Want to know where you can win your gold ring and seat for the 2010 WSOP? Check out WSOP.com.
Suspended
After basically kicking "Isildur1's" ass in the nosebleeds on Full Tilt Poker a few weeks ago, Brian Hastings gave a few interviews on his $4 million record-breaking online single session win. In one of those interviews, he may have said something he wasn't supposed to, and that has caused just a little bit of controversy and at least one Red Pro suspension.
Hastings told ESPN that he and the CardRunners gang (namely Brian Townsend and Cole South) shared hand histories of their play against Isildur1 to get a read on his playing style. According to the Full Tilt Poker terms and conditions, that's a big no no.
Obviously, Full Tilt did their own investigation of the situation and as of now, Brian Townsend's Red Pro status has been suspended for a month. He took to his blog to clear up the allegations saying that there was no collusion going on and that he was in fact the only person to break the T&C by acquiring 30k hands of Isildur1's play.
PokerNews' Tony G has also posted his take on the situation at TonyGPoker.com. He feels like the entire situation leaves a "bad smell in the air for everyone, including Full Tilt since Townsend is one of their Red Pros." He also thinks Townsend should "be more committed to giving his attention to doing what being a Red Pro demands at Full Tilt."
As for Cole South's involvement, he has been cleared of any breach of the rules following Full Tilt's investigation. He states that the three did in fact discuss hands but never sent raw hand histories to each other or anyone else and there is no "conglomerated" database of their hand histories against Isildur1. He also makes sure to state, as did Townsend, that neither of them has played on each other's account.
According to Tony G's blog post, he believes that South is completely innocent, Townsend still leaves an air of doubt, and Hastings needs to give his side of the story. About what this means for Isildur1, he said, "The bad part of it all is that there appears to be no answer to help Isildur1. A Red Pro getting a penalty doesn't change the matter of his poker losses and the fact that he was at a disadvantage with all of it. I believe he can come back because he is a young kid and lots of talent. It has to be a huge learning tool for him."
Check out Tony's whole blog at TonyGPoker.com.
Daniel Negreanu's Year
Daniel Negreanu is back with his latest video blog on Wicked Chops Poker. While playing the PokerStars Sunday Millions, he discusses the 2010 World Series of Poker schedule that was released last week, the loss of his mother, and his plans for next year, beginning with the PokerStars Caribbean Adventure. He also takes some shots at Phil Hellmuth about about his cash game. Oh yeah, and his dog Mushu makes a cameo too.
If you're not following us on Twitter by now, you should be, and there's really no reason you shouldn't be a fan on Facebook. What are you waiting for?