The Nightly Turbo: World Series of Poker 2010 Schedule, Brad Booth Talks Full Tilt Poker, and More

Elaine Chaivarlis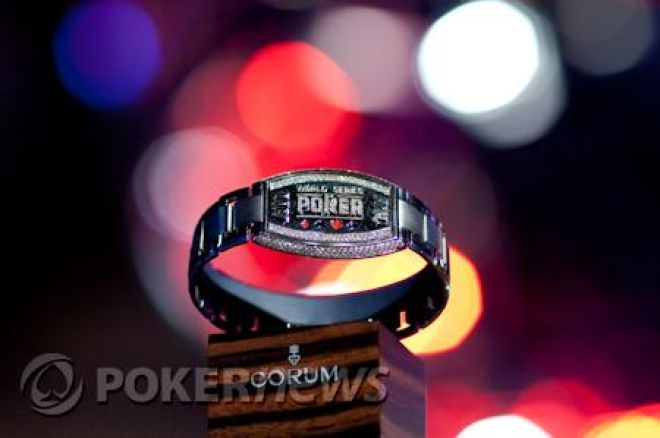 Tonight's Nightly Turbo is giving you the scoop on the 2010 schedule for the World Series of Poker, Brad Booth's thoughts about Full Tilt Poker, Kentucky trying to add names to the Internet gambling domain-seizure list, and more.
In Case You Missed It
Daniel Negreanu is trying to do it, Chris Ferguson has already done it, so why shouldn't you do it? What are we talking about? Building a bankroll in the microstakes. Check out our latest edition of Bankroll Builders for the first part to get you started.
The field of the WPTDBFDWPC (it's even long when we use an acronym) shrank to 36 yesterday. Daniel Alaei emerged as the chip leader at the end of the night. Quite a few big-name pros made their exits yesterday. Find out who in our World Poker Tour Day 3 recap.
We were back at it today. Opening mail. Answering questions. Find out if we got to yours in the PokerNews Mailbag. If we didn't, there's always next time. Send your questions to editor@pokernews.com.
Carbon Copy
Taking a page from most online poker sites, Carbon Poker has just released upgraded software for its users. The 4.7 edition has a new look that includes rebuy prompts, improved pot bets, sticky preferred seating and synchronized breaks.
Players can now set up auto rebuy and request rebuys while in a hand. Your favorite seat will be "stickied" for you, too, so you can sit where you want. There also are new pot bet sizes for you to play with. The new software will also remember your regular buy-in amounts for your cash games, and we're pretty sure it won't needle you for losing most of that buy-in three or four times a day, but who can tell. This software seems pretty intelligent.
Sign up for a Carbon Poker account and check out the new features.
Follow us on Twitter for up-to-the-minute news and be sure to add us on Facebook.
Premier League IV
Want to take on defending PartyPoker.com Premier League III champ JC Tran in February 2010 for the PartyPoker.com Premier League IV? PartyPoker.com is offering a number of ways to qualify for the event, which will take place in Las Vegas.
Sixteen lucky qualifiers will be flown to Las Vegas to play in a Premier League Poker play-off for the opportunity to take on 11 of poker's elite in the $100,000 buy-in event, which will be filmed for TV and shown around the world. Not only that, you could become PartyPoker's newest team member.
"One amazing element of this promotion that provides a truly fantastic opportunity is that one of the 16 qualifiers will be chosen by PartyPoker to receive a $100,000 Team Party contract to be a sponsored player. This decision will be made by PartyPoker within two weeks after the event takes place. We will only get a flavour of who we want to sponsor once we have had a chance to meet and interact with the 16 players that make it out to Las Vegas," said a PartyPoker spokesperson.
Be sure to sign-up for a PartyPoker account to take part of this once-in-a-lifetime opportunity.
Kentucky's Naughty List
Looks like Kentucky is making a list and checking it twice. Lawyers representing the state have filed a motion to add names of U.S. citizens and companies to a lawsuit that seeks to seize 141 Internet domain names. The names of the individuals and companies have not been revealed.
Efforts by Kentucky to seize the site names were blocked in January 2009 by a decision made by the Kentucky Court of Appeals in favor of the Interactive Media and Entertainment and Gaming Association (iMEGA), Interactive Gaming Council and Sportsbook.com.
We won't bore you with the legal phrasing of the new motion, it just says that Kentucky has come across identities of entities and individuals who are U.S. citizens and are involved in Internet gambling operations, and they want to add causes of action against them "in personam" — to impose liability.
iMEGA's chairman, Joe Brennan, thinks this is a "Hail Mary pass." We're kind of into football around PokerNews HQ, so we like his analogy. "It's odd that Kentucky's lawyers would try something like this at such a late date, since we're expecting a decision on this matter from the State Supreme Court any day now. We're unaware of any 'investigations' by the state attorney-general or law enforcement in Kentucky. The attorney general himself asked to be dismissed from this suit last year. And there are no indictments or convictions that would enable Kentucky's lawyers to add the names of individual U.S. citizens to their seizure action," Brennan said.
The hearing for the motion is set for January 20, 2010, in front of Judge Thomas Wingate of the Franklin Circuit Court. This is the same judge who granted the state permission to seize the names in September last year.
Find out more at EGRMagazine.com.
He Said What? About Who?
Brad Booth was on the Hardcore Poker Show recently and wanted to get some things off his chest, mainly about his former sponsor, Full Tilt Poker. He didn't want to name any names, but maybe we heard the name Rich Bitar when we were listening.
"I hope you're listening to this Rich, but you're kind of an idiot. I can't believe I just said that, but you know, there are just some things he did there that are pretty rude. He tried to be my friend and things like that and I always tried to be there for them and I always wore the patch of Full Tilt very proudly and we were supposed to get x amount for certain things and I felt like I submitted my stuff and they didn't really seem to care and I think they thought I was living in an igloo in Canada and I felt like they kind of threw me under the rug a little bit."
Come on, an igloo? It's not like you're living in Canad-oh wait. Booth went on to say that he "really likes and respects" the players, Ivey, Lederer, Bloch and Ferguson, and this is nothing against them. "Cause they don't know any of the stuff, I believe, that's happening." We can't be sure they will take too lightly to someone bashing the hand that feeds them, essentially, but we'll have to wait and see what comes of all of this.
Listen to the interview at Hardcorepokershow.com.
WSOP 2010
We just unwrapped a little holiday surprise for those of you eager to plan your summer 2010 schedule. The 41st annual World Series of Poker will begin May 27 and run through July 17. Fifty-seven bracelets will be up for grabs again next year, and July 4 will remain the only off day.
The first bracelet given out will be the $50,000 buy-in Player's Championship, which is essentially the $50K H.O.R.S.E. event that is being transitioned into an eight-game mixed event. Yes, the winner will receive the Chip Reese Trophy as did past H.O.R.S.E. winners. Another exciting addition is the $25,000 6-handed no-limit hold'em tournament on June 30. Because of the success of this year's tournament, all gold-bracelet events will feature triple the buy-in in starting chips and deep structures.
If you dream of playing in the Amazon Room, you still may be able to but be prepared to take on the 58,000-square-foot Pavilion Ballroom, which will be in use this year as well. Add that to the 38,000-square-foot Amazon Room and that's a lot of square feet for poker. If you were worried about the heat last year on your way outside to the Poker Kitchen, have no fear, the Miranda Ballroom will be converted into a food court.
Pencil all the events you want in early. Head on over to WSOP.com for more.