The Nightly Turbo: Poker Cruise, Barry Berating, and More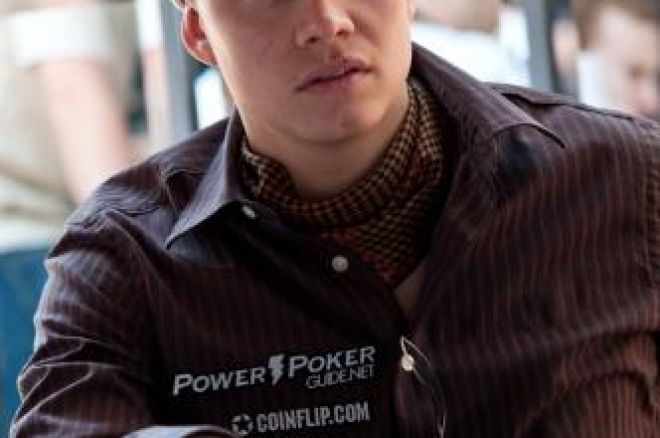 If you've found yourself reading this, then you should know The Nightly Turbo is the easiest way to get your fill of the top poker news stories of the day. You should come back tomorrow, and you should tell your friends.
In Case You Missed It
He's a logger from Maryland and maybe he doesn't have the skill that Ivey or Shulman have, but he has 58 kajillion chips to begin the final table of the World Series of Poker Main Event in November. He's also our newest November Nine spotlight: Darvin Moon.
Michael Tureniec has over $1.2 million in career tournament earnings, was recently signed to Full Tilt Poker, and has a thing for Swedish women. Find out more about the poker pro in our Online Poker Spotlight.
We've already told you how to build your bankroll by playing super turbo sit-n-gos and we're back at it again, still talking SNGs, but this time it's heads-up Razz. Check out Bankroll Builders Vol. 2 for part one of our heads-up Razz SNG series.
The World Poker Tour Festa al Lago crowned a champion yesterday. We're not going to tell you who won, but we will tell you that history was not made as we had hoped it would be. Find out who won and how it all went down.
Poker Girls Come in Second
Either they've been getting hit with the deck during this season of "The Amazing Race" or they're just that good, but Tiffany Michelle and Maria Ho have escaped yet another elimination.
The girls were in their element digging some gold and weighing out $500,000 in gold pieces while keeping a close watch on the constantly changing exchange rate during the Detour part of the race. They also had to slide down a six-storey waterslide surrounded by sharks. The girls completed the tasks and came in second for the week.
You can watch full episodes of The Amazing Race at CBS.com.
Durrrr Challenge Live
Lack of time. This seems to be the excuse as to why the Durrrr Challenge between Patrik Antonius isn't finished and it's the new excuse as to why Durrrr's live challenge never took place. Illari Sahamies and Sammy George were supposed to be the challengers in London in September but the matches were called off because there was no time.
Dwan says the Live Challenge will happen over the winter in four places against four opponents, but he doesn't mention who or where. No need to get our hopes up just yet, right?
For more, head on over to Coinflip.com.
Did you know, if you follow us on Twitter, you'll get up-to-the-minute news? Well you do. So what are you waiting for? Do you want The Nightly Turbo delivered to your email every night? All you have to do is subscribe below.
World Series of Poker on ESPN
Just a few more weeks and we won't be reminding you every Tuesday that the World Series of Poker Main Event coverage is on ESPN tonight. You'll probably begin to miss it, so enjoy it while it lasts.
Twenty-seven players are left in tonight's first hour. Phil Ivey is joined at the feature table by Jeff Shulman and chipleader Darvin Moon. Antonio Esfandiari is at the secondary feature table, and out in the field, Leo Margets hopes to become only the second woman ever to make the Main Event final table. A new chip leader emerges in the second hour and we meet a handful of new players in their quest to the final table.
ESPN coverage begins at 9 p.m. EST and if that doesn't satisfy your poker fill, you can always check out November Niner, Kevin Schaffel on ESPN's Inside Deal.
Man Gets Comped Room for 24 Years - In Jail
On Monday, Jeff Castardi pleaded guilty to the felony charges against him. He was charged with violating the Colorado Organized Crime Control Act, which is a class-two felony, and will face anywhere from eight to 24 years in prison when sentenced in December.
Castardi was running a gambling club under the premise that it was a social club. He had about 100 high rollers going in and out of the club losing tens of thousands of dollars. Money was also laundered through two restaurants that were owned and operated by Castardi and his wife.
"Castardi and his co-defendants were suspected of violating numerous provisions of state law, including running an illegal professional gambling and bookmaking business, loan-sharking, money laundering, tax evasion, theft and unlawful debt collection," said Mike Saccone, communications director of the office of the Colorado Attorney General.
Gambling911.com has more.
Barry Shulman Berates Player
During a recent $550 MTT at Caesars, Card Player Media owner Barry Shulman, who is a World Series of Poker Europe champion, may have been a little rude. According to a thread on TwoPlusTwo, Shulman decided to criticize a player after she busted from the tournament.
Other players at the table tried to explain that she did not make a bad play and that she had equity in the move, but according to the TwoPlusTwo thread, Shulman said to one of the players, "NO!, You're wrong, believe me, you dont need to teach me how to play poker. If you think thats the right play you're awful and you have no chance to win a tournament."
It didn't end there. Shulman also allegedly got into an argument with a female dealer who he claims had already cut the deck of cards. The other players at the table agreed with the dealer and Shulman picked up the deck of cards, cut it and said, according to the thread, "That is cutting the deck and thats what you did."
We weren't there to see this happen, so we can only take the word of the poster on TwoPlusTwo. What we can say, however, is that those Shulmans love a good bit of controversy. Ahem. Bracelet. Ahem. Garbage.
Read the whole thread at TwoPlusTwo.com.
Royal Poker
HeadsUp Entertainment (HDUP) has partnered with CI Travel to bring you the "Poker Super Cruise." HDUP has also partnered with World Poker Showdown for this event. The cruise takes place April 25 through May 2, 2010, on Royal Caribbean's "Freedom of the Seas."
A series of tournaments will be featured on the trip with buy-ins ranging from $340 to $2,700 for the Main Event. While sailing, you visit the Bahamas, St. Thomas and St. Maarten.
The Canadian Poker Tour, which will sanction the event, is in talks to televise the Main Event. "We are excited to be holding this event on such an incredible ship," said HeadsUp President Kelly Kellner, "and it looks to be an amazing experience for all of our participating players."
To find out more, head on over to WorldPokerShowdown.com.