The Nightly Turbo: ANZPT Season 2, Everest Poker Sold, and Darvin Moon's Poker Tournament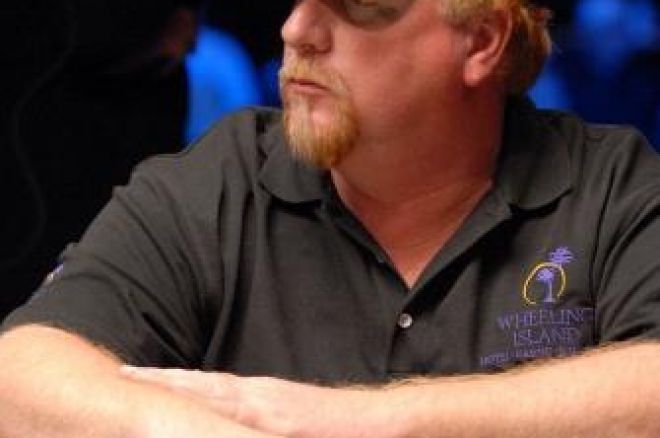 Tonight's Nightly Turbo is bringing you the schedule for season 2 of the Australia New Zealand Poker Tour, news on Everest Poker's sale, and Darvin Moon's next tournament.
In Case You Missed It
When we say our lives here at PokerNews HQ revolve around poker, we mean it. We find poker everywhere, even in movies that have nothing to do with poker. Check out From the Big Screen to the Final Table for your latest poker strategy tips prompted by a line of dialog in the movie Full Metal Jacket.
We already know that you already know that Brian Hastings took $4 million from "Isildur1" last week. You probably don't know who his backers are or what he's going to do to celebrate his big win. We set out to find the answers to those questions and more in out latest Online Poker Spotlight.
Day 2 of the World Poker Tour's Doyle Brunson Five Diamond World Poker Classic (hey guys, can we add a few more words to that name next year?) had some of the toughest table draws we've seen in a while. Check out our recap of Day 2 to see who sat next to whom, and who didn't make it through the day.
Newly Acquired: Everest
Mangas Gaming, the leading French sports betting and online gaming group has recently announced that it has taken control of the Everest Gaming group. Mangas Gaming, which also owns BetClic, holds 60 percent of the Everest Gaming shares while the remaining 40 percent will continue to be held by GigaMedia.
"We are very proud that Everest is joining our group. It is a great company; it is a brand with an outstanding awareness in the world of poker, well known for its know-how, its platform reliability and its strict policies. Mangas Gaming is reinforcing its position as a major European player in both the online poker and sports betting," said Isabelle Parize, CEO of Mangas Gaming.
With this acquisition, Mangas Gaming becomes one of the three leading European actors in the online gaming industry. It currently owns the sports betting companies Betclic, Expekt and Bet-At-Home, and after acquiring Everest, has now established itself as a leading player in online gaming. Everest Poker, with the BetClic Poker liquidity, will become the first poker community in France.
Find out more at PRNewswire.com.
Remember to follow us on Twitter and become our friend on Facebook. And if you haven't signed up for The Nightly Turbo newsletter yet, what are you waiting for?
Who is Isildur1?
The other day, Wicked Chops Poker set out to figure out who the Full Tilt mystery man, "Isildur1" is. What better place to find a poker player than at the latest big buy-in poker tournament? Which meant their search would commence at the Bellagio during the (here we go again) Doyle Brunson Five Diamond World Poker Classic. We still don't know who the international man of mystery is but some of these guys in the video look mighty guilty.
Darvin Moon's Poker Challenge
The Wheeling Island Hotel Casino and Racetrack will be holding the Darvin Moon Poker Challenge beginning Jan. 14, 2010. Four events, satellites for the events, and a World Series of Poker super satellite are scheduled.
Buy-ins for the events range from $125 to $550. Points are awarded to the top 20 finishers in each of the four events and the overall point winner will play Moon heads-up in the "Ultimate Challenge."
Darvin Moon Poker Challenge
Thursday, January 14th 7pm - Event #1 NHL - $125 Buy-in (No rebuy)
Friday, January 15th 7pm - Event #2 NHL - $125 Buy-in (No rebuy)
Saturday, January 16th 1pm - Event #3 NHL - $230 Buy-in (No rebuy)
Sunday, January 17th 1pm - Event #4 NHL - $550 Buy-in (No rebuy)
Monday, January 18th 10am - The Ultimate Challenge - $2,000 added
and 1pm - WSOP Super Satellite NHL - $130 Buy-in (No rebuy)
Yes, we realize the schedule says NHL. We are under the assumption there will be no hockey played at these events, only poker, and probably no-limit hold'em, we would just hate to change their schedule if in fact they did invent a new game. If you happen to be in West Virginia make sure you head over and partake in the festivities.
Find out more at WheelingIsland.com.
Happy Holidays from Inside Deal
It's like an early Christmas - err, "holiday" present for us from Andrew Feldman and Bernard Lee at ESPN's Inside Deal. They take a look at the UIGEA delay, the nosebleeds on Full Tilt Poker, and they chat with the 2009 World Series of Poker champ, Joe Cada.
ANZPT Season 2
The schedule for season 2 of the PokerStars.net Australia New Zealand Poker Tour has been announced. Well, part of it anyway. Every mainland state of Australia has already confirmed events and more stops are expected to be added.
Season 1 of the ANZPT saw 1,309 players take to the felt for a shot at the and close to $3 million in prize money. The first stop of Season 2 will take place from Feb. 9 to 14, 2010, at SKYCITY in Adelaide, South Australia.
"We are looking forward to the return of the ANZPT in Adelaide after the wonderful success of the first year and we are excited to see the event grow and flourish in Adelaide," said Adelaide casino poker manager, David Galpin.
A new venue has been added to the schedule. The second stop will be Perth, Western Australia. "We are thrilled to be part of the ANZPT," said Jason Barry, general manager of table games at Burswood Entertainment Complex. "We feel this is just what our players have been waiting for and we expect big numbers will take part in the first PokerStars.net ANZPT Perth tournament."
OK, OK. We know you're waiting for us to give you the rest of the stops. Here you go.
ANZPT Season 2
Adelaide - Feb. 9-14, 2010 $3,000 AUD buy-in
Perth - March 17-21, 2010 $2,500 AUD buy-in
Sydney - April 21-25, 2010 $2,200 AUD buy-in
Queenstown - July 17-25, 2010 $2,500 NZD buy-in
Gold Coast - Aug. 11-15, 2010 $2,500 AUD buy-in
Melbourne - Oct. 8-11, 2010 buy-in To be decided
Check out ANZPT.com for more and be sure to sign up for a PokerStars account and get started on qualifying for one of the events.