The PokerNews Jet Set: Monte Carlo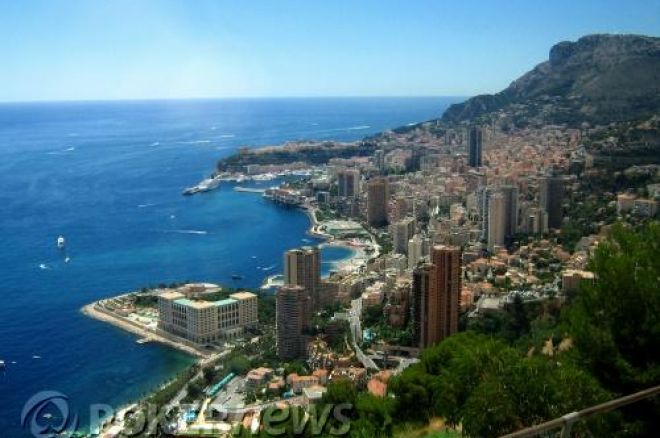 A tiny country hanging off a cliff on the southern coast of France, Monaco is all about in-your-face opulence. The setting of several James Bond films, the former home of Grace Kelly, and a year-round playground for the uber-rich, Monte Carlo is one of the principality's three districts and the final stop on the sixth season of the European Poker Tour. Get ready for some seriously swank surroundings, but with such luxury comes major sticker shock. €12 Heinekens? €30 cheeseburgers? You'd better believe it. Welcome to Monte Carlo, where you're always looking for an ATM.
About the venue
Situated at the end of Avenue Princesse Grace, the Monte Carlo Bay Hotel & Resort is the host property for the EPT Grand Final. Home to an in-house casino, four restaurants, a ridiculous "swimming pool-lagoon" and one of the area's most posh nightspots, the Monte Carlo Bay does not skimp on luxury, and the sea views are, in a word, breathtaking.
Getting around
It is entirely possible to walk from one end of the principality of Monaco to the other inside of only a few hours. However, its twisting streets and steep inclines make it an area most easily traversable by taxi. Although it's possible to hail a cab on the street in some busy areas, your best bet is to hit up the lobby of a nearby hotel. Be forewarned—many of these utterly sexy Mercedes cabs have no meters and the fare is entirely up to the driver. One year, our journey from the Monte Carlo Bay Resort to the Novotel on Boulevard Princese Charlotte (about a 1.5 km, but largely uphill ride) cost around €9 on Day 1 and had escalated to €15 by the final day of the tournament. Learn from our mistakes and negotiate a fare upfront.
Monaco also has an excellent bus system. Buses run about every ten minutes and cost only €1. The 6 line runs right past the Monte Carlo Bay Hotel. Click here for a route map and schedule.
Quell your hunger, quench your thirst
Monte Carlo is home to some of the world's most legendary restaurants; Michelin-starred palaces of gastronomy headed up by the likes of Alain Ducasse and Joel Robouchon. If you have a few extra grand rattling around in your pocket that is just begging to be spent on some five-star cuisine, you could do as Mike "Timex" McDonald and friends did a couple of years back and secure a reservation at Ducasse's Restaurant Louis XV inside the storied Hotel de Paris. Jackets are required (and don't even think about taking it off once you're inside) and the atmosphere is, let's be honest, kind of stuffy.
If you want the same sublime cuisine but more relaxed surroundings, consider Le Grill, up on the eighth floor of the Hotel de Paris. Seafood is the star here, from pan-seared scallops to lobster, to an amazing filet of John Dory. The restaurant overlooks both the harbor and the Opera House. For some real bang for your buck, go for the fixed-price three-course lunch for €68.
Two of Monte Carlo's best restaurants are within walking distance of the venue. Avenue 31 is a modern brasserie serving up moderately priced, elegantly presented seafood. Go for the super-fresh sushi, their signature fish and chips, or if you're with a group, try the seafood platter. Zelo's is only another few doors down and serves Mediterranean cuisine in a modern, clubby atmosphere. The views are killer, too.
Sometimes, though, all you want after a long day at the tables is a slice of pizza or a bowl of spaghetti. If you're staying up at the Novotel you can do just that at Alextony. For around €20, you can feast on a tomato and eggplant pizza or a huge bowl of penne arrabbiata and wash it down with a glass of Chianti.
Another secret weapon for cost-cutting in Monte Carlo? Find a local grocery (there's one called, no joke "Casino Supermarket" a few hundred yards from the venue). When the local ingredients are this good, why pay €25 for a mediocre cheeseburger from room service when you can make yourself an amazing lunch for a fraction of the price? Grab a baguette, a tomato, some fromage and a saucisson and you've got yourself one helluva tasty sandwich.
Dance the night away
If it's dancing and drinking you're after, there are at least half a dozen bars and clubs within stumbling distance of the Monte Carlo Bay Hotel. One of them, the notoriously expensive JimmyZ's, is right inside the hotel. Mel Judah once told me that he paid €40 for a glass of Diet Coke inside this opulent nightclub, so consider yourself warned. Le Karement is a sprawling palace of untz untz right down the road. With two indoor bars, one outdoor terrace bars, and an incredible sea view, it's by far the largest nightclub venue in the area. It's open until 4 a.m. and there is a €20 cover. If you're in the mood for a more chilled-out lounge-y evening, try Le Sass-Café, also on Avenue Princesse Grace.
Can't-miss sightseeing
Don't leave without taking in the breathtaking architecture of the Casino Monte Carlo and the adjacent Charles Garnier-designed Opera House. Whether or not you're an aquatic buff, you'll marvel at the sea life inside Monaco's Oceanographic Museum. Check out the aquarium, which houses some of the world's rarest species of fish and the newly opened Shark Lagoon.
If you happen to bust out early or find yourself with an extra day on your hands, the rest of the Cote d'Azur is easily accessible by rail. For an off-the-beaten path getaway, hop a train to Eze. This historic French medieval village is situated on a hilltop only a few kilometers west of Monaco. Along with the narrow, cobblestone streets and incredible vistas, there are plenty of shops and restaurants to explore.
Are you ready to take your game on the road? LAPT and WSOP satellites are running right now on PokerStars.