EPT Season Six: The Good, the Bad, and the European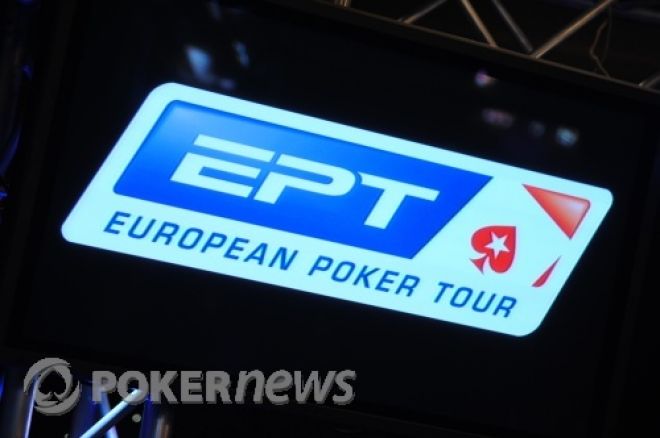 The European Poker Tour's sixth season came to a close last week with the EPT Grand Final in Monte Carlo. Nicolas Chouity won €1.7 million in the Main Event and Tobias Reinkemeier bagged €956,000 in the High Roller to end the EPT's richest season yet. It was a year filled with high-stakes drama, both on and off the felt. Between record field sizes, impressive back-to-back charges, and a surreal moment or two, EPT Season Six never failed to produce headlines. PokerStars wrapped up the season with an award ceremony in Monte Carlo, but we decided to come up with some awards of our own. And the trophy goes to...
Best Cold War Throwback Moment: It's usually the Russians that James Bond is battling across the felt, and the start of the EPT season wasn't much different. Season Six was scheduled to kick off in Moscow, but a last-minute move by the Russian government to criminalize poker made it, let's just say a less attractive vacation spot for poker players. The kick-off was moved to Kyiv, Ukraine, and the Russian government's stance on poker didn't stop Russian Maxim Lykov from defeating nearly 300 competitors to win the tournament and €330,000. Lykov also finished 13th at EPT Snowfest and cashed in three side events, giving him the coveted title of EPT Player of the Year.
Final Table King: Jan Skampa had never cashed in an EPT before he made the final table at EPT Vilamoura, finishing fourth for €117,128. He didn't waste time making it to another final table, winning the very next EPT in Prague for €683,100.
Side-Event King: Martin Kabrhel didn't make it all the way to POY, but his run at the top spot was quite remarkable considering that he only cashed once in a main event, finishing 60th. Kabrhel's real strength was in side events. He won three during the season, including back-to-back €2,000 no-limit hold'em victories in Vilamoura and Prague. Kabrhel also earned €250,000 for winning the the EPT Deauville high-roller event.
Czech Mate: Skampa and Kabrhel are both from the Czech Republic. Given their combined domination of EPT main and side events, the Czech Republic was named Season Six Country of the Year.
Largest European Tournament Ever: EPT San Remo was a crushing success. More than 1,200 players crammed into the Italian casino to take a shot at the €1.25 million first prize. Liv Boeree won two tournaments on her way to the top spot, first winning a €500 super satellite and then alternately charming and terrorizing her way to victory in the main event. Boree was the season's second British winner. Jake Cody beat her to it with a win at EPT Deauville.
Smallest EPT Ever: Shaun Deeb gave one of the most impressive performances of the year, crushing the EPT Kyiv high-roller event so thoroughly that it only took him several hours to win. Only problem? Deeb defeated two other opponents to win the title and top prize of €60,000. For his first victory on the EPT circuit, Deeb credited skill, stamina, and Faraz Jaka's decision not to play.
Best Performance by a Former WSOP Main Event Champion: Peter Eastgate didn't have a whole lot of competition in this category. He almost added another title to his résumé, finishing runner-up to Aaron Gustavson at EPT London. Eastgate also cashed in his home country at EPT Copenhagen and final-tabled EPT Deauville, finishing eighth. His winnings for the season came to an impressive $969,000.
Best Name: It's the European Poker Tour, so there are lots of contenders to chose from, but our favorite is Oleksander Vaserfirer, a Ukrainian who cashed in four of the season's main events and finished third at EPT Warsaw.
Steal of the Season: Ordinarily this award would go to the most outrageous bluff of the year, but this time, EPT Berlin takes the honor. In a classic EPT moment that will never be brought up by PokerStars and never forgotten by anyone else, four masked gunmen charged into the Grand Hyatt where the tournament was being held and robbed the cage attendants. All four suspects have since been arrested and most of the money was recovered. American Kevin MacPhee won the tournament and made off with €1 million the legal way. MacPhee, who attended every single stop of Season Five and most of Season Six, also earned the year's Players'-Choice Award.
Class Act of the Season: Ilari Tahkokallio won a side event in London, beating Kevin MacPhee heads up, and he was stuck with second place at EPT Berlin when MacPhee turned the tables and defeated him heads up. But, people will remember more about Tahkokallio's Berlin performance than just his runner-up finish. Tahkokallio had much of his stack committed to calling another player's all-in when the robbery occurred. Tahkokallio was dominated and had yet to improve on the flop or turn when play halted and chips scattered as the players rushed out of the room. Several hours later, those players left in the main event returned to find the board still in tact, but the tournament director gave both players involved in the hand a chance to call it a wash and chop the pot. Tahkokallio was down to three outs with one card to come, but he said that he'd made the call and must live with the consequences. Indeed, he doubled up the other player at significant cost to his own stack, but he rebuilt his stack and took it all the way to heads-up.
Best Bække-to-Bække Run: Sorry, we couldn't help ourselves. Danish pro Allan Bække won the EPT Achievement-of-the-Year award for his performance this season. He won EPT Snowfest in March, earning €445,000. At the next event, EPT San Remo, Bække kept steamrolling the field like it was just a continuation of the last tournament. He went into the play-down day with a huge chip lead but suffered a series of big losses to finish 12th.
First Player to Win Two EPTs: OK, so this award doesn't have a winner yet; but it looked mighty close for awhile. Bække had a shot at it, but Mike "Timex" McDonald came the closest. He was just 18 when he won the German Open in Season Four. Now a circuit veteran at 20, McDonald almost earned the honor of being the first player to win two EPTs when he final tabled EPT Deauville, but McDonald came up just short, finishing in third place. He's taking time off from poker to return to a normal life and go to college, acknowledging that the decision means he probably won't be the one to win this honor.
Worst Weather: Copenhagen was freezing. It snowed in Berlin. But players expected to stay inside on those trips. No one expected to have to wear their hoodies away from the felt at the PCA. It was cold and rainy through most of the Bahamas trip, and those left behind in Las Vegas got more of a tan. On the bright side, the side events got amazing turnouts.
Best Weather: Somehow, PokerStars special ordered warm days and snow-capped mountains at the same time to make EPT Snowfest more of a tropical paradise than the Bahamas was, with skiing thrown in on top.
Natural Disaster of the Season: The earthquake in Chile caused a cancellation of an LAPT event, but that doesn't really count for this list. Tsunami warnings at the PCA came to nothing. An armed robbery wasn't exactly natural. And just when you thought nothing else could go wrong, a volcano in Iceland disrupted all European travel and grounded many EPT San Remo players. Some canceled, some were stuck longer than they wanted to be, and some spent 20 hours on a bus just to get to the main event.
Season Six of the EPT proved that you can throw fire, water, and masked gunmen at them, but real poker players will scarcely look up from the felt. You can make it cold in paradise and hot in snowy mountains, and they'll just keep playing. You can make poker illegal in one country, and they'll simply pick up and and move to another. And it's all worth it to chase the feeling of victory, whether it's over a field of 1,200 or of three.
Here are the year's big winners and their prizes:
EPT Kyiv - Maxim Lykov (Russia) €330,000
EPT Barcelona - Carter Phillips (USA) €850,000
EPT London - Aaron Gustavson (USA) £850,000
EPT Warsaw - Christophe Benzimra (France) $533,921
EPT Vilamoura - Antonio Matias (Portugal) €404,793
EPT Prague - Jan Skampa (Czeck Republic) €682,000
2010 PCA - Harrison Gimbel (USA) $2,200,000
EPT Deauville - Jake Cody (UK) €847,000
EPT Copenhagen - Anton Wigg (Sweden) $672,205
EPT Berlin - Kevin MacPhee (USA) €1,000,000
EPT Snowfest - Alan Bække (Denmark) €445,000
EPT San Remo - Liv Boeree (UK) €1,250,000
EPT Monte Carlo - Nicolas Chouity (Lebanon) €1,700,000
EPT Season Seven will start in August, but you don't have to wait that long for your live poker fix. You can follow live, straight-from-the-felt coverage of the World Series of Poker all summer long right here at PokerNews.com and remember, follow us on Twitter for up-to-the-minute news.