The Nightly Turbo: Lacey Jones Bids Adieu, Wall Street is Looking for Poker Players, and More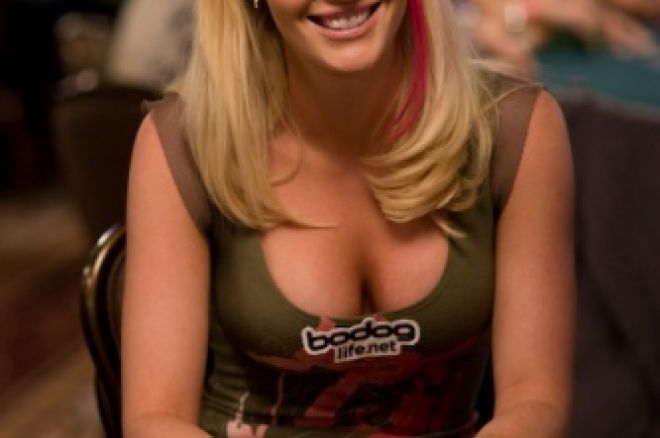 It looks like Absolute Poker is going to have to find another female poker pro to sponsor after the news we have below. And if you're looking for something to do other than sit around in your pajamas and play online poker, Wall Street is recruiting. You know those aren't the only news stories you'll find in today's Nightly Turbo, you'll just have to read on to see what else is new.
In Case You Missed It
The World Series of Poker is just hours away from opening its doors and already the World Series of Poker Europe schedule has been posted. Well, go ahead, click this and go ahead and make your travel plans.
Couldn't make it out to Hogs and Heifers yesterday for the Doyle Brunson Beer Pong Invitational? That's OK. We've got the play-by-play here.
Seven weeks of poker action isn't as easy to get through as it may seem. We're bringing you the Top 10 Tips for Survival, so you make it out of the beast of a summer unscathed and hopefully with some extra dollar bills in your pocket.
Sink It
The third annual Doyle Brunson Beer Pong Invitational was held at Hogs and Heifers yesterday in downtown Las Vegas. Team PokerNews (Eric Ramsey and Dave "F-Train" Behr) didn't fair too well, they did make it to Round 2 though. Kristy Arnett was a last minute sub for Vanessa Rousso, but she and Chad Brown couldn't get past Erick Lindgren and Erica Schoenberg. We're sure you'd rather watch it than read about it, so here you go.
Win a WSOP Seat Full Tilt Poker!
PokerNews and Full Tilt Poker want to help you get in on the action this summer at the World Series of Poker in Las Vegas. Two freerolls will take place in June, each with a$12,000 WSOP package up for grabs and $3,000 added to the prize pool.
All you have to do is sign up for a Full Tilt Poker account through PokerNews and earn 500 Full Tilt Poker points from now until June 4. You'll be qualified for both theJune 5 and June 6 freerolls that will take place at 15:25 EST.
Read this for more.
Follow us on Twitter for up-to-the-minute news and be sure to add us on Facebook. The easiest way to get The Nightly Turbo is in your inbox. Sign up for the newsletter below.
Jonesin' For a Change
Lacey Jones has just recently announced that she and Absolute Poker have parted ways. Well, she told Bryan Micon and then it was talked about on DonkDown's Cold Call show and then it was put up on the forums — and you get the picture.
Regardless of who reads the news where, Jones won't be sporting the AP patch at this year's World Series of Poker. There's no word on why the sponsorship ended either. Jones was just recently announced as the hostess for the Full Tilt Poker sponsored Doubles Poker Championship and we're sure plenty of things are in the works for her — or maybe that was her Twitter feed we were reading.
Read more at Pokerati.com.
The Time Has Come
Yep, that's right. The kick-off of the 2010 World Series of Poker is less than 24 hours away. We're sure you know this already, but we just want to remind you that our Live Reporting Team will be bringing you the best and most comprehensive coverage from the gigantor that is the Pavilion Room, as well as the Amazon Room.
This is the link you'll need to get all the action from every flop, turn, and river.
Street Cred
Generally speaking, getting a job on Wall Street isn't easy. It seems that poker players could have an edge when it comes to securing one of those lucrative positions. Wall Street firms are recruiting poker players because the skill set required to succeed at poker translates to the Financial District.
Apparently all you poker players out there have a "penchant for risk-taking and a dispassionate regard for large sums of money," and it's hard to find that in individuals who have never "put the money on the table at some point in your life." Danon Robinson, partner at Toro Trading has been quoted as saying that a "lack of interest in poker was "a red flag" and "almost the equivalent of not reading the Wall Street Journal."
Mint.com has the whole story.
Poker and Business
Not only does poker have plenty to do with Wall Street, but it has a lot to do with business in general as CEO of Zappos.com Tony Hsieh found out. His book,"Delivering Happiness: A Path to Profits, Passion, and Purpose," hits shelves next month and the sneak peek he released describes the lessons he learned from poker and how he applied them to the business world. Those lessons he learned on the felt translated in a good way — the company makes $1 billion annually.
He says his "ah-ha" moment came when he learned that the game started even before he took a seat. He outlined the lessons like those of a business plan, with headings like Evaluating Market Opportunities, Marketing and Branding, and Financials. Under each heading is the strategy but in poker terms.
"In a poker room, I could only choose which table I wanted to sit at. But in business, I realized that I didn't have to sit at an existing table. I could define my own, or make the one that I was already at even bigger. (Or, just like in a poker room, I could always choose to change tables.)"
Read the excerpt at HuffingtonPost.com.