The Nightly Turbo: World Poker Tour Barcelona, Brunson Beer Pong, and More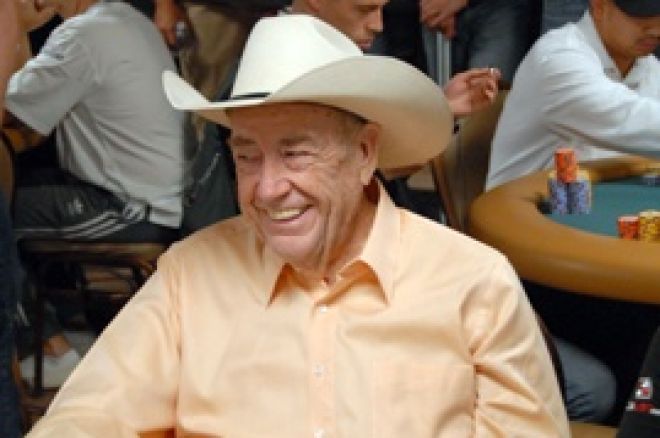 The weekend is finally upon us, and it will be the last free weekend for some time for many of you, seeing as how next week the monster that is the World Series of Poker will open its doors. But that's a whole week away, right now, all you have to do is catch up on the news, which includes an update from the World Poker Tour Barcelona. a look at the Brunson Beer Pong bracket, and more - and then go catch some rays or crush some heads-up sit-n-goes.
In Case You Missed It
The Ivey Room opens its doors tomorrow at Aria in CityCenter. Will this have any effect on the The Big Game in Bobby's Room? We'll have to see.
Now that the 2010 PokerStars Spring Championship of Online Poker is in the books, we can take a look back and and bring you some highlights. We did just that, here.
Wondering what's been going on in the gaming industry outside of poker? Inside Gaming has you covered.
The PokerNews Live Reporting Team is in Macau bringing you all the action from the PokerStars Asia Pacific Poker Tour. Find out how Day 2 went in this recap.
World Poker Tour Barcelona
The World Poker Tour Barcelona kicked off May 19, and over the two scheduled starting days, 326 players ponied up the €3,200 buy-in for a shot at a WPT title. This field broke the record for most entrants in the history of the WPT Barcelona event, and 144 players survived both starting days to make it to Day 2.
"Casino Barcelona has been an incredible partner - from player and partner servicing to tournament staff, their dedication to every detail is second to none. They put on a great tournament and deserve the turnout they have got. With great numbers for the €10,000 buy-in WPT Grand Prix de Paris at the Aviation Club and now a great field at Casino Barcelona the future is bright for the World Poker Tour stops in Europe," said WPT President Adam Pliska.
Per Linde, Dragan Galic, Leo Margets, Steven Van Zadelhoff and Sorel Mizzi are just some of the players that made it through their respective starting days to see the second day of play. Only 36 players will make the money, however, so there is plenty of poker to be played and everyone has eyes on the €315,000 first-place prize.
The PartyPoker Blog has all the updates.
Double Up
This Sunday, May 23, both UB and Absolute Poker are bringing you the "Double Points" promotion for the entire day! For 24 hours, players can earn double points in all ring games.
Sign up for an Absolute Poker account or UB account today.
Brunson Beer Pong
It's that time of year again. The World Series of Poker is just around the corner, and for the third straight year, the Brunson Beer Pong Invitational is descending upon Hogs & Heifers in downtown Las Vegas on May 26 to find out which duo is the best ping pong ball tosser.
Some first round match-ups:
PokerNews' Eric Ramsey and Dave "ftrain" Behr will be taking on Melanie Weisner andVanessa Ping. Tiffany Michelle andLisa Parsons will be pitted against Ty Stewart andBrian Balsbaugh. And in a couples-versus-couples matchup, Vanessa Rousso and Chad Brown will see Erick Lindgren and Erica Schoenberg in Round 1.
There are many more teams where that came from but it's easier for you to click this for the bracket than for us to type it all out.
PokerStars' Newest Ambassador
PokerStars has announced the newest member to its team of international ambassadors. Gianluigi "Gigi" Buffonn, goalie for Juventus FC, is the new kid on the PokerStars.it block. He was a member of the 2006 Italian World Cup winning team and is part of this year's Italian World Cup team.
"It's a union that combines the qualities often found in both sport and poker – those of skill, hard work and mental concentration. It also highlights that the very best players relish the challenge, whether it's on the football pitch or at the poker table – a passionate pursuit of victory," said Barbara Beltrami, PokerStars' Italian country manager.
Take Buffon on at the tables and see if you can get one past him. Sign up for a PokerStars account today.
Calling the Clock: Nam Le
Lynn Gilmartin caught up with Nam Le on a break during Day 1c of theAPPT Macau and called the clock on him. Find out how much it would cost for him to never play poker again, why he likes traveling with his brother, and whether he thinks he's a better poker player than JC Tran.
Following us on Twitter is a really good idea. Another good idea? Facebook.