The Nightly Turbo: World Poker Tour Energy Company, the Hottest Girls in Poker, and More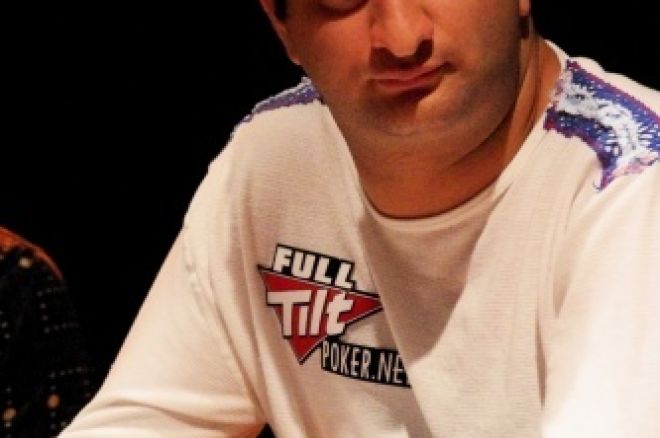 The World Poker Tour is changing their game up a little, a list of the 30 sexiest female poker pros is out, and a Van Marcus' Ferrari was stolen right from the valet at Crown Casino. He may have been running bad, but you're not ― you've got the day's news all in one place. Enjoy.
In Case You Missed It
Still trying to decide how to cast your World Series of Poker Tournament of Champions vote? Here's Part 2 of how Nicole Gordon made her decision.
With the WSOP just weeks away, PokerNews is finalizing its summer plans. We're happy to announce that the Hard Rock Hotel & Casino will be Team PokerNews' official home for the WSOP.
With all the online and live tournaments going on, we can see how you may have neglected to catch up on news in the gaming industry, but outside the poker industry. We've got you covered with Inside Gaming.
The PokerStars Spring Championship of Online Poker is in its final days. Day 12 saw a few notable names fall just short of SCOOP titles.
PartyPoker $16,000 WSOP Race
PartyPoker wants to get you to the 2010 World Series of Poker in Las Vegas this summer. Qualification has begun for the $16,000 WSOP Dream Package promotion on PartyPoker. You have until May 31 to earn as many PartyPoker Points as you can and make it to one of the top 100 spots on our Point Race leaderboard. If you qualify for the June 10 freeroll, a $14,000 WSOP package is up for grabs. There will also be $2,000 added to the prize pool and distributed as per PartyPoker's standard payout.
Wait! It gets better. PartyPoker is giving you $25 just for opening an account. There's no deposit required! And you have a shot at another free $25 if you earn the the points to release it from your bonus account.
There are so many amazing promotions running on PartyPoker that you'd be silly not to sign up.
Your Facebook page can use another friend, so add us, and follow us on Twitter for up-to-the-minute news.
From Poker Chips to Blue Chips
In November, World Poker Tour Enterprises sold its assets to PartyGaming, leaving WPTE a paper company with $28 million in cash. Shortly thereafter, WPTE changed its name to Ante4 Inc., and chief executive Steve Lipscomb told the company's stockholders that he was planning to enter a new type of business ― and he did.
Just last month, the company merged with an oil leasing firm from Montana and formed Voyager Oil & Gas. According to filings with the SEC, chairman of the WPT Lyle Berman holds the same position in the new company.
"We thought if we could find a company with a great business model that needed cash, the stock would trade significantly above $1.40," Berman said. "We have fulfilled that mission."
The LABusinessJournal.com has more.
Dude, Where's My Car?
When Full Tilt Pro Van Marcus walked out of the Crown Casino in Melbourne to get his car from the valet it was gone. How does a bright red Ferrari F430 Spider just up and disappear?
Well, Adam Ramsey allegedly approached the valet staff claiming he was the owner of a 2006 Ferrari. He had no valet ticket, but the staff had him fill out a form with his details, charged him $30 and gave him the keys. Ramsey, who was caught about six hours later, has been charged with motor vehicle theft.
The car is safely back with Marcus now, although he believes it was thrashed. "It doesn't even feel like my car," he said.
Read more about it at HeraldSun.com.au.
The Hot List
Seems like someone has decided to rank female poker players based on their sexiness for the fun of it. Some of these ladies you'll know and some you won't. We here at PokerNews HQ would put together a list like this some time ago, but we lost the hat we use for randomly picking names.
Here are where some of your favorites ended up:
29. Annie Duke
26. Kara Scott
22. Jennifer Harman
21. Tiffany Michelle
13. Liv Boeree
6. Erica Schoenberg
4. Joanna Krupa
3. Shannon Elizabeth
Do you agree with where everyone ended up? Check out the rest of the list at BleacherReport.com.
Poker's Ace in the Hole?
Just this week, President Barack Obama introduced his nomination for Supreme Court Justice: Elena Kagan. Why are you reading about this in The Nightly Turbo? Well, it turns our that Kagan is an avid poker player.
What will this mean for poker if she is selected? We don't know. Like Pokerati said, "Obama's a poker player, after all, but he certainly hasn't delivered on poker issues the way he never promised to." It's just nice to have someone else on our side, if we need it.
Pokerati.com has more.
Poker in Nottingham
Day 2 of the PokerStars UK & Ireland Poker Tour Nottingham is in the books. The total field for this event was record-breaking. The 650 entrants who ponied up the £500 buy-in created a prize pool of £325,000. First place will go home with £80,000.
Of the 650 entrants, PokerStars Team Pros JP Kelly, Victoria Coren, Jude Ainsworth, and Julian Thew hit the felt, but none made it past Day 2. The bubble has burst, leaving the remaining 72 players in the money to come back at Dusk Til Dawn on Saturday for the third day of play.
The PokerStars Blog has all your updates.