Inside Gaming Stock Report: Sands Gaining Strength, Riviera Failing, and MGM Changing Hands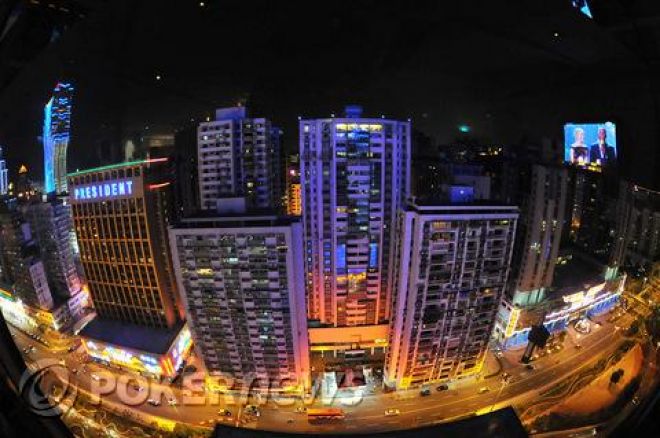 It's time for an Inside Vegas stock report, a Las Vegas Boulevard Journal, if you will. Looks like the Sands Corp. is on its way back to financial health, and the new financing it secured to complete its latest project in Macau should further improve its bottom line. At the other end of the spectrum, Riviera Holdings Corp. posted poor returns and faces the prospect of bankruptcy if it can't reach an agreement with creditors. Lots of MGM Mirage stock has changed hands recently, most of it going to billionaire John Paulson. After mass purchases in the first quarter of the year, Paulson is now the company's second-largest shareholder.
Sands Corp. Outlook Turning Sunny
The Las Vegas Sands Corp. may be on the way to reversing its financial slide. On Thursday, Moody's Investors Service changed the company's outlook from negative to positive. The upgrade occurred the same day the Sands announced that it had secured the financing necessary to move forward with its next large project in Macau.
The Sands reported a loss of $28.9 million for the first quarter of 2010, a large improvement over its $80.9 million loss during the same period last year. Net revenue was up 23.7 percent, as well. Also reflecting well on the Sands' prospects, the company's $5.5 billion Marina Bay Sands complex in Singapore has been producing strong returns since it opened a month ago.
With $1.75 billion in new financing for its developments in Macau, the Sands plans to add another 6,000 hotel rooms, additional gaming space, and expanded convention facilities. The company's chairman, Sheldon Adelson, says finishing the complex, "represents a critical next step in Macau's ability to both diversify its economy and further reach its potential as a full-scale leisure and business destination." The first phase of the project is scheduled to open in mid-2011.
Read more of the unusual good news here.
Outlook Cloudier for Riviera
Riviera Holdings Corp., which owns properties in Las Vegas and Colorado, said on Monday that it lost $4.5 million in the first quarter of the year. The company only lost $1 million in the same quarter of 2009. Riviera said that it is defaulting on some of its debts and must negotiate with lenders to restructure its $227 million debt. If they can't reach an agreement, the company will have to file for Chapter 11 bankruptcy.
All of Riveria's year-after-year decline is attributed to its failing Las Vegas strip casino. Its average room rate fell by 20 percent. The company blamed the contracting economy and reduced consumer spending. "Based on these adverse circumstances, we believe that the company will continue to experience lower than expected hotel occupancy rates and casino volumes," Riveria said in its earnings report.
Back to bad news here.
Power Shift among MGM Shareholders
American billionaire John Paulson acquired enough shares of MGM Mirage in the first few months of 2010 to become the company's second-largest shareholder. Only MGM founder Kirk Kerkorian holds more stock. The 92-year-old Kerkorian owns 37 percent of the company and serves on its board of directors.
Paulson purchased 40 million shares of MGM through his hedge fund based in New York. He also bought 4 million shares of Boyd Gaming Corp., making him that company's fourth- largest investor. The impact of Paulson's share-grab remains to be seen, but you can read more about it here.
Follow us on Twitter for up-to-the-minute news, and also become our fan on Facebook.