2010 World Series of Poker Day 21: Proulx and Keikoan Best the Fields, Smith Leads Event #33 and More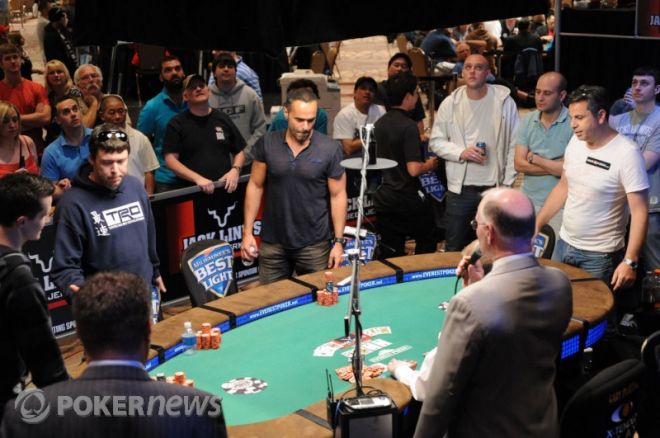 Thursday night and early Friday morning will be a day, or two days, to remember for Miguel Proulx and Matt Keikoan. The two players picked up WSOP gold, adding to the growing list of 2010 winners. Proulx nabbed his first bracelet, and Keikoan his second, in Events #28 and #29 respectively. The field is stacked in Event #31 with Phil Ivey, Jennifer Harman, Robert Mizrachi and Allen Kessler still around and Justin Smith has the chip lead in Event #33 going into Day 2.
Event #28: $2,500 Pot-Limit Omaha
When things were all said and done, Event #28 belonged to Miguel Proulx. Twelve players started Day 3 and it took the eliminations of Matthew Reed, Joe Serock and Dilyan Kovachev before the final table could finally begin. The table started out at a maddeningly sluggish pace, seeing only Patrick Hanoteau sent packing before the dinner break.
There must have been something in the food. When the players returned from dinner break, Proulx went on a rampage, striking down Trevor Pope and Karl Gal in a sickening two hands. Soon after, he took out Stephane Tayar and, to end the night and add one more casualty to his list, ended L.J. Klein's tournament life with a nut flush.
For his efforts, Proulx snagged his first WSOP gold bracelet and $315,311 in prize money.
Check out all the action over on our WSOP live reporting pages.
Event #29: $10,000 Limit Hold'em World Championship
Before Thursday Matt Keikoan was only a name that those who really, really followed poker were able to recognize. After a four-hour heads-up battle with Daniel Idema and a second gold bracelet to his name, Matt Keikoan proved that his is a name worth knowing.
The Northern California pro outlasted a field of 171 players that included some of the best limit hold'em players in the world. Terrence Chan, "The King of Limit," Matt Hawrilenko and Greg "FBT" Mueller were just a few of the players Keikoan had to contend with during the three day tournament.
Keikoan's first bracelet came in the $2,000 No-Limit Hold'em event at the 2008 WSOP, last night's win put a second WSOP gold bracelet on his wrist and banked him $425,969 in prize money. He now has over $3.2 million in career winnings.
Our WSOP live reporting pages have all the action.
Event #30: $1,000 No Limit Hold'em
Christopher Gonzales, Martin Jacobson and Christopher Kastler will return for Day 3 of Event #30 as the only players who have reached the 1 million chip mark. The other 18 will have some catching up to do if they hope to be around long enough to see the 30th final table of the 2010 WSOP. Alexander Queen, Jean Gaspard and David Sands, while lower on the list in chips, are still alive and will be looking to steal from the three leaders. It's no-limit hold'em after all, anything can happen.
All eyes will be on the $581,851 first-place prize and the gold bracelet that are still up for grabs.
Our WSOP live reporting team will be covering all the action.
Event #31: $1,500 H.O.R.S.E.
Despite just a mere 10 percent of the field still standing in Event #31, Day 2 played out tediously with each player hanging on as long as possible. At 3 a.m., when play finally ended for the night, only 24 players were still at their tables. However, when things get started Friday, don't expect play to move along any faster. WithRobert Mizrachi, Allen Kessler, Cliff Josephy, Al Barbieri, Chip Jett and Jon Turner looking to add to their career winnings, no one is going down without a fight.
With so many accomplished players still chomping at the bit, chip leader Konstantin Puchkov, who soared to the top during the last level of play, will have to guard his new-found chips closely.
Things could get ugly, follow along with our WSOP live update team to see what happens.
Event #32: $5,000 No-Limit Hold'em Six Handed
The 116 remaining players in Event #31 will return for Day 3 on Friday in what will surely be an action-filled conclusion to the tournament. Only 54 players will get a piece of the $2,669,600 prize pool, and with Christian Harder, Dave "Devilfish" Ulliott, Phil Ivey, Isaac Haxton and Jennifer Harman holding some of the biggest stacks in play, that won't be easy. Whoever the lucky winner might be, they will take home a $667,433 paycheck.
Follow the action at our WSOP live reporting pages.
Event #32: $2,500 Pot-Limit Hold'em Omaha
A new winner will be crowned in 2010 for Event #32 after the Day 1 elimination of defending champ Rami Boukai. In a field of 482 players, Boukai took his defeat quietly, so quietly that our live update crew didn't even see it happen, leaving an empty seat and the field open to someone new.
A lot of players who have the ability to win WSOP gold ― some who already have ― and become the 2010 champion were in the field but, like Boukai, did not last through Day 1. Daniel Negreanu, Eli Elezra, Dan Heimiller, Max Pescatori and Alexander Kostritsyn all made their exits before the day was over.
When the remaining 126 players return Friday, they will be chasing Justin Smith who will begin Day 2 with 130,000 in chips, far ahead of the likes of Victor Ramdin, Andy Black and Jeff Lisandro who are near the top but nowhere near Smith.
See if Smith is able to hold on to his chips and make Day 3 at www.pokernews.com.
On Tap
A tournament for those 50 and older, Event #34: $1,000 Seniors No-Limit Hold'em Championship will begin at 12 p.m. At 5 p.m. one of the most intense events of the WSOP, Event #35: $10,000 Heads-Up No-Limit Hold'em World Championship, will start.
Be sure to stay locked on to PokerNews for all the action from the tournament floor.
Video of the Day
Maria Ho had quite the dilemma yesterday. She was starting Day 2 of the $1,500 H.O.R.S.E. and her Lakers were playing Game 7 of the NBA Finals.
Follow us on Twitter for up-to-the-minute news.