2010 World Series of Poker: Top Five WSOP Stories So Far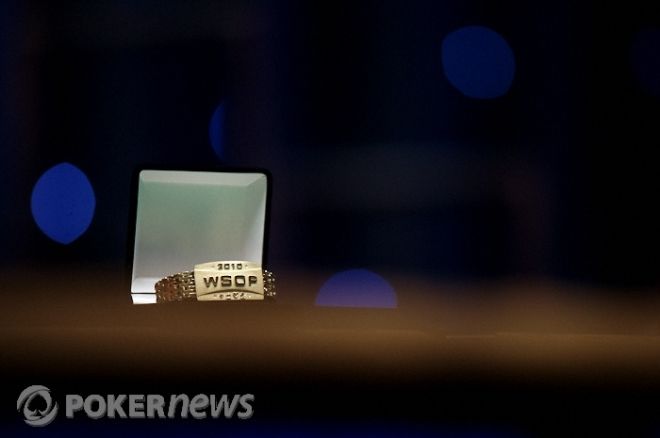 With just about three weeks and 27 bracelet events in the books, the 41st Annual World Series of Poker is right around its halfway point. Each day has been packed with poker excitement, but if it all ended today, these would be the stories that we'd remember.
The British Are Coming
It's been a good start to the WSOP for our allies across the pond, as three U.K. poker pros have won WSOP gold bracelets so far this year. Praz Bansi, Richard Ashby and James "Flushy" Dempsey have all made their marks here in Vegas. Dempsey, who is leading the WSOP Player-of-the-Year race, has already come close to getting a second bracelet, finishing second to Sammy Farha in Event #25.
Bansi followed up a great 2009 WSOP Europe where he finished third to Daniel Negreanu and Barry Shulman by jumping into the winners' circle straight away with his $1,500 no-limit hold'em victory. A few days later, Dempsey took down his bracelet, and high-stakes cash game player Ashby showed the Englishmen were versed in more than just hold'em by capturing the $1,500 buy-in seven-card stud event. With more than 20 events yet to come, and of course a trip to their home soil in September for the WSOP Europe, we could be calling this the Year of the Brit when we look back at the 2010 WSOP.
The Russian Banker Can Play
If you were to ask people in the poker community who Vladimir Shchemelev was two months ago, I'm sure most would give you a quizzical look and shake their heads "no." Well, now it's safe to say that no player has been more of a surprise. Not only did he finish second in the $50,000 Players Championship, but every time you look at one of the $10,000 championship events, Schemelev is in the mix with a stack of chips. In Event #10, he made his second final table, finishing seventh in the seven-card stud world championship. A few days later, he finished seventh again, this time in the seven-card stud hi-low world championship.
Whether or not he can continue his solid run at the WSOP is yet to be seen. He's built sizable stacks in a few other events since his final tables but seems to have finally hit a lull. With his specialty seemingly being the stud games, it will be interesting to see if he can remain in the player-of-the-year race without many stud championship events left. His best chance will certainly be next week's $10,0000 H.O.R.S.E. event.
We're Still Waiting Annette
Arguably the biggest story coming into this year's World Series of Poker was Annette "Annette_15" Obrestad's Las Vegas debut. Ever since she won the WSOP Europe main event bracelet in 2007, the poker community has been counting down the days until she brings home gold in one of the Vegas-based WSOP events.
Obrestad, without a doubt, has a huge hype to live up to this year, and I think that unless she makes at least one final table, her WSOP debut will be considered a bust. To date, Obrestad has two min-cashes, both by the skin of her teeth, but she has yet to become a threat in any of the tournaments she's played. This is obviously no knock on Obrestad. It's not easy winning a bracelet, or even making a final table here at the WSOP, but unfortunately it's almost like she is in a no-win situation. Everyone, including Obrestad herself, expected so much from this WSOP, thinking she'd be breezing through the fields adding jewelry to her collection along the way, and that just not been the case yet.
There is still lots of time, and if there is one thing I've learned in poker, it's that you never can count a great player like Annette Obrestad out. I'll likely be biting my tongue (and happily so) in a few weeks when she is on stage for her first WSOP bracelet ceremony.
Grindin' His Way Back
A few years back, you could not talk about great young poker players without mentioning Michael "The Grinder" Mizrachi; however, leading into this WSOP it's safe to say he was as under-the-radar as a poker player with his lifetime credentials as could be. Things like that happen in poker. You break in, win a bunch of tournaments, and then you fade into lala land. Apparently that was not the story Mizrachi had in mind.
Within the blink of an eye, Mizrachi is not only back on the map, but he seems as dangerous as ever, having added mixed games to his already masterful no-limit hold'em game. Mizrachi lived up to his nickname, grinding it out for five days against the greatest poker players in the world and finally capturing his first bracelet in the most prestigious event of the year, the $50,0000 Players Championship. He followed that up with a sixth-place finish in the seven-card stud world championship and has had a couple of other deep runs since.
I think that Mizrachi has at least one more big final table in him this WSOP, and in all honesty, the way he has been playing in the big buy-in events, I wouldn't be the least bit surprised to see it happen in the $25,000 no-limit hold'em six-max event. Only time will tell.
Duh! It's durrrr
Tom "durrrr" Dwan has been the subject of many a headline during his short poker career, but during the 2010 WSOP, no player has created more of a buzz than this guy. Since his debut at the WSOP a few years back, Dwan has never made much of a push for a bracelet. He's made a few WSOP final tables in the past, but Dwan has typically gravitated more toward the high-stakes side action and stayed away from the day-in-day-out grind of the WSOP.
This year, however, with the enticement of some serious WSOP bracelet events, Dwan has been all over the WSOP felt, sometimes playing in multiple tournaments at once to up his chances at winning a bracelet. During the second weekend of play, Dwan came so close to the bracelet that he could taste it, finishing second to Simon Watt in Event #11. In my five years covering the WSOP, there have been very few moments that matched the hype and excitement surrounding Dwan's final table. The final table area was packed, fans were buzzing around the Rio, and high-stakes poker players were cowering as they read the updates on PokerNews, or heard the crowd go wild for a pot won by Tom Dwan. "Electric" is the only word that can describe the atmosphere.
When push came to shove, however, Dwan could not close and finished just short of winning his first WSOP bracelet in addition to who-knows-how-much cash in side bets. All eyes will be on Dwan throughout the rest of the series, and win or lose, if he makes another deep run at a WSOP bracelet, this will be the top story of the 2010 World Series of Poker.
Interested in following the action as it happens? Head over to our WSOP live reporting pages for chip counts, hand updates, photos, videos and much more.