2010 World Series of Poker: Main Event Bubble Bursts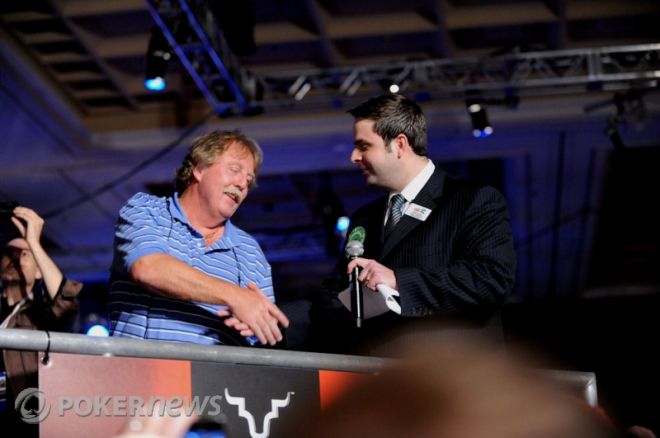 After three-and-a-half days of play the World Series of Poker Main Event bubble officially burst Tuesday night, and 747 of the 7,319 players that entered were all at least $19,263. The unfortunate bubble boy was Tim McDonald, who does not go home completely empty-handed as he is the first player to have his entry secured for the 2011 WSOP.
"Let's give a nice warm round of applause to Tim McDonald," said Tournament Director Jack Effel moments after McDonald's elimination. "Because of you Tim, 747 players are now all in the money. You, my friend, have an automatic $10,000 entry into the 2011 WSOP Main Event on behalf of the World Series of Poker." Effel continued.
The hand that put the nail in the coffin for McDonald saw Ismail Erkenov open for 10,000 from the hijack seat. McDonald was on the button with only 67,500 chips left in his stack, and he re-raised to 30,000, driving the blinds out of the hand. Erkenov made the call, and the two saw a flop of
. Erkenov checked, and when McDonald moved his last 37,500 into the middle, Erkenov quickly called.
McDonald showed absolutely no emotion. He simply rapped the table, and said "Nice hand," before Erkenov even opened his cards. Then McDonald tabled
, aces and queens. Erkenov revealed that he hadn't just hit the ace — he'd also hit the deuce with
for a flopped full house, aces full of deuces.
"You wouldn't have two queens in there, would you?" McDonald asked the dealer. But he seemed resigned to his fate. Things ended swiftly with a
on the turn. As McDonald bent down to pick up his possessions, he didn't even notice that the river came a salt-in-wound
.
McDonald had to wait a few moments to make sure no other player busted. He immediately started texting on his phone, presumably disseminating the bad news. He soon received a call from a gentlleman named "Greg". McDonald answered and simply said, "I'm out."
Once it was determined that no other player busted, the floor staff walked McDonald to the stage in the center of the Amazon Room, and he received a round of applause and his entry for 2011 from Jack Effel.
Play will certainly speed up now that the bubble has burst, and you can follow all the updated in the WSOP live reporting pages.