The Nightly Turbo: PokerStars UKIPT Brighton Update, Phil Hellmuth Doesn't Think Phil Ivey Can Beat Him, and More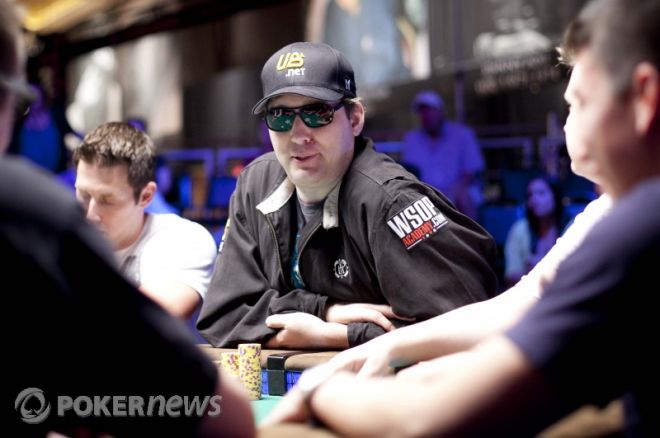 While the 2010 World Series of Poker field is getting smaller and smaller, other tournaments are running and attracting players from all over as the PokerStars UKIPT Brighton kicked off Thursday. On top of that, Phil Hellmuth has his own thoughts about Phil Ivey breaking his bracelet record. We've got all that and more in tonight's Nightly Turbo.
In Case You Missed It
The fifth day of the 2010 World Series of Poker Main Event is in the books. How many people are left? Who are the big stacks starting the sixth day? You'll have to check out the recap to figure it out.
Phil Ivey is a machine. Is there anything else we can say? He registered at practically the last possible minute for the World Poker Tour Bellagio Cup and is now at the final table. Read about it here.
We sat down with Matt Savage recently to discuss the changes that will happen at the World Poker Tour. Want to know more? Check out the interview.
UKIPT Brighton
With the 2010 World Series of Poker coming closer and closer to an end, players are headed back to their respective homes, and other tournaments are starting up. The PokerStars UK & Ireland Poker Tour kicked off Thursday in Brighton, with 117 people taking the felt for Day 1a action. Of the players who began the day, only 52 remained to bag their chips at the end of play.
The £1000+100 Main Event will hold Day 1b on Friday and already 52 players are signed up. Among them are PokerStars Pro Julian Thew and Jude Ainsworth.
The PokerStars Blog has more.
Don't Dare Ivey
In the latest episode of the Poker Show, Jesse May caught up with the Poker Brat himself, Phil Hellmuth. Hellmuth was at the Bellagio for the World Poker Tour Bellagio Cup and true to his form, he made a "grand" entrance flanked by the WPT's latest additions, the Royal Flush Girls.
May talks about the World Poker Tour's changes that are in store for the ninth season, and then talks to Hellmuth about his entrances, golf, partying, and Phil Ivey.
When asked if Ivey could beat his bracelet record in five years, Hellmuth said, "Ivey won't pass me in five years. That's impossible. I shouldn't say its impossible, [laughs], I don't think it'll happen. I think maybe in five years I'll be at 14 or 15, and maybe he's at 11 or 12. I don't know. I think that he won't pass me in five years."
What else does Hellmuth have to say? Head on over to the PartyPoker Blog for the rest of the show.
Bellagio Cup VI
The final table of the World Poker Tour Bellagio Cup VI is set. Zach Hyman bubbled the TV final table of six and took home $84,965. With his elimination, Phil Ivey made his record-setting ninth WPT final table and Justin "Boosted J" Smith final tabled this event last year, finished third and now has another shot at the title.
The chip leader coming into the final table is John Caridad with 5,120,000. Moritz Kranich is the next closest, and he's pretty far off with 2,715,000. Smith is third on the chip leader board holding 2,100,000. Rob Akery will go into the final table with 1,980,000 and Mr. Ivey is just behind him with 1,595,000. Eric Afriat is bringing up the rear with 620,000.
WorldPokerTour.com has more.
London Poker Festival
London is playing host to the biggest poker festival in the world in August. From August 28 to September 28, the London Poker Festival will take place, offering over 100 events at various venues and over £10,000,000 in combined prize pools.
Throughout the festival, the World Poker Tour will hold its inaugural WPT London, the English Poker Open will take place, and the World Series of Poker Europe will play out. There will also be awards shows, poker academies, and plenty of parties.
To find out more about the London Poker Festival head on over to BritishPokerFestival.com beginning August 1.
Can't Read My...
We'd like to request that the pros singing in this video, don't quit their day jobs. We caught up with some of your favorite pros at the 2010 World Series of Poker to see if they know the lyrics to Lady Gaga's Poker Face, and of course, to show us theirs.
Following us on Twitter is a really good idea. Another good idea? Facebook.