$70,000 in Club PokerNews Freerolls from William Hill Poker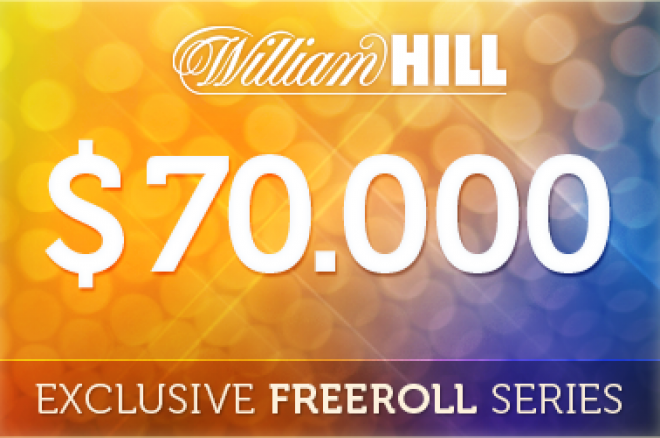 It's hard to find genuinely huge freerolls these days in online poker and usually if you do it's a one off – unless you are a Club Pokernews member that is. PokerNews and William Hill Poker have joined forces once again to bring you a fantastic freeroll series worth $70,000 which includes a staggering two $20,000 exclusive freerolls!
You can search all day and all night but you will not find a better freeroll series for such a low qualification requirement anywhere in poker.
There are 15 tournaments in total across three different formats and Pokernews referred William Hill Poker players are eligible for all of them, providing they meet the very low qualifying criteria.
All you need to do is download William Hill Poker via Pokernews, make a minimum deposit and earn the required WH Points to use as a "buy-in" to each tournament. Existing Pokernews referred customers are also welcome providing they meet the WH Points criteria.
PokerNews $20k Payday
Aug 22, Sept 19
100 WH Point Buy-in per tournament
PokerNews $2k Freeroll
Aug 26, Sep 2, 9, 16, 23, 30, Oct 7, 14, 21, 28
2 WH Point Buy-in per tournament
PokerNews $5k Freeroll
Date: Oct 17, Nov 14
Rebuy/Add-on: $1, Unlimited until first break
25 WH Point Initial Buy-in per tournament
All freerolls pay out as per William Hill Poker's standard payout structure. To locate the tournaments open the William Hill Poker lobby, check out the scheduled tab and look for the listing with the same title as the freerolls above.
Check out our William Hill Poker Freeroll Page for all the details.
Low Qualifying Criteria
To put this series into perspective, you are playing for $70,000 including two massive five figure freerolls, and you only have to generate a pittance in rake:
To qualify for each $2,000 Freeroll you only need to generate 2 WH Points, which is the equivalent of one round at a $0.25/$0.50 table or playing one $2.20 SNG.
To qualify for a $5,000 freeroll you need to earn 25 WH Points, which is roughly 20 minutes at a $0.25/$0.50 table, two $5.50 sngs or one $11 sng.
Finally the big one, the $20,000 Pay Day, is 100 WH Points which is about an hour at a $0.25/$0.50 table and about 7 $5.50 SNGs.
To qualify for ALL 15 freerolls and play for $70,000 in prizes it costs just 295 WH Points. This is so easily achievable you can realistically qualify for them all in an evening. It's the equivalent of 20 $5.50 SNGs or an hour of $0.25/$0.50 if you multi table 4 tables. In total you are looking at generating a little over $10 in rake to play in all 15 tournaments.
Whatever way you choose to do it, what makes it even sicker is that you will have nearly cleared the first $5 increment of your 200% up to $600 sign up bonus . New customers will also be eligible for four $1,000 New Depositor Freerolls and one New Depositors Prize Freeroll with a prize pool of gadgets and electrical items worth $4,000.
Not bad for around $10 of rake paid.
You simply cannot find a bigger freeroll series nor a bigger single freeroll than this anywhere else right now. Download William Hill Poker today and not only will you get in on $70,000 of free poker action for the next three months, you will also be eligible for all future William Hill Poker exclusive promotions.
William Hill also have a fantastic VIP Loyalty Club, find out all about it.
The free stuff doesn't stop at poker for William Hill, you can also get £30 for free, no deposit needed, when you join William Hill Casino via Pokernews Casino.